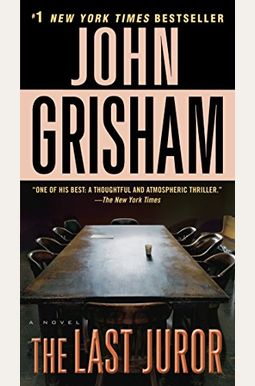  
Book Overview
#1 NEW YORK TIMES BESTSELER
In 1970, Willie Traynor comes to Clanton, Mississippi, in a Triumph Spitfire and a fog of vague ambitions. Within a year, the twenty-three-year-old finds himself the owner of Ford County's only newspaper, famous for its well-crafted obituaries. While the rest of America is in the grips of turmoil, Clanton lives on the edge of another age--until the brutal murder of a young mother rocks the town and thrusts Willie into the center of a storm. Daring to report the true horrors of the crime, Willie makes as many friends as enemies in Clanton, and over the next decade he sometimes wonders how he got there in the first place. But he can never escape the crime that shattered his innocence or the criminal whose evil left an indelible stain. Because as the ghosts of the South's past gather around Willie, as tension swirls around Clanton, men and women who served on a jury nine years ago are starting to die one by one--as a killer exacts the ultimate revenge.
Frequently Asked Questions About The Last Juror
Books like The Last Juror
Book Reviews
(18)
Did you read The Last Juror? Please provide your feedback and rating to help other readers.
but it is a good read, too

Derived From Web

, May 26, 2022

I had read this when it came out first, but I have recently read Sycamore Row, the sequel to A Time to Kill, and this book was a bridge between the characters, so that I read it again. The other two books gave me five stars each and this one only four, but it is a good read, too. If you have already read A Time to Kill and are planning to read Sycamore Row, I recommend reading it before Sycamore Row, so the characters are more familiar.
the better I like his writing

Derived From Web

, May 26, 2022

The better I read Grisham's books, the more I like his writing. Characters are well-developed ; plots always throw unexpected twists. And I learn a lot of history and about what is the focus of the book. Reading good books is a fine, painless way to education!
It's OK

Derived From Web

, May 26, 2022

I am such a fan of John Grisham and believed that he could not do anything wrong until I read this book. This book does not have the main character involved in the law as his others do, and therefore I did not enjoy it as much. As a John Grisham fan, I can not dislike this book completely, but read his others first, because if you read this book without others, you may not go back for more.
May I have 10 more stars please?

Derived From Web

, May 26, 2022

I was just in the book by John Grisham, The Last Juror. Yes, I've felt as if I was there in Clanton Ms. I loved them all, well most of all the people in this book. I have cried near the end of the story, I never cried about any book I ever read. I feel that I miss the people, the city, the editor of the city, I miss her, all of them. Grisham, thank you.
The Best of Grisham

Derived From Web

, May 26, 2022

But when he traded in his lawyer narrator role for that of a small town newspaper editor, he really hit home with me. A review compared it with To Kill a Mockingbird. That is fair and if Gregory Peck were cast to play the hero in the film, the story might be as memorable. Here I am, because I have recommended the book to a friend. After reading the reviews, I realize that I have forgotten just enough that I can have that wonderful treasure of reading this book again for the fourth time.
Interesting and amusing.

Derived From Web

, May 26, 2022

This time it was about a young northerner who purchases the town newspaper and the adjustments that everyone had to make with his arrival.
A Slow Read

Derived From Web

, Feb 2, 2022

I read John Grisham books when I am in the mood for a fast paced, legal reading, mystery. This was not at all that. This was paced slowly, a lot more attention to the atmosphere than the story and a sprinkling of storylines that took as much space as the plot, but it was not a bad book, but it was one I did not enjoy too much.
Inside look at a young man's life after he buys a small town's struggling newspaper.

Derived From Web

, Dec 13, 2021

A small man buys a young town newspaper with no idea of how to manage it. He learns the hard way what it entails. During this time he makes friends with a wonderful local woman who has a rich history, which gradually shares with him over the course of weekly home-cooked, divine meals. Her family history is intriguing and layered. She is chosen to serve on the jury for a case that his newspaper covers.
Starts off well but then not much happens until the very end

Derived From Web

, Sep 28, 2021

The first half of the book or so is a legal thriller by Grisham in the same parts of suspense and dry humor that literally had me laughing out loud. Then things settle down and it becomes a general drama about life in the south, though interesting is not why I bought the book. At the very end, things get loose again and most of the nice little ends are tied into a loose wrapper. I really liked the first part, but not the rest quite as much. Probably, but I give it some time.
Another great book by Grisham

Derived From Web

, Apr 18, 2020

With Grisham's books you really can't miss. I read quite a few ''. Some of them are good, some are just exceptional. All of them make fluent and grasping reading. To my opinion, this is a very good reading, if not exceptional. Grisham is a great storyteller. His language is compact and tight. He doesn't lose real estate on pompous text that does not serve the story. His sharp pen portrays the southern characters and their encounters in a funny and rusey way that makes this book both a thriller and a humoristic piece. A real delightful reading experience.