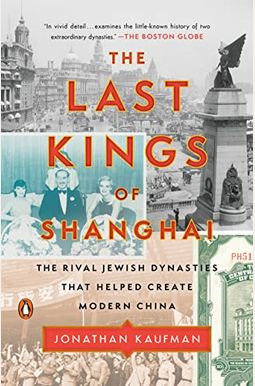  
The Last Kings Of Shanghai: The Rival Jewish Dynasties That Helped Create Modern China
Book Overview
In vivid detail. examines the little-known history of two extraordinary dynasties.--The Boston Globe
Not just a brilliant, well-researched, and highly readable book about China's past, it also reveals the contingencies and ironic twists of fate in China's modern history.
--LA Review of Books
An epic, multigenerational story of two rival dynasties who flourished in Shanghai and Hong Kong as twentieth-century China surged into the modern era, from the Pulitzer Prize-winning journalist The Sassoons and the Kadoories stood astride Chinese business and politics for more than one hundred seventy-five years, profiting from the Opium Wars; surviving Japanese occupation; courting Chiang Kai-shek; and nearly losing everything as the Communists swept into power. Jonathan Kaufman tells the remarkable history of how these families ignited an economic boom and opened China to the world, but remained blind to the country's deep inequality and to the political turmoil on their doorsteps. In a story stretching from Baghdad to Hong Kong to Shanghai to London, Kaufman enters the lives and minds of these ambitious men and women to forge a tale of opium smuggling, family rivalry, political intrigue, and survival.
Frequently Asked Questions About The Last Kings Of Shanghai: The Rival Jewish Dynasties That Helped Create Modern China
Book Reviews
(9)
Did you read The Last Kings Of Shanghai: The Rival Jewish Dynasties That Helped Create Modern China? Please provide your feedback and rating to help other readers.
Better to borrow....

Derived From Web

, Feb 17, 2022

I enjoy reading biographies of Jewish Americans and Israelis around the world. There were some interesting stories about the Sasoon family, but the book was never written well.
Behind every great fortune lies a crime !

Derived From Web

, May 8, 2021

The book's title comes from a quote by Honore de Balzac, and I'm not ashamed to say that this was a very well-written and interesting book. Two rival Jewish dynasties that helped create China were also responsible for the destruction of the lives of many millions of their countrymen due to their opium trade in the 19th century. The forunes were built on low wages and unfair competition, said Mr. Sassoon. They exacerbated inequality that left Chinese dying in the streets of Shanghai even as the Kadoories danced at Marble Hall and Victor Sassoon presided over his extravagant parties in Shanghai. They were part of the robber barons of the 19th century, bringing misery to tens of millions of people. In the court of history, they will be judged as heinous criminals and ever.
History of the Jewish diaspora families and business in China, India, and Britain

Derived From Web

, Mar 29, 2021

I'm a Christian minister with some U.S. business background. He added that he was "glad to see the journeys of a couple of prominent Jewish families that were deported to Babylon but then did not return to Jerusalem when it was allowed." Instead, they wound their ways through international business first in India, then into China, Japan, Britain and Germany, and then into some extent in India, Singapore and elsewhere. The book's main theme is how their businesses succeeded despite several setbacks. I found it very interesting to read their techniques and their ways of doing things. It's a really great book, said Frey. My wife read it in one of her book clubs and I've recommended it to a Persian friend, and we'll discuss it soon.
Fascinating story of Jews fleeing Europe to China during WWII

Derived From Web

, Aug 30, 2020

We lived on Kadoorie Avenue, a beautiful tree-lined street that meandered through a quiet neighborhood on a hill with large gated homes and lush lawns. The Water Cube is a unique oasis in the heart of bustling Kowloon. I didn't realize that the street was named after the Kadoorie family. Fascinating story of how the Chinese accepted all races and religions without prejudice. 0 1462228 1462201 In a fascinating story of how the Chinese accepted all races and religions without prejudice. Jews eat Chinese food on Christmas Day, he said.
This book tells a great story, much like the movie's Dr. Zhivago.

Derived From Web

, Aug 25, 2020

This is truly a gem. Only a handful of books captured me like this one. The writer, using a process called "writing in a way that becomes words," creates pictures. Two Jewish families build fortunes in India, Iran and most of all in China. His witty, economic prose has won him admiration and a book deal. Each manages to communicate so much into the reader's mind and soul that it's hard to put into words. I could bloviate and rave, but I will never adequately capture the rich texture of two Jewish dynasties who managed to build commercial empires in China. Note to authors: Please get this on the screen to reach millions of people.
Excellent, educational, entertaining ... loved it

Derived From Web

, Jun 27, 2020

I bought this book after reading reviews in the Economist and the Journal. I'm not a big fan of Elizabeth Barrett's book. I've learned a little bit about the history of China and the impact that it had on the Sassoon and Kadoorie families, Raymond said. It was an absolute pleasure to read about the history of Shanghai, said Li Yuanchao, a Beijing resident and writer.
Fascinating insight

Derived From Web

, Jun 27, 2020

This is an extremely picture of two powerful families who succeeded beyond all reasonable expectations, Levine said. The report details how they fit into the Chinese culture with no preparation and how they managed to make it work. The families were different, but the fact is, each was unique, said Dr. Kaufman. The book is a very enjoyable read, said Jeffery E. Smith, executive director of the Carnegie Library's Open Book Initiative.
A Riveting Read!

Derived From Web

, Jun 9, 2020

A great book, said Pauley, assistant professor of English at the University of Nottingham. It was a total mockery of justice, Byrne said on NBC's "Meet the Press." The book is filled with fascinating information about two dynasties and their relationship China through many generations. I particularly enjoyed the stories of the tens of thousands of Jewish refugees that Mr. D'Antonio saved by rescuing them from the Nazis. I highly recommend this book to anyone.
Fascinating and a beautiful read

Derived From Web

, Jun 3, 2020

Kaufman takes you into a part of Chinese history that gets little attention -- the influence of two Jewish families on the development of Shanghai and Hong Kong as commercial centers. It's a wonderful book, beautifully written, said Frey.