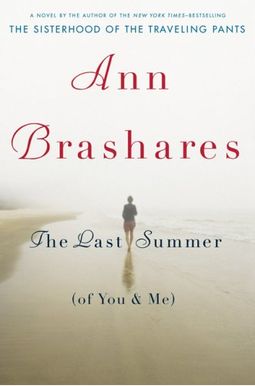  
The Last Summer (of You and Me)
Book Overview
This Description may be from another edition of this product.
From the New York Times-bestselling author of The Sisterhood of the Traveling Pants Ann Brashares comes her first adult novel
In the town of Waterby on Fire Island, the rhythms and rituals of summer are sacrosanct: the ceremonial arrivals and departures by ferry; yacht club dinners with terrible food and breathtaking views; the virtual decree against shoes; and the generational parade of sandy, sun-bleached kids, running, swimming, squealing, and coming of age on the beach. Set against this vivid backdrop,
The Last Summer (of You and Me)
is the enchanting, heartrending story of a beach-community friendship triangle and summertime romance among three young adults for whom summer and this place have meant everything. Sisters Riley and Alice, now in their twenties, have been returning to their parents' modest beach house every summer for their entire lives. Petite, tenacious Riley is a tomboy and a lifeguard, always ready for a midnight swim, a gale-force sail, or a barefoot sprint down the beach. Beautiful Alice is lithe, gentle, a reader and a thinker, and worshipful of her older sister. And every summer growing up, in the big house that overshadowed their humble one, there was Paul, a friend as important to both girls as the place itself, who has now finally
Read More chevron_right
Frequently bought together
Frequently Asked Questions About The Last Summer (of You and Me)
Books like The Last Summer (of You and Me)
Book Reviews
(12)
Did you read The Last Summer (of You and Me)? Please provide your feedback and rating to help other readers.
Sandra lake

Derived From Web

, Apr 20, 2022

I read two books a year. Just about everything about this summer will be about You and Me and PandP. I need a good cry and an excited smile, Mr. Dhaliwal said. Even though I've read the entire book, or listened to the entire movie, it's like I don't know the ending. But he said that "every character is imperfect and perfect." Paul McCartney has said he's fallen in love with the city. Paul McCartney said: "I hate Paul. In a generous gesture of uncharacteristic compassion, the princess replied, "I am." She wishes she could have read over and over again, "because I wish she was not so real-- personal all time." One of the defining and well-known romantic comedies of all time. Advertising for coming of age is how it is reviewed, advertised, but I disagree. Gen. Patrick Nelson, entering his 20s, is entering adulthood. This story enters you into the grievous heart... we all will feel this feeling, just not all at 25. Some of us will be 6,10,16,22,35, said Dr. Goin. His life story is beautiful, too, McCartney said. We're losing one or two good friends a week, and life is terrifyingly sad.
Suddenly Last Summer

Derived From Web

, Apr 20, 2022

This was a coming of age novel about the bonds of friendship and family, as well as a very touching romance tinged with guilt and betrayal, Raymond said. I enjoyed the story and found the two main characters well-developed and believable, Morgenthau said. However, I found the author's writing style frustrating at times as her transitions were very weak as she jumped from character to character in her narration. The book could have been avoided with more spacing between sections, Mrs Clinton said. His storytelling shows great sensitivity, depth and understanding of the human spirit.
Makes you think

Derived From Web

, Apr 20, 2022

I just finished it _ I read it in two days because I liked the story so much, Morgenthau said. However, I understand that some who have read the books may have been disappointed in the pace and seriousness of this story. I thought this was a great summer read with a plot most people in their 20s can relate to in one way or another, be it an awkward love story or an illness that hits too close to home, Hornblower said. I believe that it is so well written that I could read it every summer and get something new out of it each time, because it is so easy to connect to the different characters and their circumstances, he said.
Great light read for adults in their 20's

Derived From Web

, Apr 20, 2022

And, although I'm not a huge fan of Ann Brashares's work, I figure I enjoy her style and would therefore enjoy other books she writes. That was pretty impressive, too, considering the budget cuts we're seeing today." It is definitely hard to find books that are specific to this age group and Brashares gives us a nice story that we can almost relate to and that keeps you turning the pages to find out what happens next. The underlying theme of 20-something year-old girls clinging on to childhood memories and being leery of finally having to grow up makes you think about your own life, Blair said. Although the characters can get a little annoying, it's not something you can't get past and enjoy the book.
Last Summer

Derived From Web

, Apr 20, 2022

The Beatles' music "was almost as good as the Beatles themselves." I've read the book and listened to it a few times since. It was a great read, and I bought the book to read later. Brashares' first adult book after writing some traveling pants series. It's a first for me because there were times when Riley and Alice were acting younger than they were. Both are in their early 20s. It's original and has great character builds, too, Morgenthau said.
Best of Brashares

Derived From Web

, Apr 20, 2022

Ann Brashares, creator of the popular "Sisters of the Traveling Pants" series, died Sunday at age 82. This is the first of a planned three novels. Like much of her work, Brashares writes in a way that is comforting and familiar, as if a close friend is describing to you these events in detail. As a result this makes for a good light read that is perfect for a nice summer day whether it be at the beach or on your front porch. But also consistent with her work, the nice light story has deeper layers and Brashares is able to communicate a complex, deep story involving serious relationships between life-long friends and siblings and the ramifications that jealousy, betrayal, and deceit can have on these relationships.
Almost a hit, but not quite...

Derived From Web

, Apr 20, 2022

Ann Brashares' first adult novel has echoes of the first Sisterhood of the Traveling Pants, but this book is a lot more introspective. I've loved the way Fire Island becomes almost the fourth character in the novel -- I think Brashares really got that part dead on. But when she took the characters off of the Island and into Manhattan - the story fell flat. The plot-points were forced to get to the climax of the story. Then the scenes that were supposed to be the ultra-dramatic ones were a little predictable and unmoving, Crowe said. It felt like once Brashares got the ball rolling on her plot, she didn't want to think about it anymore. That's too bad, I really like Brashares' descriptions of the scenes and character's thoughts and thought the book had great potential, he said.
A Summer Story you won't forget

Derived From Web

, Apr 20, 2022

I have read the first two books, and I thought they were just delightful reads, Simon says. I was glad Ms. Brashares moved her writing skills to portray adult characters. I have a sister that is devoted to me and maybe it was the way the author wrote of the deep relationship of the sisters that I fell in love with this story, he said. In my opinion the story moved along at a good pace and kept me interested, he said. The plot seemed to jump around a bit, but the characters where well defined and the author did an excellent job of describing the scenes, that I felt I was standing right there with the characters, he said. There are numerous positive reviews that give an excellent detail of story and I won't add more. Overall, I enjoyed the book very much and hope Ms. Brashares continues to write more adult character driven stories in the future.
This Summer Has Lasted

Derived From Web

, Apr 20, 2022

I've read this book, and I didn't like it. The first few pages were so awful that I almost stopped reading it. What I didn't like is that the descriptions went on forever, he said. Ironically, what I did like most about Brashares's book is that the descriptions were so well written that I could see everything Brashares wrote about as if I were there. But this book stands in great detail, no doubt from the great detail that went into it. I would recommend it to a friend. There was something that caught me and wouldn't let me go until I finished reading it, and that lingers still.
Loved this book!

Derived From Web

, Jul 21, 2020

This was a great summer read, too. I've also enjoyed the movies "Alice's Adventures in Wonderland" and "The Princess Diaries 2." It's a lot different for all three of them this last summer. It is a bittersweet and full of raw emotion, McCartney said.