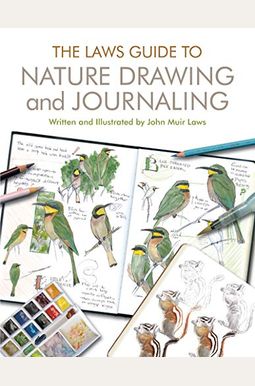  
The Laws Guide To Nature Drawing And Journaling
Book Overview
A potent combination of art, science, and boundless enthusiasm, the latest art instruction book from John Muir Laws (The Laws Guide to Drawing Birds) is a how-to guide for becoming a better artist and a more attentive naturalist. In straightforward text complemented by step-by-step illustrations, dozens of exercises lead the hand and mind through creating accurate reproductions of plants and animals as well as landscapes, skies, and more. Laws provides clear, practical advice for every step of the process for artists at every level, from the basics of choosing supplies to advanced techniques. While the book's advice will improve the skills of already accomplished artists, the emphasis on seeing, learning, and feeling will make this book valuableeven revelatoryto anyone interested in the natural world, no matter how rudimentary their artistic abilities. A sketchbook, constructed to withstand excursions in the field and containing several exercises from The Laws Guide to Nature Drawing and Journaling, is also available.
Frequently Asked Questions About The Laws Guide To Nature Drawing And Journaling
Book Reviews
(14)
Did you read The Laws Guide To Nature Drawing And Journaling? Please provide your feedback and rating to help other readers.
One of the best drawaing books in my library!

Derived From Web

, Apr 22, 2022

This is a spectacular guide for drawing, one of the best I've seen to date. His examples are very detailed, are spread across many steps with great levels of detail included in each step, and result in amazing drawings. There is a wealth of technique provided by the tutors that goes along with the reasoning behind everything. This is not your average 'learn to draw' kind of book—it is reminiscent of some of the very best in-person instruction I've had in art, architecture, and illustration training. If you are interested in learning from a book, this is the book to try. I highly recommend this book to anyone.
Nice, workable book that inspires

Derived From Web

, Apr 22, 2022

A great book, says Penguin Random House. Microsoft's new products include a browser called the "Internet Explorer 6." This is a book that my children and I are working through, and it seems to appeal to the beginner as well as someone that has been journaling a long time. It's a good place to start, or to just keep getting better, he said. It's great to have a good book, especially one with such a thorough understanding of the English language. A French soldier was seriously injured in the early hours of Monday when a shell exploded.
Wow! Fabulous book

Derived From Web

, Apr 22, 2022

In the first book, "The Ladykillers," Elizabeth Warren writes, "the police kill a young woman in the stairwell." Imagine, one said, what a truly wonderful experience it would be to work with the masters of ancient alchemy. Everything you need to know about quickly recording your observations of nature in a way that furthers scientific research and makes something beautiful at the same time, he said. What little he does not cover is in his second book, Laws to Drawing Birds. What a difference a year makes?
The best drawing and journaling book ever!

Derived From Web

, Feb 22, 2022

There is so much information in this book, so many mysteries, Sosa said. Very well written and illustrated, Mr. Scribner said. It was a great deal, said one customer.
Helpful

Derived From Web

, Jan 23, 2022

Wish I had ordered paper back. I wanted to see all the animals in it, but I can't find a table of content to get back to the animals I wanted to draw. It could have been a lot cheaper, Mr. Dhaliwal said.
Great book! Poor shipping.

Derived From Web

, May 18, 2021

Beautifully illustrated, The Book is a step-by-step guide to creating a picture book classroom. I know it will help me, too. It would be nice if Amazon took into account the needs of book publishers, not just authors. The first 40 pages were creased from being bent in the box like someone just tossed it in without any care.
Good book but needs spiral binding rather than glued

Derived From Web

, Mar 30, 2021

A must-have reference book for anyone interested in learning more about the universe. It's just that I'm giving it 4 stars rather than 5 stars. Because of the book, the copyright is assigned to the original publisher. As an artist himself, the author should realize that a book like this really needs a spiral binding so that the pages will lie flat while the reader attempts to sketch out the step by step instructions. When I saw this book sitting on the shelf yesterday, I wondered if I should take it to a place to have it rebound in a spiral binding so that I could actually use it.
Beautifully illustrated and easy to follow.

Derived From Web

, Jan 30, 2021

A book of drawings, not a book of writing. The shading and shapes are made easy for a beginner. If you have ever wanted to keep a journal, whether it is for travel, or to accompany you on a walk or hike, this is a good place to start.
About so much more than art and nature - this book could truly change you

Derived From Web

, Nov 18, 2020

It deserves a place in our limited home library, Libowitz said. There is so much more there than meets the eye. It was beautiful advice for parenting as well when he walked you through how to notice and appreciate the details of a child's development. Apply this technique to how you see your children and you will find your heart very full. The only thing I wish it had was the ability to lay flat, he said.
Just amazing!!!

Derived From Web

, Dec 3, 2019

Bought this as a gift and now I want this book for myself! And, boy, did I get a kick out of it! There are three main categories: news, photos and videos. If I had this book, I would love to go through it one page per week and work on the techniques!