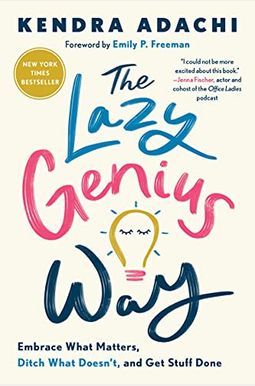  
The Lazy Genius Way: Embrace What Matters, Ditch What Doesn't, and Get Stuff Done
Frequently Asked Questions About The Lazy Genius Way: Embrace What Matters, Ditch What Doesn't, and Get Stuff Done
Book Reviews
(16)
Did you read The Lazy Genius Way: Embrace What Matters, Ditch What Doesn't, and Get Stuff Done? Please provide your feedback and rating to help other readers.
Helped me with perspective then organization

Derived From Web

, Sep 21, 2021

Before jumping into procedure and organizational tips and directions, Kendra asks herself, "What most matters?" She shows how principals have applied to my life in unexpected ways. I was struggling with anxiety and distraction and this book truly has helped with my mindset and ability to choose how to approach and enjoy each day, he said.
Practically Helpful

Derived From Web

, Jul 9, 2021

While I'm not a married woman with kids, I still found this book really helpful and practical for single living. Some of the things it mentions I'm already doing others like essentializing and batching, so I could definitely work on that! Thanks to the wonderful people at Random House for sharing this book on your podcast.
A new way to see

Derived From Web

, Feb 5, 2021

This book is full of gentle guidance and humor to help us see our anxieties and stressors in a new light. Abundant love and connection remind us that we don't have to carry around everything on our own, and we can lighten our load by being lazy about the things that aren't from our true selves.
Comfort, compassion and practical application

Derived From Web

, Dec 15, 2020

You are my people, Kendra. I found myself in every scenario depicted and I could not stop smirking at all the "yaaass"es that were going on in my head as I related to the emotions and tangible applications I've experienced in trying to figure out life. The Lazy Genius Way has given me more compassion for others knowing that different things matter to different people, and that's okay! Anyone who wants practical applications to finding solutions to problems that matter in life should read this book. In her book, Kendra says, "I feel like one of your best friends after reading your book. We thank you for allowing us into your life, Beckham said.
Not for Me

Derived From Web

, Sep 12, 2020

I was so excited to read this book, Melissa. It had such great reviews, I couldn't help but smile. I'm not the intended audience. This book is for moms who have young kids and are expected to take on all the traditional female roles in the family, laundry, shopping, child care, etc. There are so many good ideas out there, but when there are like, What can I do now to make getting everybody out the door for school easier later? Make sure you have lunch the night before. If you are a young Christian mom, trying to do too much for your family, this may be a great book for you.
Lightbulb moments

Derived From Web

, Aug 20, 2020

I've pretty much read every home improvement book around, and this one still gave me some lightbulb moments. The author begins by describing how he came to be a problem solver. Like Marie Kondo, who uses the lens of joy, Adachi's lens is wider and can be applied to many more scenarios. If you think you're too excited about the new season of Lazy Genius podcast, don't worry. Practical applications of the book are also readily available. Even if you don't want to wax poetic about the liturgy of painting nails, you will find value in the 13 principles, Graham said.
No Judgement Zone

Derived From Web

, Aug 19, 2020

In fact, I would have to say that Kendra became the most graceful coach in this book. Inviting us to think well about what to make those things count in our lives and how to make time for them. He also said never to cast judgement on someone based on looks or ethnicity. There is no room for error, Tunick said. She both helps us make things easier that we don't enjoy and helps us realize how to lean into those things that we love.
Systems with Soul!

Derived From Web

, Aug 13, 2020

It's Fabulous, Fun, and Functional, Melissa said. Kendra gives you the tools to have systems with a soul. Choosing what to do with that square peg of someone else's system matters to the round whole of your life needs. The book is also available on Amazon. com: "The Whole Nine Yards: The Untold Story of America's Greatest Homes." Enjoy!
change your life

Derived From Web

, Aug 13, 2020

I absolutely loved this book, said Blair. This book is perfect for the non-self-help reader. She has no lists or rules of hers to follow, nor has anyone else. Be a genius about the things that matter most to us all — the things that don't. Master your own life, not someone else's. It's also a beautiful book for your coffee table.
Helpful with No Shame!

Derived From Web

, Aug 12, 2020

I'm not done with this book yet and wanted to write a review because this book is so different than any other book I've read on managing life. This is not about doing it Kendra's way, Sosa said. The principles are easy to follow and are frequently cited by teachers. Get it? It's just that the DVD is so good, I don't think anybody would complain.