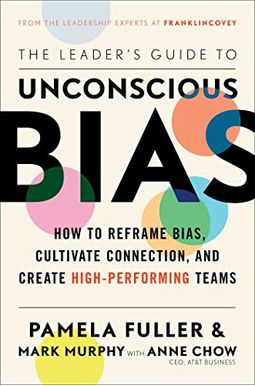 
 
The Leader's Guide To Unconscious Bias: How To Reframe Bias, Cultivate Connection, And Create High-Performing Teams
Book Overview
A timely, must-have guide to understanding and overcoming bias in the workplace, from the experts at FranklinCovey.
Unconscious bias affects everyone. It can look like the disappointment of an HR professional when a candidate for a new position asks about maternity leave. It can look like preferring the application of an Ivy League graduate over one from a state school. It can look like assuming a man is more entitled to speak in a meeting than his female junior colleague. Ideal for every manager who wants to understand and move past their own preconceived ideas,
Unconscious Bias
explains that bias is the result of mental shortcuts, our likes and dislikes, and is a natural part of the human condition. And what we assume about each other and how we interact with one another has vast effects on our organizational success--especially in the workplace. Teaching you how to overcome unconscious bias, this book provides more than thirty unique tools, such as a prep worksheet and a list of ways to reframe your unconscious thoughts. According to the experts at FranklinCovey, your workplace can achieve its highest performance rate once you start to overcome your biases and allow your employees to be whole people. By recognizing bias, emphasizing empathy and curiosity, and making true understanding a priority in the workplace, we can unlock the potential of every person we encounter.
Frequently Asked Questions About The Leader's Guide To Unconscious Bias: How To Reframe Bias, Cultivate Connection, And Create High-Performing Teams
Book Reviews
(8)
Did you read The Leader's Guide To Unconscious Bias: How To Reframe Bias, Cultivate Connection, And Create High-Performing Teams? Please provide your feedback and rating to help other readers.
Extremely helpful resource

Derived From Web

, Feb 27, 2022

This was a very important book on such an insightful topic. I took many tips and resources - I particularly liked the ending of each chapter, which had reflections for individuals and applications for leaders. I also appreciated the unique perspectives of the three different authors and found applicability in all of them.
Exemplary Guide For All Leaders

Derived From Web

, Dec 15, 2021

One of the best books for anyone and all leaders. I will continue to re-read and listen to this. The way the authors explain each and every aspect of how leaders can influence, learn and contribute to their teams is exactly what all leaders should follow. The exercises help in putting the words of the author into practice. I have not only to listen, implement, and improve on my own team, but also to give this book to others as they step into positions where this can help. Thank you to all authors.
We all have biases ~ Do you know how to approach identifying them?

Derived From Web

, Sep 5, 2021

I found this book to be enlightening. I have spent years focusing on the need for integrity in the process, but now realize that I have really challenged individuals to relocate their unconscious biases to a conscious state! Recommend this read HIGHLY. It is my pleasure to have Pam Fuller author this book.
a bit boring

Derived From Web

, Jun 14, 2021

You should be very interested in knowing more about biases to continue reading.
An engaging must read, not just for leaders

Derived From Web

, Nov 20, 2020

The authors make the case that most bias is malicious, not unintentional, and affects each of us. The personal stories and practical no-guild advice is applicable to more than business leaders. Team leaders, mentors, parents, and anyone who aspires to lead by example can make their relationships and teams their best by helping each person achieve their best. As a mentor for a high school team, I found a lot of relevant advice to help our students engage. I found this book so useful and so easy to read, I bought copies for my college children.
Enables the reader to explore biases while providing tools to make a difference

Derived From Web

, Nov 11, 2020

The leaders guide to Unconscious Bias is an informative, present-day look at biases, providing tools to help identify and address them. Given the current environment nationally, this book could not be published at a more relevant time. Every leader and future leader must cover this book from cover to cover!
Add This to the Top of Your Reading List

Derived From Web

, Nov 10, 2020

I have been in the HR - development and talent - development field for more than 20 years and I so appreciate when an author provides solid information and advice that can be moved quickly into action. Each chapter includes a reflection for individuals and an application for leaders. There are also great questions that could be used by a governing team to read together and then discuss, or perhaps a book club at work. There are also great examples from the three authors. I strongly recommend adding this book to your reading list.
Reframe Bias. Absolutely essential for today's business world

Derived From Web

, Nov 10, 2020

What a book of its own. Authors Pamela, Mark and Anne find a great balance in this book to discuss why a reframed bias is essential for the modern work environment. I am so excited to spread the word about this book.