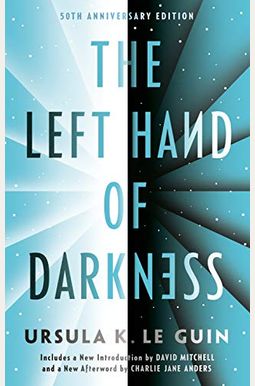  
The Left Hand of Darkness: 50th Anniversary Edition
Book Overview
This Description may be from another edition of this product.
*Now celebrating its 50th anniversary*
A deluxe hardcover edition of the queen of science fiction's trailblazing novel about a planet full of genderless beings--part of Penguin Galaxy, a collectible series of six sci-fi/fantasy classics, featuring a series introduction by Neil Gaiman
Winner of the AIGA + Design Observer 50 Books 50 Covers competition
A groundbreaking work of science fiction,
The Left Hand of Darkness
tells the story of a lone human emissary's mission to Winter, an unknown alien world whose inhabitants can choose--and change--their gender. His goal is to facilitate Winter's inclusion in a growing intergalactic civilization. But to do so he must bridge the gulf between his own views and those of the completely dissimilar culture that he encounters. Exploring questions of psychology, society, and human emotion in an alien world,
The Left Hand of Darkness
stands as a landmark achievement in the annals of science fiction.
Penguin Galaxy
Six of our greatest masterworks of science fiction and fantasy, in dazzling collector-worthy hardcover editions, and featuring a series introduction by #1
New York Times
bestselling author Neil Gaiman, Penguin Galaxy represents a constellation of achievement in visionary fiction, lighting the
Read More chevron_right
Frequently bought together
Frequently Asked Questions About The Left Hand of Darkness: 50th Anniversary Edition
Books like The Left Hand of Darkness: 50th Anniversary Edition
Book Reviews
(13)
Did you read The Left Hand of Darkness: 50th Anniversary Edition? Please provide your feedback and rating to help other readers.
Be prepared to have your world concept changed!

Derived From Web

, Apr 20, 2022

This book has changed my thinking about gender. Normally, the planet's natives are gender neutral until they enter the Kemmer, a kind of heat, when they become randomly male or female. After Kemmer, they go back to the neutral state unless pregnant. One person can therefore be the mother or two and father of three. This book was published in 1969, and LBGTQ people may find some of the ideas dated, but it remains a profound exploration of what happens when the basic traits defined in one's own society don 't apply in another culture. I was surprised when I read The Left Hand of Darkness again to realize that it could apply to any political race, religion, or even a trait affiliation. Highly recommended.
Superb

Derived From Web

, Apr 20, 2022

This book is a classic, so there is really nothing I can say that others have not already said and better. It is science fiction that addresses the social consequences of contact between people from different planets, rather than focusing on technology and the things that can go wrong. It is a great story with wonderful characters and descriptions of envisioned worlds. It addresses the issues of sex and gender by imagining how a person would interact in a world where everyone is at once both sexes. The issue is not gender and the sex act, but how our social perceptions, interactions and expectations are shaped by our ideas about gender in rather profound ways. This is not the main point of the book, but rather a part of the rich social and philosophical landscape where action takes place. I had been meaning to read it for years and am now a devoted Le Guin fan. I really think that this might have made it into my top 20 favorite books.
Just wonderful! An entirely complete alternate reality is created in ...

Derived From Web

, Apr 20, 2022

This is quite remarkable work. So completely engrossing and forces one to think beyond normal human limitations on power, position, gender and friendship. Wonderful! An entirely complete alternate reality is created in the imagination when reading the delicate prose of Le Guin, a world full of strange beauty and oddly brutal weather, which is simply the stuff of daily life for the natives of the planet. All of which would be difficult for humans, as we are to deal with. Brilliant!
I wish I had read Ursula's Work Earlier!

Derived From Web

, Jan 15, 2022

Her work has a rich depth, bringing readers on journeys through external hardships and marvelous explorations of the mind. She emphasizes how little we know ourselves and how realizing inner truths helps us heal and connect better with others. Part of me wishes I had read her in my youth to expand my imagination, and another is very glad that I read it for the first time as an adult, so that I could appreciate the nuances and complexities of her writing better.
As relevant today as it was decades ago.

Derived From Web

, May 19, 2021

An all-time classic of science - fiction. The plot itself was a little hard to follow, but the exploration of gender norms in a society both familiar and profoundly alien is unforgettable.
Not my thing

Derived From Web

, Nov 18, 2020

Hmm, I am not sure what to say, but it wasn 't my thing. It has a lot of intersections on culture, physical, political and survival. I am not sure if I see anything beyond that.
One of the great classics

Derived From Web

, Jul 26, 2020

An extraordinary novel. Very evocative and evocative. A lone envoy's first contact with a distant alien planet is the first contact with a lone envoy. Everything so different - politics, betrayal, murder and yet so similar. There are a lot of epic perilous things happening, not the least of which is an interesting journey across the ice. But it is probably fair to say that it is most recognizable for its radical take on the gender stereotype. They are androgynous, and are. Becoming female or male only briefly for a couple of days each month, only then for a few days each month. In kemmer, as they call it, is a kemmer as they call it. Which gender is random and varies over time. What a difference that makes and is explored in some depth. The effect is slightly spoiled by the use of masculine pronouns for the rest of the time. But this problem hasn t been widely solved, but this problem still hasn 't been widely. And it was written in 1969!!! Fascinating, thoughtful, perceptive
Some of Ursula K. Le Guin's best work.

Derived From Web

, Jun 1, 2020

Take a deep dive into the gender, power, war, authoritarianism, adventure and feeling alien. There are few authors who have mastered the art of world building. This is an example of one of them :
Well deserved Hugo winner

Derived From Web

, May 11, 2020

Incredible story of opening a new world back into the Alliance of Humanity. Vivid description of true cold and winter, with equally wonderful definition of a people with sexual abilities different from normal humans. A tale for the ages, with timeless prose.
The meeting of men from distant world's is the reunion of mankind.

Derived From Web

, Feb 2, 2019

A novel that allows us to deal with the unknown that lives within us, that lives in all others, or we shall not allow our souls to flourish as humankind. Not world, but communities, not villages, but houses. Not one and all of humankind, but humankind embracing itself to know its spirit. Highly recommendable :