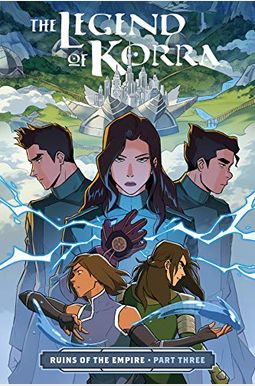 
 
The Legend Of Korra: Ruins Of The Empire Part Three
Frequently Asked Questions About The Legend Of Korra: Ruins Of The Empire Part Three
Book Reviews
(8)
Did you read The Legend Of Korra: Ruins Of The Empire Part Three? Please provide your feedback and rating to help other readers.
Fantastic!!

Derived From Web

, Mar 14, 2022

TLOK and AtLA love. The great novels have been a perfect and graphic addition to and expansion of the world of Korra. The art is beautiful, the characters exactly look like they did in the show. The story is written well and characters are on point. So happy for the LGBT+ rep in all novels, with the continuing of Korrasami from where it left in the show.
So glad paperback version went back on print

Derived From Web

, Sep 28, 2020

I really enjoyed this 3-part LoK comic and was so happy to see it back on print a few weeks ago. The conclusion is satisfying and I am glad to see the continuation of Kuvira's arc, which started in the animated series. Michelle Wong loves art work by Wong! I hope she gets to continue with Korra comics later, assuming we get more. The decision to move the EK away from the monarchy is only in its beginning stages of change, and Ruins of the Empire shows how difficult this process can be.
I want more

Derived From Web

, Sep 14, 2020

A very sweet ending to the store line, but I also felt like it was really rushed. From such a good line, I wanted to buy more. It was, however, good at seeing more of Kuvira's past and her character growing more than before.
Ok for kids

Derived From Web

, May 14, 2020

It is not a bad little story for children, better than Turf Wars clearly, though I still wouldn 't recommend it for adults, since it is a bit difficult to take seriously from an adult perspective. After waging a war of aggression, dumping people in reeducation camps, wrecking Republic City and murdering many people, some of them on-screen, gets off with house arrest. Even if Korra and her family trust her to escape and rebuild her empire, it is odd that the legal system and other world leaders who don 't know her are willing to roll those dice. It does not seem like justice ; it seems like a weird way to treat a murderer and a tyrant. Also, Asami says she still hasn 't forgiven her, but she doesn 't seem to have much of a grudge, though Kuvira turned her father into a pulp. For children, again, none of this seems to me kind of silly, but is probably important as an adult.
Loved it

Derived From Web

, Mar 25, 2020

I always wanted to see what became Kuvira after the show, and we get to see not only her, but also more of the Beifong family! Would recommend this show to any fan of the show.
Keeps getting better

Derived From Web

, Mar 5, 2020

If you're a fan, you won t be disappointed, the story is overall an amazing hope to read more from the series.
A Satisfying Conclusion

Derived From Web

, Feb 26, 2020

I enjoyed this series really ''. It wraps a lot of plot points that were left open after the show ended and does so in a satisfying way. If it all ended here and we never received another Korra story, I'd be just fine with it. If you're a Korra fan, pick up this one ; you don't want to miss it.
Redemption

Derived From Web

, Feb 25, 2020

As always, fantastic. In the future, I look forward to reading more. This series has always been great, though.