Buy 3 Get 1 Free
Our Best Sale Yet! Add 4 Books Priced Under $5 To Your Cart     Learn more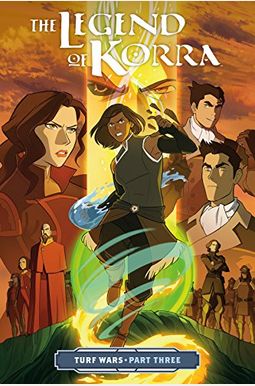 
 
The Legend Of Korra: Turf Wars Part Three
Product is currently Out of Stock.
You can add it to your wishlist and you will be notified once we receive a copy.
Book Overview
When Asami is kidnapped, Korra sets out to the Spirit Wilds to find her. Now teeming with dark spirits influenced by the half spirit-half human Tokuga, the landscape is more dangerous than ever before. The two women must trust in each other and work together if they are to make it out alive. Their fate is revealed in this stunning, action-packed conclusion to The Legend of Korra: Turf Wars
Written by series co-creator Michael Dante DiMartino and drawn by Irene Koh (
Teenage Mutant Ninja Turtles, Afrina and the Glass Coffin
), with consultation by Bryan Konietzko, this is the official continuation of the beloved television series
Frequently Asked Questions About The Legend Of Korra: Turf Wars Part Three

Books like The Legend Of Korra: Turf Wars Part Three
Book Reviews
(9)
Did you read The Legend Of Korra: Turf Wars Part Three? Please provide your feedback and rating to help other readers.
A good continuation.

Derived From Web

, Jul 5, 2020

I purchased the first two from Barnes and Noble, so that this review applies to all three volumes. As a continuation of Korra, the story was enjoyable and engaging enough, though the writing at points was a little cheesy. I love Korra and Asami as a couple, but the hamfisted social dialogue about same sex relationships was tiresome. Who would say that the world of Avatar would still be hung on something so basic? I wish that the Korrasami relationship was presented as a matter of fact, because it would be refreshing.
A nice end to the short story.

Derived From Web

, Aug 30, 2019

I am not really here for a grand amazing epic written by masters, I'm just here to get more of the show I loved. The story suited the story nicely and set the groundwork for the next book.
A great final act to a continuation of a wonderful series

Derived From Web

, Oct 3, 2018

This is the first installment in this third and final continuation of the story of Korra, the Legend of Korra. This arc got all the main and minor reactions from the initial cast out of the way, so that their story can continue to progress. I like that the series continues in a different form, but I feel that some of the depth and time to build the characters is missing in this format. I liked how much diversity is shown in Republic City, though. In this part, there are presidential protests and a peaceful election. I am definitely looking forward to the next story arc ''. If you are a fan of the tv series and haven't yet picked up these books, I highly recommend that you do.
Good, but predictable.

Derived From Web

, Sep 17, 2018

The ending did feel huge, sweeping, but I think that it is mostly because it had to live up to the massive character arcs and predictable finales of the TV show. And, as others have said, there were a few panels where art was a little more questionable than in previous editions. I still loved it though as a die hard Korrasami fan and I hope they make more. Hopefully they don 't force future issues to be more type specific plots. I imagine that the reader base for these comics is older than the TV show, so I'd like to see more mature, nuanced plots where the stakes can be more personal, and not literally the whole world.
OK, but barely any Korrasami

Derived From Web

, Sep 10, 2018

I found it a little less luster than the other two Turf Wars books. Still enjoyed it because Korra is the best, but also noticed that the characters did not look much like the animated ones. A different style is fine, but at least make their faces look like they should. It pops you out of the bubble when they look like someone else. Plus, the Korrasami relationship was practically nothing. There were only two very short moments. In this area, Turf Wars 1 was much better than in previous years.
Please don't be the end

Derived From Web

, Sep 6, 2018

This was a satisfying end to the comic trilogy, though I would have liked to have more-I don 't think I could ever have enough Avatar. The overall plot for this trilogy was rather weak, but I was not too bothered by it, due to its ability to tell multiple stories in such limited time. I don 't think that a single line or panel was wasted. The ending stayed true to the spirit of Avatar, providing inspiration to its readers and letting them know that even though the world is full of darkness, it always yields purifying light.
Enjoyed the story, but the art is lacking.

Derived From Web

, Sep 5, 2018

It was quite poor and not what I expected.
For Every Step Forward, Two Steps Back

Derived From Web

, Sep 5, 2018

This entire story had a lot to live up to, not only trying to flesh out the world, which felt lacking for most of it, it also had to live up the promise, the first story of the ATLA graphic novels. It gets points for fleshing out the relationship between Korra and Asasmi as well as having Kya give them and us the history of the same sex relationships in the series. Points for trying to tie up in the gangs, but that's ultimately it. Here everything is honestly lacking the same drive and desire to not only have an interesting story, but also to flesh out the character, most of which felt lacking even on the show. Like the show itself, it feels as if there is no real attempt to explore any of the idea it presents, outside of the good guy vs bad guy idea that worked in ATLA with Ozai, but not here with characters that present themselves as more. Also, the art is just so dull, nothing comes at you or looks interesting.
Action Packed and Exciting

Derived From Web

, Sep 4, 2018

A first of all, I have to confront it for myself and many others. One of the most exciting aspects of this series is the development of Korra and Asami's relationship. Here there is definitely a lot of that : the reader gets to see how the two compliment themselves and we get to see them fighting for and protecting each other. The ending is inspiring, I definitely leaves me wanting more, that's all I say no spoilers. Also, I can not get enough of the tall female characters in LOK, so badass!!! Apart from that, my only compliant is that I wish they hade made TW3 longer than the first Turf Wars. In general, I wish that they would continue delivering these awesome stories faster.