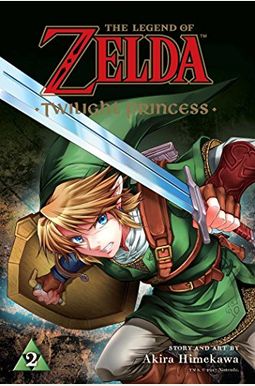 
 
The Legend of Zelda: Twilight Princess, Vol. 2, 2
Book Overview
Link must defeat evil at every turn in his perilous quest to help Princess Zelda
Once upon a time, wizards tried to conquer the Sacred Realm of Hyrule. The Spirits of Light sealed the wizards' power within the Shadow Crystal and banished them to the Twilight Realm beyond the Mirror of Twilight. Now, an evil menace is trying to find Midna, Princess of the Twilight Realm, and the fragments of the Shadow Crystal to gain the power to rule over both the Twilight Realm and the World of Light. Link awakens in the Twilight Realm, in the form of a wolf Here he meets Midna, and she escorts Link to Hyrule Castle where none other than Princess Zelda bestows a question upon him--if the world is to be saved from the encroaching darkness, Link must recover the shards of the Shadow Crystal. The task will be long and difficult, and Link will need to use new powers he doesn't know he has
Frequently bought together
Frequently Asked Questions About The Legend of Zelda: Twilight Princess, Vol. 2, 2
Books like The Legend of Zelda: Twilight Princess, Vol. 2, 2
Book Reviews
(14)
Did you read The Legend of Zelda: Twilight Princess, Vol. 2, 2? Please provide your feedback and rating to help other readers.
Buy them all -- so worth it!

Derived From Web

, Oct 19, 2020

My son has been obsessed with Link since he was about 7 years old. He binged them all on the same day, and then he insisted I read them, too. I love the work of the artists, especially the mandalas. It's great to have the full-page spreads. Even the smallest expressions are perfect, too! It just feels like the game picks up where the video game left off.
Waiting on vol. 7

Derived From Web

, Apr 24, 2020

Yes, I have read all of the manga. I'm excited to see what's next, Beckham said. In the game, Taylor is played by Kristen Stewart. It is one of my all-time favorite Zelda games. I think it was cool to get a back story for everything, Beckham said. I know it deviates from the game a little, but they can't add everything in. Extra bits of information that weren't in the game make it more interesting to read, Tunick said.
Great way to enjoy the series

Derived From Web

, Jul 12, 2019

i love when a series does its best to keep people invited into it by doing what zelda has done, many of the games are being remade but with books like this you can keep the fun alive even when you can't get hold of the game itself.
HAA?

Derived From Web

, Dec 21, 2018

The art is very nicely done, the story paces fairly well, and transitions between scenes are just as well done, he said. I'm not quite sure about the length of the story, Huff said. Link learned about the shadow demons being able to possess animals, he learned how to see shadow creatures and he managed to get his hands on the boomerang. I am excited to see how all of this works in graphic form, he said.
Must have for any Twilight Princess fan.

Derived From Web

, Dec 14, 2018

I've played the original game, "Legend of Zelda: Ocarina of Time," since I was a kid. The Twilight Princess game was a great gritty and realistic retelling of a legend of Zelda. I'm really pleased with the outcome of the manga, said Axel. It gives a bit of back story to each of the characters that was missing from the game and provides Link a bit of depth that is lost due to his being a silent character. While I'm sure that the game's story writers didn't originally see the story in this way, I'm sure they would change it to be more like this. This is a great series of games, and I strongly recommend it to any Legend of Zelda fan.
Good if you like Zelda, Otherwise, just another manga.

Derived From Web

, Jul 29, 2018

My 8 year old LOVES them. The second book is in Manga format, meaning you start reading it from the back of the book and move to the front. But I do not find them to be exciting and my kid would rather read his X-story house series more. There are elements of the books which are not in the games, and the story lines are not all that engaging.
Love the second book!

Derived From Web

, Jun 16, 2018

I love how the story still continues and that is awesome just like the first book! The second book in the series, "The Twilight Princess," is also amazing.
Awesome!

Derived From Web

, Mar 31, 2018

I'm really excited about the manga series, as it was one of my favorite storylines from the games.
Confusing format makes this hard to read

Derived From Web

, Feb 22, 2018

The book is read back to front, and the follow-up questions are very difficult to follow. It turned out that I never gave them to my granddaughter as a present.
Very fun read. Great artwork

Derived From Web

, Sep 25, 2017

This was a great read, said Blair. Really great artwork, and an interesting expansion to the story of the game, Tunick said. Yes, I can't wait to read the rest of the series.