Buy 3 Get 1 Free
Our Best Sale Yet! Add 4 Books Priced Under $5 To Your Cart Learn more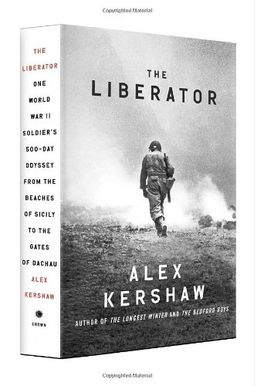  
The Liberator: One World War Ii Soldier's 500-Day Odyssey From The Beaches Of Sicily To The Gates Of Dachau
Book Overview
This Description may be from another edition of this product.
The untold story of the bloodiest and most dramatic march to victory of the Second World War--now a Netflix original series starring Jose Miguel Vasquez, Bryan Hibbard, and Bradley James
Exceptional . . . worthy addition to vibrant classics of small-unit history like Stephen Ambrose's Band of Brothers.--Wall Street Journal
Written with Alex Kershaw's trademark narrative drive and vivid immediacy,
The Liberator
traces the remarkable battlefield journey of maverick U.S. Army officer Felix Sparks through the Allied liberation of Europe--from the first landing in Italy to the final death throes of the Third Reich. Over five hundred bloody days, Sparks and his infantry unit battled from the beaches of Sicily through the mountains of Italy and France, ultimately enduring bitter and desperate winter combat against the die-hard S on the Fatherland's borders. Having miraculously survived the long, bloody march across Europe, Sparks was selected to lead a final charge to Bavaria, where he and his men experienced some of the most intense street fighting suffered by Americans in World War I. And when he finally arrived at the gates of Dachau, Sparks confronted scenes that robbed the mind of reason--and put his humanity to the ultimate test.
Frequently Asked Questions About The Liberator: One World War Ii Soldier's 500-Day Odyssey From The Beaches Of Sicily To The Gates Of Dachau
Books like The Liberator: One World War Ii Soldier's 500-Day Odyssey From The Beaches Of Sicily To The Gates Of Dachau
Book Reviews
(11)
Did you read The Liberator: One World War Ii Soldier's 500-Day Odyssey From The Beaches Of Sicily To The Gates Of Dachau? Please provide your feedback and rating to help other readers.
Felix Sparks a True American Hero

Derived From Web

, May 25, 2022

Another unspoken hero from WW2 is Felix Sparks. He helped with the invasion of Germany and fought all the way to Italy. On the way, he liberated the Dachau concentration camp. Here, some of his men captured the brutal SS that they slaughtered. It was eventually squashed by Patton himself. He lets the reader know when a general has messed and how it has influenced the outcome of the battle. The real American hero is Felix Sparks.
The Great

Derived From Web

, May 25, 2022

Until reading this extremely well written book, I had never heard of Felix Sparks. The book was fantastic! I am sure that much research went into it. Written very well!
If you are someone who likes reading all facets of WWII I would highly recommend this book

Derived From Web

, May 25, 2022

I've been very much moved by the story of Felix Sparks. If you are someone who enjoys reading all the facets of WWII, I would highly recommend this book. It certainly underscores why the men who have fought and died for our freedom in WWII are truly part of the Greatest generation.
This officer's history is more remarkable than fiction.

Derived From Web

, May 25, 2022

Amazed at all this officer and leader who has endured and accomplished in some of the hardest battle fronts in WWII Europe. Hollywood could not have invented a plot quite so remarkable. The book reads well, facts are kept in order, and credit is given where due to hundreds of other heroes.
An Honest Betrayal of the Strengths and Weakness of Real Soldiers

Derived From Web

, Mar 19, 2021

After watching The Liberator on Netflix and while I have enjoyed the series, this book shows it could not truly do justice to the experiences of the men on which it is based. A heart-warming story and sometimes brutally honest depiction of men at war. Some of the details discussed are elements that we typically don 't like to associate with our troops. It is a story of natural people in unthinkable situations such as the liberation of concentration camps without the strong tint of rose - colored glasses that we are used to being portrayed. I would highly recommend this to anyone not interested in human elements of the war, but rather on the logistical side.
Required reading for those who love WWII History

Derived From Web

, Oct 25, 2020

I am a voracious consumer of American military history, yet I knew nothing about the Thunderbirds. My impression was that the National Guard units were subpar in their performance in WWII. The writing is so-so, but the story is first rate and told well. It could easily have been twice as long. In the 60s, there was a TV series called Naked City. In the introduction to each episode, the announcer would intone solely There are 10,000 stories in the Naked City ''. This is one of them , such as the exploits of WWII. A causal reader of this historical period might think that the Band of Brothers was all there to the war. It was a great book and a series that was well and important. But there are so many compelling stories that don 't get that exposure. This is why this book is important. It satisfies.
One of the best

Derived From Web

, Mar 5, 2018

I have read many books about the Second World War, but this one captures the essence, the sacrifice, the heroism, pain and yes, the horror of war better than most. What sets this book apart is the life of a true hero, Felix Sparks, from second lieutenant to brigadier general, through innumerable battles, wins and losses, and gives a you are there '' quality of life during war. This book is not to be written with care and thoughtfulness.
Extraordinary True WWII Story, Extremely Well Written

Derived From Web

, Jan 15, 2018

This fast paced, well researched and extremely well written WWII saga is of the extraordinary experience of Felix L. Sparks, who rose from no rank dog face to command a regiment in the 45th division, from bloody Anzio to the hell of Dachau. It is amazing that a man saw and endured as much as he did and survived.
Highly recommend this book to see what our soldiers went through.

Derived From Web

, Nov 8, 2017

I enjoyed the book because it followed the route my uncle took in WWII. His division was alongside the author. I bought it for my father and he enjoyed it as much as I did, since it was his brother's. In turn, he bought it for my uncle's son. Hearing how heartbreaking their lives were for several years.
Could not put it down.

Derived From Web

, Jun 16, 2017

Compelling is read by : I thought the writing about Anzio and the mountains near Germany was particularly enticing, as was the treatment of their discovery in Dachau.