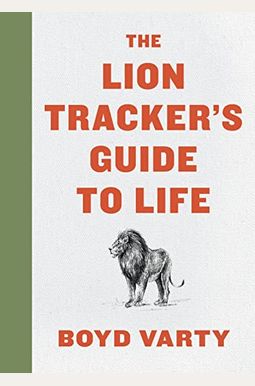 
 
The Lion Tracker's Guide To Life
Book Overview
This Description may be from another edition of this product.
Somewhere deep inside, you know what your gift, purpose, and mission are. Boyd Varty, a lion tracker and life coach, reveals how the wisdom from the ancient art of tracking can teach you how to recognize these essential ingredients in a meaningful life. Know how to navigate, don't worry about the destination, and stay alert. These are just a few of the strategies that contribute to both successful lion tracking and a life of fulfillment. When we join Boyd Varty and his two friends tracking lions, we are immersed in the South African bush, and, although we learn some of the skills required for actual tracking, the takeaways are the strategies that can be applied to our everyday lives. Trackers learn how to use all of their senses to read the environment and enter into a state of greater aliveness. When we learn to find and follow our inner tracks, we learn to see what is deeply important to us. In the same way the trip in the classic Zen and the Art of Motorcycle Maintenance was a vehicle to examine how to live out our values, the story of this one-day adventure--with danger and suspense along the way--uses the ancient art of tracking to convey profound lessons on how to live a purposeful, meaningful life of greater harmony.
Frequently Asked Questions About The Lion Tracker's Guide To Life
Books like The Lion Tracker's Guide To Life
Book Reviews
(9)
Did you read The Lion Tracker's Guide To Life? Please provide your feedback and rating to help other readers.
Read for the stories, then benefit from the philosophy

Derived From Web

, Mar 21, 2022

A great story teller and a lot of people will benefit from this book. While I could have enjoyed the book alone, the analogy of animal monitoring to finding one's true path in life is very original. I added an African safari to my list of life!
Must Read!

Derived From Web

, Mar 17, 2022

This book is calling a lot. If you are wondering if it is for you, I am here to assure you that it is. It is filled with wonder, written beautifully, it is an homage to the wildness in each of us and how the Earth can help each of us find the wildness in itself. Just bought five hardback copies to give to friends.
I don't know where I'm going but I know how to get there.

Derived From Web

, Mar 14, 2022

Superb storytelling, profound and insightful vulnerability, this is one of the most courageous guides to life I have ever read. Listened twice in a week and bought the hardcover. I return to this book again and again. Boyd, thank you.
Exquisite. A gem.

Derived From Web

, Feb 9, 2022

I had previous ties to Londolozi and had to laugh at the direction of the universe when this title caught my eye. Boyd Varty writes in a c!ean, poetic and profound fashion, overflowing with insight into our common, deepest longings. On the orders of Jonathan Livingston Seagull, this book will become a classic. Whatever you do, don 't pass this one by. Cannot recommend highly enough, Cannot recommend highly enough.
Wise and engaging!

Derived From Web

, Jun 18, 2020

The book was read in a day and couldn t put it down. Adding it to the top of my list is a life-changing book. Varty seems to combine deep wisdom and engaging story-telling... I recommend it to anyone, but especially those who have felt disconnected from or uncertain about their life's purpose, who have been buried under trauma or who want to be transported by reading to a different and profound way of life.
My favorite book this year

Derived From Web

, Apr 24, 2020

After listening to Aubrey Marcus on the podcast of Boyd, I had to get this book and read it in one day! So many great metaphors to life :
Master storytelling with a large helping of deep wisdom....

Derived From Web

, Jan 23, 2020

Boyd is a master storyteller and has an uncanny ability to weave gem after gem of wisdom throughout this amazing book. This book is a call to adventure for anyone curious about how they become disconnected from their inner knowing, that intuition that is one of our greatest gifts. Boyd will give you the framework, quite subtly, on how to reconnect to those parts of yourself that have been long forgotten. Be prepared to hop back on Amazon and buy this book for all the people that you care about... it is that powerful... and simple.
Take me to another place

Derived From Web

, Dec 20, 2019

This is a quick, enjoyable, and very easy read. The reader can take what they want from the book, as the story runs parallel to life lessons. I think this was written from an honest and vulnerable place, and that it was quite a brave book to write.
Track what makes you feel good

Derived From Web

, Nov 27, 2019

Think Elizabeth Gilbert meets Carlos Castaneda with a shot by Tony Robbins. Boyd Varty is an exceptional storyteller whose narrative keeps you on the edge of his seat, while the author's self-discovery tracks through his clear prose like lion prints on bank sand. For anyone wanting to venture into the unknown, this book is a must read - you learn to trust yourself in the way you can trust the faint whiff of campfire smoke. I finished reading this book in one sitting and there were a dozen or more strikingly simple and unarguable sentences that made me wish I had not yet finished the book. Lines like Track make you feel good about it, and brings more of it into your life. Notice what makes you feel lousy and do less. And this one, which summarizes the author's advice the best : Prepare yourself to hear the call, look for the first track, tune in to the instrument of the body, and learn to see the track amidst many that brings you to life.