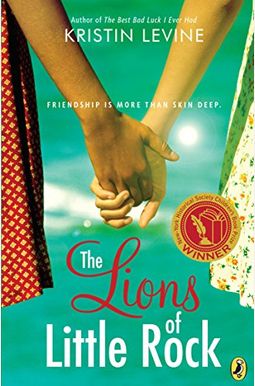 
 
The Lions Of Little Rock (Friendship Is More Than Skin Deep)
Book Overview
Satisfying, gratifying, touching, weighty--this authentic piece of work has got soul.--The New York Times Book Review
As twelve-year-old Marlee starts middle school in 1958 Little Rock, it feels like her whole world is falling apart. Until she meets Liz, the new girl at school. Liz is everything Marlee wishes she could be: she's brave, brash and always knows the right thing to say. But when Liz leaves school without even a good-bye, the rumor is that Liz was caught passing for white. Marlee decides that doesn't matter. She just wants her friend back. And to stay friends, Marlee and Liz are even willing to take on segregation and the dangers their friendship could bring to both their families.

Winner of the New-York Historical Society Children's History Book Prize
A
New York Times Book Review
Editor's Choice
Frequently Asked Questions About The Lions Of Little Rock (Friendship Is More Than Skin Deep)
Books like The Lions Of Little Rock (Friendship Is More Than Skin Deep)
Book Reviews
(11)
Did you read The Lions Of Little Rock (Friendship Is More Than Skin Deep)? Please provide your feedback and rating to help other readers.
The book exceeded my expectations and is easily enjoyed my young adults and older students (I even ...

Derived From Web

, Feb 8, 2022

This book is wonderful. The response from my students was overwhelming, after I assigned this as a reading for a college course. Excellent themes on race and gender, lots of potential to do expansion activities in other content areas, the book exceeded my expectations and was easy to enjoy for my young adults and older students. Highly recommended for teachers in 5 th grade. The author is willing to meet my students at the author session. I'm very excited about this opportunity. !
It wasn't the best

Derived From Web

, Feb 8, 2022

I don't know why I didn't like it but it wasn't my favorite book. Thank you for suggesting this book.
Wonderful Book!!!

Derived From Web

, Feb 8, 2022

The debacle caused in Little Rock, Arkansas and the resistance to integrating schools is well known. The high schools shut down for an entire year because the school board was against integration. Levine tells a story about a middle school girl who is sent to live with her grandmother so that she doesn't lose a year of school. She doesn't sugar coat anything, from the issues of passing as white to the violence against both blacks and whites who support integration, to the hope that comes from seeing people speak out against what is not right. Marlee became friends with a girl who was white. She becomes a key player in the fight to re- open the schools when she finds her voice. Don't miss this book.
Definitely worth reading!

Derived From Web

, Feb 8, 2022

A great book for all ages! My son was reading this book in school and I bought it for him so we could talk about it at home. This is a great choice for both genders because it addresses a difficult period in our history in a sensitive yet forward way, and adds humor and understanding that kids can relate to. I read this with my son. And highly recommend it.
A good read

Derived From Web

, Sep 24, 2021

History is informative for people of all ages, and enough fiction to be interesting. There is a book that can lead to a discussion.
Captivating

Derived From Web

, Aug 29, 2021

The perspective of the year after the Little Rock 9 moved me. You still have a state against school integration after the soldiers leave.
Granddaughter loved it 10 years old

Derived From Web

, May 28, 2021

My granddaughter read this in school. She wanted me to buy it so she could read it.
Great History Story

Derived From Web

, Feb 7, 2020

This is a story that will keep a middle schooler busy. It's a scary time for African Americans and they could be in dire straits. It is sad time in U.S. History. It begins with teaching the younger generation that they hate each other. They will follow their parents' beliefs because that is the only thing they know.
How soon history can be forgotten

Derived From Web

, Jun 22, 2018

I have never read a book like this before. My kids had to read it in English classes. It shows you how to form your own thoughts and ideas outside of what the grown ups believe. It would be great if a few people took the time to read this book and follow up with some history of the 1950's.
Lion-hearted Girls Persist Despite Murderous Prejudice

Derived From Web

, Jan 27, 2018

The integration of the schools of Little Rock, Ark., is a great Civil Rights moment, but it's too easy to think of it as a one- off event. When the Little Rock Schools were ordered integrated, the local school board closed the schools rather than comply with the decision. A powerful book for any age, but suitable for grade 5 and up, I love this book about friendship, honesty, courage, activism, families, and finding oneself stuck in a rough patch of history.