Buy 3 Get 1 Free
Our Best Sale Yet! Add 4 Books Priced Under $5 To Your Cart     Learn more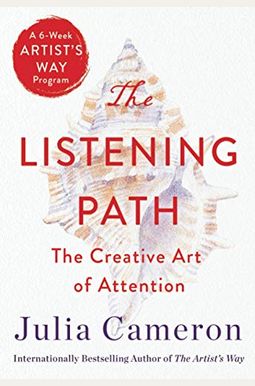 
 
The Listening Path: The Creative Art Of Attention (A 6-Week Artist's Way Program)
Book Overview
A 6-week Artist's Way Program from legendary author Julia Cameron

A Washington Post and Publisher's Weekly Bestseller

Cameron's fans will love this--Publishers Weekly
The newest book from beloved author Julia Cameron,
The Listening Path
is a transformational journey to deeper, more profound listening and creativity. Over six weeks, readers will be given the tools to become better listeners--to their environment, the people around them, and themselves. The reward for learning to truly listen is immense. As we learn to listen, our attention is heightened and we gain healing, insight, clarity. But above all, listening creates connections and ignites a creativity that will resonate through every aspect of our lives. Julia Cameron is the author of the explosively successful book
The Artist's Way
, which has transformed the creative lives of millions of readers since it was first published. Incorporating tools from
The Artist's Way
,
The Listening Path
offers a new method of creative and personal transformation. Each week, readers will be challenged to expand their ability to listen in a new way, beginning by listening to their environment and culminating in learning to listen to silence. These weekly practices open up a new world of connection and fulfillment. In a culture of bustle and constant sound,
The Listening Path
is a deeply necessary reminder of the power of truly hearing.
Frequently Asked Questions About The Listening Path: The Creative Art Of Attention (A 6-Week Artist's Way Program)
Book Reviews
(10)
Did you read The Listening Path: The Creative Art Of Attention (A 6-Week Artist's Way Program)? Please provide your feedback and rating to help other readers.
Buy The Artist's Way but not this one

Derived From Web

, Feb 27, 2021

This book was not in the best of shape. It could have been a third of the length it is. It is mostly a recollection of life with her dog and conversations with name-dropped friends. There were some good points and exercises, but not one of her better books. Compared to the Artist Way, this does not hold a candle.
A disappointment

Derived From Web

, Feb 15, 2021

I adore The Artist's Way and often reread it! But this book is... Here nothing new and enough about Lilly and her salmon, please! Truly a letdown, as I greatly admire the author. I am sorry that I bought it and I will not bother with it any longer.
Revisits and Dog Walks

Derived From Web

, Feb 15, 2021

Always informative and a joy to read, however the first 40 or so pages were dedicated to re-visiting the Morning Pages. For those unfamiliar with the technique, this was perhaps an insightful read, but forty-pages? The rest of the book will appeal to dog lovers, as so many insights are revealed through Ms Cameron's walks with her dog through her life.
Basically Artist's Way...again

Derived From Web

, Feb 8, 2021

I enjoyed The Artist's Way ''. I tried this so. I found it a rehash without enough new to make it worth a read, in fact, I quit less than half the way through. If you have never read the former, it might be worth a read, but I would still recommend TAW over this book.
Are you Listening?

Derived From Web

, Feb 7, 2021

This is the first Julia Cameron book that I can say with absoluteness that I loved from beginning to end. The rest of the LISTENING PATH is typically Julia Cameron's greatness. What makes her book so powerful is that I find myself listening to all the sounds around me, but especially to the people - what they say with their words as well as what they say with their body language. It is interesting how little we truly listen to. As Julia discusses, we are often so busy thinking about how we're going to respond or what comes next that we don't really LISTEN. I like to listen. I even managed to turn my tv off for several mornings, rather than turning it on before I am even fully awake. As I am listening more, I find that I love the sounds I am hearing as well as those I am not. As usual, thank you Julia.
CONTACTING THE DEAD

Derived From Web

, Jan 25, 2021

I am confused about contacting the dead, because my first experience with Cameron was several years ago with The Artist's Way in a Christian Book study. The 5th chapter of the Listening Path is Listening Beyond the Veil, in which she advises the reader to contact a hero who is dead and write what you hear. This follows the conversation on spiritualists and mediums. It is just that if necromancy occurs in the biblical text, it is condemned. This book is not recommended for Christian practices or studies.
Cathartic read

Derived From Web

, Jan 25, 2021

It brings me to deeper thought processes and waking up to not only the world around me, but also myself and others.
For a Book on Listening it Reads More Like a Daytime TV Talkfest

Derived From Web

, Jan 20, 2021

The listening path reads like the script of a rather watery daytime talkfest. It is full of musings and adages on the virtues of good listening. It is not that there is much wrong with the advice. It is that it can be found in umpteenth other self-help manuals. If it was well written, I might have enjoyed it. Finally, who doesn 't need a reminder to listen attentively? But so much of the book is devoted to Julia Cameron the saleswoman, promoting her ideas, her books, her life, her importance. If you enjoy daytime talk shows or are new to the genre of self-improvement, you may benefit from this book.
Don't waste your time

Derived From Web

, Jan 19, 2021

I '' am a fan, but this book is BAAAAAAAD. Regurgitation of well traveled points about morning pages, artist dates and walks. Lily's story is long, pointless stories about sex the dog. The Kindergarten - Level Instruction on Listening to Other People has been changed. Nothing apparent, entertaining or new beyond obvious. It is very short on the plus side.
Wish I had a clean copy.

Derived From Web

, Jan 15, 2021

I enjoy the book, but curious why the last two new brand books I ordered came beat and dirty like they were read.