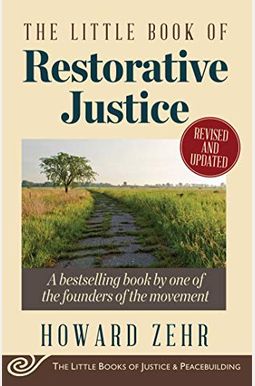 
 
The Little Book Of Restorative Justice
Book Overview
Over 150,000-copies sold Author Howard Zehr is the father of Restorative Justice and is known worldwide for his pioneering work in transforming our understanding of justice.
Here Zehr proposes workable principles and practices for making Restorative Justice possible in this revised and updated edition of his bestselling, seminal book on the movement. Restorative Justice, with its emphasis on identifying the justice needs of everyone involved in a crime, is a worldwide movement of growing influence that is helping victims and communities heal, while holding criminals accountable for their actions. This is not soft-on-crime, feel-good philosophy, but rather a concrete effort to bring justice and healing to everyone involved in a crime. In
The Little Book of Restorative Justice
, Zehr first explores how restorative justice is different from criminal justice. Then, before letting those appealing observations drift out of reach into theoretical space, Zehr presents Restorative Justice practices. Zehr undertakes a massive and complex subject and puts it in graspable from, without reducing or trivializing it. Topics include:
Three pillars of restorative justice
The who and the how are important
The goals of restorative justice
Core approaches often involve an encounter
And much more
This resource is also suitable for academic classes and workshops, for conferences and trainings, as well as for the layperson interested in understanding this innovative and influential movement.
Frequently Asked Questions About The Little Book Of Restorative Justice
Book Reviews
(10)
Did you read The Little Book Of Restorative Justice? Please provide your feedback and rating to help other readers.
Restoring confidence in Justice

Derived From Web

, May 9, 2022

This book is a great way to approach justice. The principles of RJ can be used in all types of conflict and offense, from parenting, to disciplined school discipline, to adult conflict in the workplace, and off course as an alternative to the traditional way of handling criminal offenses. I do wish that their were some examples of encounter conversations or discussion about how long these processes can take, but it would have been a much longer book. This book does a good job of focusing on explaining the foundations and driving principles of RJ instead of telling people how it should be practiced.
Should be required reading…

Derived From Web

, Feb 17, 2022

In this book, there is so much truth and wisdom. For thirty years, I worked in the juvenile justice system. I know that restorative justice is the *best* way to address crime. It supports all involved in so many ways.
Works in prison, but not in schools

Derived From Web

, Jun 28, 2021

We have a principal who pushes this agenda for middle schoolers. It simply does not work for people who leave the building and go home.
Restorative justice intro

Derived From Web

, Feb 16, 2021

Meh's fans are very important. Kinda is a light on firm details. Would like to know more about how it actually works like a case study or a dialogue.
Highly repetitive, no real examples

Derived From Web

, Jan 23, 2021

The book is not intended for a lay person to understand what is RJ and how it works in practice, or could even work in theory. It does not assess approaches and instead lays out a description of several approaches. It has no examples of how the standard justice system works, for example the RJ system and how the process begins and ends. Or example, how this process actually interacts. What I am left with is definitions and appendices and no sense in over 100 pages of what this looks like in practice as practices in the U.S. What can someone request as part of restorative justice and what can they not typically do? How long takes a typical restorative justice process? How often are complete offenders able to complete the process to divert satisfaction? How do introductions between the offender and victim really work in situations of great harm, and how is that mediated for appropriateness? There are no real answers, just ideas.
Understandable and compact.

Derived From Web

, Nov 28, 2020

It carries a large concept with which I am barely familiar in an understandable and compact way. I wish I could write like that ''.
Great, "quick read" primer from one of the movement's founders.

Derived From Web

, Feb 26, 2019

This offers a short primer on retributive justice as an alternative to our failed system of restorative justice. As a how-to guide for applying everyday justice principles to restorative conflicts. As background for restorative justice in Judeo-Christian religion.
Great overview

Derived From Web

, Apr 3, 2018

This great book is a small introduction to restorative justice ideas. I had heard the restorative justice, but knew very little about it. Now that I read this, I feel like I know what people are talking about when they talk about restorative justice and have a framework to fit into other justice-related ideas.
restorative justice is a better choice than jail time

Derived From Web

, Feb 22, 2018

When used appropriately, restorative justice is a better choice than jail time.
A must read for anyone interested in overhauling the U.S. criminal justice system!

Derived From Web

, Jan 7, 2017

Professor Zehr is an icon in the field of alternative dispute resolution and is the father of the movement for Restorative Justice. While small in stature, his book is full of theories, discourse, useful comparison tableslists, and Zehr's thoughts on the fundamentals of a new approach to resolving wrongs in our society. This book is one of the core materials I use in a masters level conflict resolution program, and is always one of the most favored of the class. To be clear, Prof Zehr does not provide a roadmap to traditional justice, he compares the basic theories and procedures of the restorative justice system with what he proposes and allows the reader to fill in the structure.