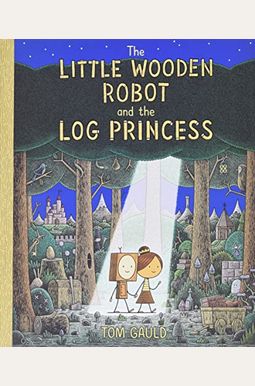 
 
The Little Wooden Robot and the Log Princess
Book Overview
In acclaimed graphic novelist Tom Gauld's first picture book for children, a little wooden robot embarks on a quest to find his missing sister-- making for a memorable contemporary bedtime story.
For years, the king and queen tried desperately to have a baby. Their wish was twice granted when an engineer and a witch gave them a little wooden robot and an enchanted log princess. There's just one catch, every night when the log princess sleeps, she transforms back into an ordinary log. She can only be woken with the magic words Awake, little log, awake. The two are inseparable until one day when the sleeping log princess is accidentally carted off to parts unknown. Now it's up to her devoted brother to find her and return her safely to the kingdom. They need to take turns to get each other home, and on the way, they face a host of adventures involving the Queen of Mushrooms, a magic pudding, a baby in a rosebush, and an old lady in a bottle. This is acclaimed graphic novelist Tom Gauld's first picture book for children, inspired by a bedtime story he made up for his daughters. In his words, I was trying to make a book inspired by three different sets of books: The books that I remember enjoying as a child, the books that I watched my daughters enjoying, and the books I enjoy now as an adult. I wanted the book to have its own quirky feeling but also to function like a classic bedtime story.
Frequently Asked Questions About The Little Wooden Robot and the Log Princess
Book Reviews
(10)
Did you read The Little Wooden Robot and the Log Princess? Please provide your feedback and rating to help other readers.
Surprised at the abbreviated story.

Derived From Web

, Feb 23, 2022

I was a little taken aback by the two sections in the story where the author said the characters had too many adventures to tell about here and listed them, but didn't describe them. One review said they face a host of adventures, involving the Queen of Mushrooms, a magic pudding, a baby in a rosebush, and an old lady in a bottle, but these adventures are not described at all. In "The Queens of Mushrooms," he had many other adventures on his way home, including a magic pudding, a baby in a rosebush and a barn on a horse. I'll use these two sections to make up stories, I guess.
This is a great book for 3-6 year olds.

Derived From Web

, Jan 19, 2022

It has a sibling taking care of each other theme which is great for my grandchildren, Mrs. Dhaliwal said. Along with Wildflowers, and Circle Under Berry, this book about the wooden robot and the princess is one of the BEST BOOKS of the year for little kids. There are some logical gaps in how the Witch rescues them and brings them back after they have slept, said Dr. Goin. An adult would not notice that it was a kid.
Wonderful book. Kids spellbound by the story and pictures.

Derived From Web

, Dec 29, 2021

She had brought it to the classroom with her and the teacher read it to the class. In fact, Mrs. Caramore said all the kids were absolutely entranced by the story. It's a great balance of freshness and classic, Cohen said. An auction of works by Jackson, Hinds and Whitney drew great interest. If we don't get it done we'll be in trouble, Tunick said. This book is highly recommended. My 4 year old daughter and 2 year old son love it and have asked me to read it over and over again.
Ingenious story.

Derived From Web

, Dec 15, 2021

The book got rave reviews from both children and adults. Great story and illustrations by Robert Hein. Funny videos. Quattrone said he was "satisfied" with the story.
Such a sweet story with amazing illustrations

Derived From Web

, Dec 5, 2021

The book was given to my daughter by a friend and she cannot get enough of it. It's just that she's reading it to everyone who comes over to the house.
Enjoyable story

Derived From Web

, Nov 27, 2021

A nice fantasy about family and helping one another, he said. It's great to have our granddaughter enjoy the drawings and story, and I enjoy reading it to her. Hope the author expands on the adventures of the three friends as they travel home.
Fairytale about brother and sister live

Derived From Web

, Nov 13, 2021

Thanks to @tomgauld for the book, I think I may have found the missing middle child in the "Little Woods" series. It's a chiseled totem of sincere sibling love. Such a sweet gesture of compassion, said Kristen. Each sibling goes through mini-adventures that not only reinforce their commitment to each other but also build up the climax. The story told by the voice matched the medieval-styled illustrations to a tee! What drew me to the book was the page design, Simon said. Do your research, have fun and think outside the box. Tom Gauld took the comic strip design and completely made it his own, thinking outside the box within boxes and outside the box, using the style to further enhance the story. And then the ending... so sweet, Mr. Rule told us. He's a great writer and I'm really excited about the new book. Storybooks by Scholastic, Inc.
Humor and Suspense

Derived From Web

, Nov 4, 2021

The whole thing is a great story, the kids LOVE it. It has humor, suspense, the strength of family bonds, a lesson in persistence and even some fun illustrations, making this a great story needs every element of a great story.
An Entertaining Tale About and For Siblings

Derived From Web

, Oct 3, 2021

In this children's book by Scottish cartoonist Tom Gauld, a king and a queen's wish for a child gets granted twice when an inventor and a witch respectively give them a little wooden robot and a princess who can only be awakened with certain magic words. The princess accidentally throws away the robot's sister, leading the two to become separated and the robot to search for his sister. I recommend this book to all siblings and to those whom we consider to be such.
Wonderful Storytime Book!

Derived From Web

, Oct 1, 2021

He's especially fond of the Woodbot and his family of Beetles. Highly recommend this book for any child that loves a good story and thoughtful, detailed illustrations.