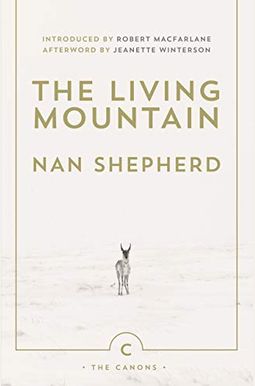 
 
The Living Mountain: A Celebration Of The Cairngorm Mountains Of Scotland
Book Overview
In this masterpiece of nature writing, Nan Shepherd describes her journeys into the Cairngorm mountains of Scotland. There she encounters a world that can be breathtakingly beautiful at times and shockingly harsh at others. Her intense, poetic prose explores and records the rocks, rivers, creatures and hidden aspects of this remarkable landscape.
Shepherd spent a lifetime in search of the 'essential nature' of the Cairngorms; her quest led her to write this classic meditation on the magnificence of mountains, and on our imaginative relationship with the wild world around us. Composed during the Second World War, the manuscript of The Living Mountain lay untouched for more than thirty years before it was finally published.
Frequently Asked Questions About The Living Mountain: A Celebration Of The Cairngorm Mountains Of Scotland
Book Reviews
(8)
Did you read The Living Mountain: A Celebration Of The Cairngorm Mountains Of Scotland? Please provide your feedback and rating to help other readers.
True love of the natural world

Derived From Web

, Jun 2, 2022

Nan Shepherd was a professor, a novelist, and poet. This book is the last work she has published towards the end of her life. It is a paean to her love of the countryside, where she spent most of her life in the Cairn Gorm Mountain Range in northern Scotland. This edition contains an overly long foreword that tries to tell us that we are going to enjoy reading Nan Shepherd's words. Skip it and read her words just.
A wonderful book.

Derived From Web

, Jun 2, 2022

I was drawn by reading Wild Places by one of my favorite authors, Robert MacFarlane. He knew Nan Shepherd and admired her. She writes with great passion, knowledge and experience. Even if mountains and walking do not interest you, I believe you will enjoy seeing the author and knowing that really experiencing and loving a landscape can be deeply satisfying, deeply interesting.
So much more than a guide book

Derived From Web

, Jul 29, 2021

I love this book, and I am puzzled by some of the low-rated reviewers who are irritated by the fact that it is not a travel guide to the Cairngorms. As the author writes, it is a story of my journey with a mountain, a 108-page meditation on encounter and as others testify, it is extraordinarily beautiful. I have only two complaints, and neither of them have anything to do with Nan Shepherd's writing. First, Robert Macfarlane's ponderous introduction nearly drove me away from the book with horse whelks and clouds of biting flies before I reached a single word of the author's own gracious prose. I can 't tell you how irrationally bothered I am by the fact that my Canongate issue has a photograph of an American pronghorn antelope on the cover. The animal loves but doesn 't belong here. I guess that any four-legged thing would do in the snow.
A Scottish woman teaches the Tao

Derived From Web

, Jul 21, 2020

During the Covid lockdown, Robert MacFarlane, who wrote the forward, suggested having a reading group on Twitter. He took a vote on what we should read and won The Living Mountain. If it was the only thing that Shepherd ever wrote, it would be an accomplishment.
The Cairngorms, appreciated...

Derived From Web

, Apr 11, 2020

This reviewer spent years exploring the Cairngorm Mountains in the Highlands of Scotland. The author was a native of northeast Scotland and spent an active lifetime exploring the Cairngorms, especially the high and ancient plateau at the roof of Scotland. This plateau and this book are a feast for the mind and the senses. This is a short book, but it pays the reader to read his or his time while reading it. Appreciate the author's love for her mountains in all seasons and for the people who live there. Take the time to read the introduction and know the author better, afterword. Recommended very well.
Living inside Nan Shepherd's Beloved Cairngorms

Derived From Web

, Jan 14, 2020

An astonishing lyrical masterpiece by a poet, mountaineer and naturalist, Nan Shepherd, opened The Living Mountain with physical and spiritual vistas I have never encountered before. Her lifetime of closely observed, thoroughly lived experience on the Cairngorm Plateau of Scotland offers a unique immersion into a wild and remote region of our world. I can not recommend it highly enough ''. One suggestion : read the edition by Robert McFarlane first, and then read his preface, which is itself a magnificent evocation of nature and place.
One of the best mountain books I've ever read

Derived From Web

, Mar 22, 2019

Ms Shepherd can actually write, and this is the culmination of a lifetime of wandering the Cairngorms. A long beautiful prayer for a great mountain range, and after writing it she put it aside for 30 years to age, like a fine single malt whiskey. And by the way, some of the best single malts in the world are made in situ or directly adjacent to the Cairngorms. And the water she write so beautifully, that flows from the Cairngorms into those Great Scotchs. A great book to read to someone you love on one of those nights when the moon or the demon interrupt sleep.
Unexpected Joy

Derived From Web

, Apr 29, 2018

When I began this book, I did not know what to expect. I started at the beginning, but soon realized I wanted to jump right into her words and not read through the intermediary introduction. I found herself marking passage after passage, being loud and stung by the beauty of her words. Though I know nothing about the lambs she references, she brings them alive.