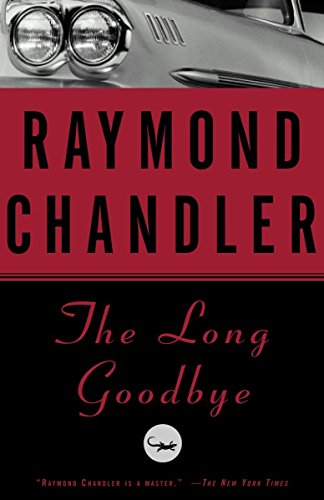 
 
Book Overview
Crime fiction master Raymond Chandler's sixth novel featuring Philip Marlowe, the quintessential urban private eye (Los Angeles Times).
In noir master Raymond Chandler's
The Long Goodbye
, Philip Marlowe befriends a down on his luck war veteran with the scars to prove it. Then he finds out that Terry Lennox has a very wealthy nymphomaniac wife, whom he divorced and remarried and who ends up dead. And now Lennox is on the lam and the cops and a crazy gangster are after Marlowe.
Frequently bought together
Frequently Asked Questions About The Long Goodbye
Books like The Long Goodbye
What should you read after The Long Goodbye Book? Here is a list of books to read if you read and loved The Long Goodbye
#11

#2
Book Reviews
(15)
Did you read The Long Goodbye? Please provide your feedback and rating to help other readers.
Love Marlowe (Chandler)

Derived From Web

, May 9, 2022

I could have done and I all the way through this book picture Bogart doing this in a film.
Raymond Chandler at his best!

Derived From Web

, May 9, 2022

Five stars because it is Raymond Chandler at his best. I keep foregetting to keep a notepad and pencil at my side when I read RC. He keeps coming up with words I am unfamiliar with. I love the characters he comes with.
Essential Chandler.

Derived From Web

, May 9, 2022

When I read The Big Sleep, I thought I was reading junky pulp until I got to the last paragraph when I suddenly understood what Chandler was doing. With The Long Goodbye, there is no problem like that. It is a character study. Chandler observes what might happen to a certain kind of person if he got into a certain kind of situation and what effect his character has on the people around him.
Excellent Pulp Fiction

Derived From Web

, May 9, 2022

In the end, this styled prose and quick moving plot kept me interested. As the title suggests, Philip Marlowe runs into a man he helps. When the woman end-turned dead, Marlowe regrets it. Though he tries to avoid it, Marlowe finds himself with a seriously injured writer and his beautiful wife to help him. So, he soon finds out, there is more to the Idle Valley than beautiful houses filled with rich people. This nags at Marlowe as he tries to figure out who actually killed the resident tramp of Idle Valley.
Noir classic

Derived From Web

, May 9, 2022

One of the masters of the Noir genre is Chandler. The Long Goodbye is one of his best examples of his style. Centering on his colorful protagonist, Philip Marlowe, a constant flow of constant characters enter and exit. Through all the twists and turns, Chandler's hard boiled detective retains his brooding composure. In a day and age when every mystery novel and film is looking for the newest Twist'' ending, they're all still chasing the masters of the old. One of these masters is Chandler. The Long Goodbye is a proof of this :
a great noir

Derived From Web

, Mar 15, 2022

Besides reading all the noirs I can because I write them, Chandler is a master of this style. The long Goodbye is the longest of the Marlowe novels I have read so far, and we had to take the long way to solve the case. The novel is full of what is now the classic noir style of a gumshoe and what is best about Marlowe is not matter what he sticks to his integrity. No matter how he remains loyal and true to his creed, what upsets those who have no honor. I thought it was a bit long compared to most noirs, but never does Chandler get lost in prose, he sticks to the clues and the case.
Authentic

Derived From Web

, Apr 2, 2021

I love the authentic flavor of what was written by Encino and parts of the valley when this was first written. Anyone who loves going back in time to when the city was rough and people read the papers for their news will love the story lines. I've always thought that Marlowe was played by Clark Gable or Humphrey Bogart. Toss is in Kathryn Hepburn or Hedy Lamar and there you go. A wonderful escape to a more innocent past of various gangsters, treacherous wealthy family members, and normal side kick bartenders.
The Old Stuff is as Good as the New

Derived From Web

, Nov 5, 2020

After reading everything written by Michael Connelly and others in his genre, I decided to give the great Raymond Chandler a try. I warn the reader, however, that Chandler must be read within the context of his time. He is not always politically correct and the use of idioms and slang has long fallen to a more modern language. If Noir is your cup of tea, Raymond Chandler is the whole teapot.
Great

Derived From Web

, Apr 5, 2020

GreaT is fun. About it, found out on a list of the most prominent books by favorite people. Chandler had never read a book by Kindl e before, so went to Chandler and was not disappointed.
Another great book

Derived From Web

, Sep 12, 2019

I would probably recommend this book for pretty much anyone.