BLACK FRIDAY DEALS CONTINUE - SAVE 20% AT CHECKOUT WITH CODE CYBERBOOK. Learn more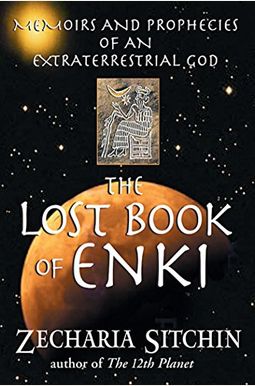 
 
The Lost Book Of Enki: Memoirs And Prophecies Of An Extraterrestrial God
Book Overview
This Description may be from another edition of this product.
FICTION / MYTHOLOGY Will the past become our future? Is humankind destined to repeat the events that occurred on another planet, far away from Earth? Zecharia Sitchin's bestselling series, The Earth Chronicles, provided humanity's side of the story--as recorded on ancient clay tablets and other Sumerian artifacts--concerning our origins at the hands of the Anunnaki, those who from heaven to earth came. In The Lost Book of Enki, we can view this saga from a different perspective through this richly conceived autobiographical account of Lord Enki, an Anunnaki god, who tells the story of these extraterrestrials' arrival on Earth from the 12th planet, Nibiru. The object of their colonization: gold to replenish the dying atmosphere of their home planet. Finding this precious metal results in the Anunnaki creation of homo sapiens--the human race--to mine this important resource. In his previous works, Sitchin compiled the complete story of the Anunnaki's impact on human civilization in peacetime and in war from the fragments scattered throughout Sumerian, Akkadian, Babylonian, Assyrian, Hittite, Egyptian, Canaanite, and Hebrew sources--the myths of all ancient peoples in the old world as well as the new. Missing from these accounts, however, was the perspective of the Anunnaki themselves. What was life Read More chevron_right
Frequently Asked Questions About The Lost Book Of Enki: Memoirs And Prophecies Of An Extraterrestrial God
Books like The Lost Book Of Enki: Memoirs And Prophecies Of An Extraterrestrial God
Book Reviews
(5)
Did you read The Lost Book Of Enki: Memoirs And Prophecies Of An Extraterrestrial God? Please provide your feedback and rating to help other readers.
Enlightening

Derived From Web

, Feb 17, 2022

This book was easy to understand. Sitchen's writing style flows easily through the readers mind once they have read the first few pages. I connected with this book in a closed loop fashion, where the story played in my mind like a movie while I read each page. Sitchen's ability to translate the Sumerian tablets opens up a pre- biblical account of the creation of man. This was a great experience and it offers another view of where we come from and where the biblical stories originate from.
really??

Derived From Web

, Jul 18, 2019

An alien who lands on Earth alone. The poles are covered with snow and ice. He must have landed around 40,000 years ago, when the tropical climate of both poles was just starting to warm up. After landing, this guy dutifully tests the air and water, but does not test a fruit, just eats it. His friends arrive. They fly around the earth a few times before landing, but are still surprised by the length of the earth days. I had to check Mr. Sitchin's credentials as a Sumerian translator. He is not well known in that elite group. I wasted my money and time, and I could have spent it reading real historical books.
Much better than any Bible I've read..and I've read a lot. Better than any Church also.

Derived From Web

, Sep 4, 2018

I like this book a lot. Enki goes into great detail about how humanity was made. The bible is out of the water. You get a first had account from Enki, that's brilliant. The language is challenging at times, but you can re- read it and understand it. The Bible never answers how Humans were created. It makes sense that the Biblical Single God has a personality disorder. I don't like Christianity or Catholic ways because of the many problems they have. SENSE is made by this book and the Earth Chronicle. It doesn't have to be that way. Buddha explains it very well and it's more of an Inner Awareness. Many Bibles all over the world don't seem to answer a lot of questions.
Very much worth reading. Will also give you plenty of food for thought.

Derived From Web

, Aug 8, 2018

This book is really enjoyable. As I read this, I see pieces of a bigger puzzle coming together and I am big on researching all the different belief systems. If you took all the different religious texts and myths and legends of the ancient world and put them together, you could see how important the role of our gods was in the history of mankind. I'm surprised that Able bragged about having meat to eat so much that he was able to get Able killed. It makes sense that Cain was jealous of the other brother. It seemed too basic and generic of a reason to be an explanation.
This book is guaranteed to change how you view and interract with your world!

Derived From Web

, Apr 19, 2017

One of the best books I' ve ever read! If you want the truth of our civilization and planetary history, as well as confirmation of where modern religion came from, this is a must read. Don't believe me? You can read the 12 th planet by the same author and then read this book. The rest of sitchin's work as well as the end times book is a good place to start. These books will change how you see your world.