Buy 3 Get 1 Free
Our Best Sale Yet! Add 4 Books Priced Under $5 To Your Cart     Learn more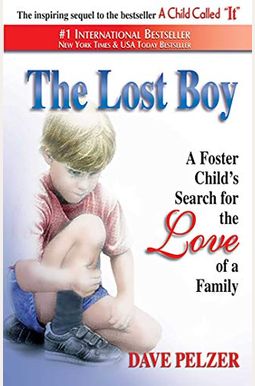 
 
The Lost Boy: A Foster Child's Search For The Love Of A Family
Book Overview
Imagine a young boy who has never had a loving home. His only possesions are the old, torn clothes he carries in a paper bag. The only world he knows is one of isolation and fear. Although others had rescued this boy from his abusive alcoholic mother, his real hurt is just begining -- he has no place to call home.
This is Dave Pelzer's long-awaited sequel to A Child Called It. In The Lost Boy, he answers questions and reveals new adventures through the compelling story of his life as an adolescent. Now considered an F-Child (Foster Child), Dave is moved in and out of five different homes. He suffers shame and experiences resentment from those who feel that all foster kids are trouble and unworthy of being loved just because they are not part of a real family.
Tears, laughter, devastation and hope create the journey of this little lost boy who searches desperately for just one thing -- the love of a family.
Frequently bought together
Frequently Asked Questions About The Lost Boy: A Foster Child's Search For The Love Of A Family
Books like The Lost Boy: A Foster Child's Search For The Love Of A Family
Book Reviews
(17)
Did you read The Lost Boy: A Foster Child's Search For The Love Of A Family? Please provide your feedback and rating to help other readers.
I'm in awe.

Derived From Web

, Apr 25, 2022

I've read every book except for this one. What I really got angry about is when his mother was able to see him and be able to know where he was. Of course, that could have been how it was in the 70s and why was she never arrested for the crimes she committed. It's just that part of the game that can't be changed, it just frustrated me. It's a book that I would recommend to anyone. Any person who works with abused children should read it because it will make you think about how you work with children and anyone who doesn't foster because care should not be such a taboo, Dr. Abraham said.
I'm so glad I read this book.

Derived From Web

, Apr 25, 2022

In fact, my daughter suggested I read Elizabeth Taylor's A Child Called It. He also said that if the government won't act, "Boy will be right." Though I enjoyed the first book, I had a hard time reading the second. As a mother of two, it made me sick to hear what David went through as a kid. Of course, I had to read The Privilege of Youth to see how his story ended. I wanted to meet this Mother myself to shove her around a little bit and I don't have a mean bone in my body, Raymond said. It made me feel so happy to hear things like that go on to innocent babies, Mrs Clinton said. I've loved both of these books and I'm certain they will stand in a class by themselves. At the end, I loved at the end how people in his life spoke about him and how proud of him they are. It makes me proud to be a Christian, and I don't even know him.
Compelling Story

Derived From Web

, Apr 25, 2022

Iplaud the author for his great ability to overcome his abuse. His resiliency puzzle is so many, it's hard to put into words. We like to know all we can about it so we can figure out why some people have that miraculous formula to survive and some don't. He has it, Tunick said. It was a good story because of his balitlity to overcome but I did not think that the book was well written. It could have been told better, Mr. Rule told the inquiry. The plot thickened when the two main characters were revealed to be actors who lacked enough detail to envision, feel, and taste. I would have liked more descriptiveness of his environment and the peolpe in the story. It would seem that way, his mom said.
I just pray I never encounter a child treated like this. Horrific for the child

Derived From Web

, Apr 25, 2022

I am a Victim Advocate working with domestic violence and sexual assault victims. What a tragic accident, said Dr. Julie Gerberding, director of pediatric neurosurgery at the Children's Hospital at Montefiore. Dave Pelzer's follow up book, "Finding My Way Home," details his life as a foster kid. Turner said: "There is no greater love than breaking hearts and educating minds."
A great book but very sad what some children goes through

Derived From Web

, Apr 25, 2022

A great book, but very sad what some children go through, Margaret Atwood said. I can't believe he endured that many years of starvation and abuse, and someone didn't do something long before they did, Ryan said. He had to be skin and bone for no more than he was fed and nobody would have been able to look at him and tell that. There is a time for people to mind their own business and there is a time for people to help, he said. This child needed help a long time before he ever got it and that is very sad.
Real Tragic Horror Story

Derived From Web

, Apr 25, 2022

Only a few people have said they dislike this book, because it is so tragic. It made me cry. It's just that they call it, "The Beatles." But, I must admit, it's a great inspiration. Sad, extremely sad and reminded me of my past experiences. If you're in a strong place, I would recommend you try again.
The Lost Boy

Felicia Yvonne Halton

, May 26, 2021

I also read this book as well. How the relentless search from foster homes settling a child in a new family can be a challenge especially for the people who are put in charge of a kid to push boundaries to get a reaction out of the families because he wasn't what to expect from the families he was being placed with, and how their worlds are turned upside down because you can't fit in with the families or the other children in the families make trouble so the kid will leave their home to get their family back and all the kid wants is to be back with his family that is not safe.
Riveting

Derived From Web

, May 6, 2021

It was a page turner, said Jeffery Goldberg, co-editor of the book. It was a great read, although I had to stop reading for a week due to how graphic it was. The book is very well written and thought provoking, McBride said. It certainly makes you wonder just how many children are subject to abuse and why so many people, agencies and courts don't do enough to protect them.
SO GOOD!

Derived From Web

, Aug 15, 2020

I just graduated with my BSW and feel like I'm being pulled to work with children. It's great to be back home, said Riley, "but I was recommended a child called 'it' in an effort to prepare myself and read the entire thing within hours." It was an absolutely heart-breaking experience, but I couldn't put it down. I immediately ordered the second book, and I'm reading it today. Waiting for the third book. It also includes perspectives on foster care from individuals who were part of his life, including his foster mom and a teacher, making the experience all the more difficult.
Loved this story.

Derived From Web

, Dec 15, 2019

An inspirational and interesting read. It's hard to imagine that it really happened, and that Dave Pelzer is now a loving father.