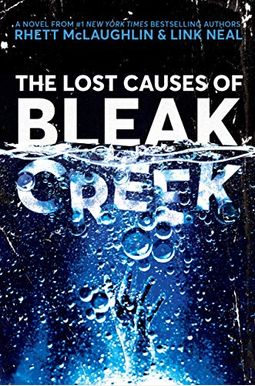  
The Lost Causes Of Bleak Creek
Book Overview
NEW YORK TIMES BESTSELER - Stranger Things meets the South. Chilling, hilarious, and suspenseful--I loved it --Felicia Day

From the authors of Rhett & Link's Book of Mythicality and creators of Good Mythical Morning . . .
It's 1992 in Bleak Creek, North Carolina--a sleepy little place with all the trappings of an ordinary Southern town: two Baptist churches, friendly smiles coupled with silent judgments, and an unquenchable appetite for pork products. Beneath the town's cheerful fa ade, however, Bleak Creek teens live in constant fear of being sent to the Whitewood School, a local reformatory with a history of putting unruly youths back on the straight and narrow--a record so impeccable that almost everyone is willing to ignore the suspicious deaths that have occurred there over the past decade. At first, high school freshmen Rex McClendon and Leif Nelson believe what they've been told: that the students' strange demises were all just tragic accidents, the unfortunate consequence of succumbing to vices like Marlboro Lights and Nirvana. But when the shoot for their low-budget horror masterpiece,
PolterDog,
goes horribly awry--and their best friend, Alicia Boykins, is sent to Whitewood as punishment--Rex and Leif are forced to question everything they know about their unassuming hometown and its
Read More chevron_right
Frequently Asked Questions About The Lost Causes Of Bleak Creek
Books like The Lost Causes Of Bleak Creek
Book Reviews
(7)
Did you read The Lost Causes Of Bleak Creek? Please provide your feedback and rating to help other readers.
Anti-Christian. Magic Horror. Not for me.

Derived From Web

, Nov 21, 2019

I had high hopes for the book. It is easy to read. I liked the beginning. I enjoyed most of the story until it got dark. It's my fault that I didn't realize this is a horror story. I thought maybe it was a mystery, but no. Maybe even anti- Christian, maybe even satanic.
Really surprising!

Derived From Web

, Nov 5, 2019

I was pleasantly surprised by this book. I pre- ordered this to support my favorite duo. I forgot about it until GMM mentioned it. I was ready to read it at the time it was released. I was hesitant in the beginning because I was not sure of the age level of the book. I was not a fan of young teen fictions and I had a feeling that this book might be on that line. I couldn't put it down once I got about 13 of the way into the book, so I'm happy to say that's not the case. It was getting better page after page. It was a nice surprise when you least expected it. This book was light and easy to read.
Meh.

Derived From Web

, Nov 3, 2019

At one point there's a veiled eye- roll to one character who's reading an old- school ' Hardy Boys' book. Two kids sneak around to find out what happened in the reform school. The story becomes silly at the halfway point. There are dead kids who are being kept alive in a spooky pond. Hello, what do you mean? I was hoping that the dog who was mentioned near the start would jump in and help round up the baddies - at least I could be convinced that this was a parody novel.
Great book!!!!

Derived From Web

, Oct 31, 2019

This book was very enjoyable. Being from North Carolina, I had a connection to the location of the book, the familiar towns, and even the Piggly Wiggly grocery store. The book kept me busy. The mystery was added to by the fact that the plot was not what I thought it would be. It was a fun read.
Will it book? Let's talk about that....

Derived From Web

, Oct 30, 2019

Bleak Creek has everything you could ever want in a book. Is it frightening? Yes. This is funny. It was defiantly. Was it dramatized? It was slightly. This book is for everyone, whether you' re a fan of GMM or not. You can check it out if you like words. Is it going to book? Yes!
Amazingly Addictive!

Derived From Web

, Oct 29, 2019

This book was amazing. I was fully engaged from the beginning. The book will make you feel every emotion possible. The main characters have a complex and loyal friendship that reminds you that friends are the family you choose. Their friendship is set against a backdrop of a small southern town. You won't be able to put this book down in order to see what happens next. I found myself shouting at characters in the book as if they could hear me, because it is so well written. Don't hesitate to purchase this book. You will laugh and cry and get angry. You won't be disappointed.
Book to get lost in

Derived From Web

, Oct 29, 2019

I have started to read it at Barnes and Noble. I have to continue until mine arrives.