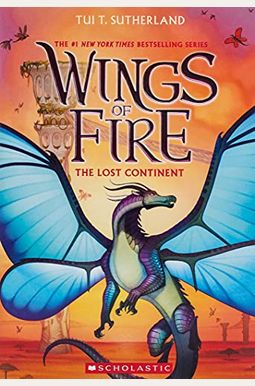 
 
The Lost Continent (Wings of Fire, Book 11), 11
Book Overview
This Description may be from another edition of this product.
The #1 New York Times bestselling series continues with a thrilling revelation -- brand-new tribes of dragons
Blue the SilkWing is content. Life in his Hive is safe; he loves his family; he has enough to eat. And Pantala has been at peace for as long as he can remember -- SilkWings and HiveWings live and work together in harmony, and because they stay vigilant, no one has seen a dangerous LeafWing in years. Now that Blue's sister, Luna, is undergoing her Metamorphosis, Blue knows things are going to change. Luna will have her wings and her silk, be assigned a partner and a work order, and move to another Hive. A few days later, Blue's own wings and silk will come in. But nothing could prepare Blue for what happens when Luna's wings start to grow. Suddenly his world is turned upside down, throwing him into dangers he never knew existed. Pantala isn't as peaceful as it seems, and Blue isn't safe. Whether he's ready or not, it's time to adapt -- and fight for his life.
Frequently bought together
Frequently Asked Questions About The Lost Continent (Wings of Fire, Book 11), 11
Book Reviews
(12)
Did you read The Lost Continent (Wings of Fire, Book 11), 11? Please provide your feedback and rating to help other readers.
A great book.

Derived From Web

, Apr 11, 2021

An amazing book. The first few chapters felt as though they dragged on, but I loved it from beginning to end. I like a few of the choices the characters make, but other than that it is a great book to read. I would recommend it to anyone who enjoys fantasy books.
Why Tui??????

Derived From Web

, Feb 22, 2019

I bought the normal hardcover version of the book and the kindle edition, it was great. The binding didn't come off so it was good. I was not happy about the book because Sundew loves another dragon. A female is in love with another female? Why? I can't believe it happened to me. This is a children's book, keep it that way...
A good set of books. Very interesting for even a teenager.

Derived From Web

, Dec 29, 2018

This is the third volume of this set. My grandson loves buying every volume in this set.
Another quick written chaotic arc

Derived From Web

, Dec 29, 2018

Why do we have to type out reviews for everything? It's!
10 YO loves the series

Derived From Web

, Nov 24, 2018

Our daughter is a fan of the Wings of Fire series. She said it inspired her to write about dragons.
My son was extremely disappointed that the author wrote in a female dragon having ...

Derived From Web

, Sep 15, 2018

My son was very disappointed that the author wrote about a female dragon having a crush on another female dragon. It was ruined for him. This is a children's book. Very disappointing.
Best in the series yet!

Derived From Web

, Jul 20, 2018

The book is the best yet. When I started reading the first book in the third sub-series of Wings of Fire, I expected it to be okay, but it was the best Wings of Fire book I've read yet. The attributes from past Wings of Fire characters were used to create new characters by Tui T. Sutherland. Cricket is similar to the Wings of Fire books. There were new species of dragons that I liked. The Wings of Fire series has many different dragons and powers. I was sad when the same powers and dragons were used in the first ten books, but I was excited for book eleven with all the new powers and dragons. This book is amazing, funny, and creative.
Good for all ages!!

Derived From Web

, Jul 6, 2018

My son is a huge fan of the book series, and this one is very popular. He put it in my face and said that I have to read it. I sat my butt down for a few days and started reading. And amazing. It's a really good book. Highly recommend it! It's!
Amazing book!

Derived From Web

, Jun 29, 2018

It's a great book. It didn't take me long to get used to the awesome new tribes, I love the characters. It seems a bit ridiculous that Luna crossed the ocean and landed on the new continent. The book is great, but I didn't anticipate most of the plot twists.
GOOD

Derived From Web

, Jun 27, 2018

Good book so far. Will update when finished. There is a free review of AMAZING, AS USUAL. There were some odd twists and turns that got me confused, but that's nothing compared to the endless possibilities of this book. It's an excellent read for fire fans.