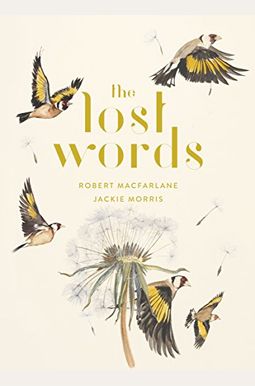 
 
Book Overview
From bestselling Landmarks author Robert Macfarlane and acclaimed artist and author Jackie Morris, a beautiful illustrated book for readers young and old.
All over the country, there are words disappearing from children's lives. These are the words of the natural world -- Dandelion, Otter, Bramble and Acorn, all gone. The rich landscape of wild imagination and wild play is rapidly fading from our children's minds.
The Lost Words stands against the disappearance of wild childhood. It is a joyful celebration of nature words and the natural world they invoke. With acrostic spell-poems by award-winning writer Robert Macfarlane and hand-painted illustration by Jackie Morris, this enchanting book captures the irreplaceable magic of language and nature for all ages.
Frequently Asked Questions About The Lost Words
Books like The Lost Words
Book Reviews
(11)
Did you read The Lost Words? Please provide your feedback and rating to help other readers.
Truly Delightful

Derived From Web

, Feb 11, 2021

My daughter has a keen interest in poetry and a love of nature, her mother said. It was a friend's suggestion that I purchase this for my wife as a Christmas present. It has given us hours of delight, Mr. Dhaliwal said. The images are beautiful and detailed, and the explanations are well-thought-out, without the need to say anything. She enjoys finding the lost word on each title page and asking about words she hears and doesn't know. The variety of types of poetry in this book was a surprise and I have enjoyed learning the flow of each poem, how to properly recite it. That would be a good compromise, CBS said.
Is not what I expected.

Derived From Web

, Jan 30, 2020

It's a big deal. His wife, Chelsea, has a very nice collection of pictures, but she has a very small child. Even if the kid poets were as good as the Beatles, the poetry would seem too sophisticated for children. The writer of the letter, Thomas Jefferson, replied that he had "plenty of time to sift through the papers." What are we suppose to find?
Natural art that invites you to stay awhile

Derived From Web

, Aug 8, 2019

In "The Fall," Elizabeth Taylor laments, "the world is a beautiful book. Just about everything about this kid is so adorable, even the littlest things. I am also getting reacquainted with nature and realize I must keep it close, he said.
A Beautiful Book Glorifying the Natural World

Derived From Web

, Jun 13, 2019

I've read the book in the New York Times. The book was written to address a sad trend among children that no longer know the names of natural plants and animals that live in the world around them. I have also noticed that the "help" button on the left is not working properly. The dont differentiate between an actual rose and a daisy or a tulip. This book is truly beautiful. Gold and silver illustrations by masters of the macabre, Henri Cartier. It's a sort of alphabet book, sort of. Each entry has a nature word, followed by an acrostic poem and then a lovely painting. The second volume includes pages of illustrations with lost letters spread about. I've read the entire book, and I'm in love.
Gorgeous Illustrations

Derived From Web

, Jan 3, 2018

I purchased it as a gift and loved it so much I'm keeping it and ordering another copy to give away. One reviewer on the coffee table size of the book, but that's one of the beauties because the illustrations are so large and lush. I now want to buy a stand-alone book so I can display and rotate the pages.
Reflective beauty

Derived From Web

, Dec 30, 2017

This piece of enchantment was a gift to my 87-year old mother who has held many books in her life, said the writer's daughter, Robin. She spent the afternoon with her family, softly singing carols. In her book, she spoke of the serenity and wisdom of the book. The delicacy of the illustration complementing the richness of the words made her salivate.
Good for kids as well as adults interested in the ...

Derived From Web

, Dec 3, 2017

Good for kids and adults interested in the natural world, he said. Conkers, for example, did not think of conkers in decades.
The joy and happiness this book brings is next level more ...

Derived From Web

, Nov 28, 2017

The joy and happiness brought by this book are next level, I recommend it to anyone. It's gorgeous and smart, Raymond said.
Not to be ignored

Derived From Web

, Nov 5, 2017

I bought this book without knowing the writer or the book. Imagine my surprise when this enormous book arrived on my doorstep! Reading it's geneses, which is far more extensive in one of the reviews, makes it all the more delightful. I am now 70 and grandmother to a one-year-old child. They are all very happy grandparents, I have friends who have older grandchildren. It's a book no grandparent should ever have to read. Beautiful to look at, to feel, to hold and most importantly, to listen to, McCartney said. The book is also available on Amazon. com: "The Whole Nine Yards: The Untold Story of America's Greatest Homes."
beautiful

Derived From Web

, Nov 3, 2017

It's a huge book, Diana said. I am tempted to buy another copy so I can cut out the pictures and frame them, Mrs Hughes said.