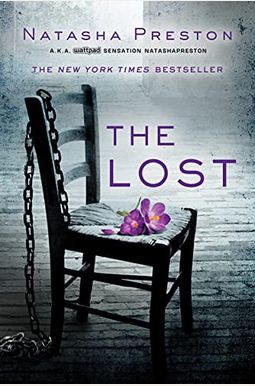 
 
Book Overview
A twisty psychological thriller from Natasha Preston, author of the #1 New York Times bestseller author of THE CELAR
It's a fight for survival in a building designed to ensure that no one makes it out alive.
In Piper's hometown, teenagers keep disappearing, and everyone assumes they're just a bunch of runaways. But when yet another person vanishes, Piper and her best friend Hazel suspect something more sinister is going on.
So they decide to investigate, determined to learn the truth. Their search for answers leads them to the source of the missing.and their captors. Piper and Hazel suddenly find themselves locked away in a secluded property in the middle of a privately owned forest.
But the building isn't only meant to keep them imprisoned; every room is a test to see if they can make it out alive.
And failure means being lost.forever.
A high stakes thriller for readers of One of Us is Lying and The Cheerleaders
Teen Thrillers also by Natasha Preston:
The Cellar
Awake
The Cabin
You Will Be Mine
The Twin
Frequently bought together
Frequently Asked Questions About The Lost
Book Reviews
(18)
Did you read The Lost? Please provide your feedback and rating to help other readers.
The ending is...terrible to say the least

Derived From Web

, Dec 11, 2021

Literally, I was thrilled to read another Natasha Preston book after her award-winning The Cellar, but I 'd say, I wish I didn 't start it with The Lost. This book was really compelling in the way that you are interested in the rooms they have to go into, but beyond the book it is beyond repetitive. You kind of know what happens by the end of the book. At least for the main parts, because the actual ending of the book was a disgrace to any reader. I really wish I would not have read the last chapter and just imagined the end myself ''. I am very disappointed and wish I could take the reading back.
Great books...Awful endings.

Derived From Web

, Sep 7, 2021

Great books... awful endings. I read 3 now and they are all great books, but the endings are the absolute worst and make me mad just. There is no ending, no closure. They are written for series, but instead of writing a series, she abruptly ends the book. It's confusing and I never read another book by hers.
Ending is unsatisfying and horrible. Makes the book a waste of time.

Derived From Web

, May 21, 2021

The ending is horrible and completely unsatisfying! If you want a good, wrapped ending, do not read this book. It started out intriguing, but then got more warped as it went on. Only the continued to read and skimmed a lot of it to see how the evil characters got their end. But instead of receiving what they deserved, they get a horrible and totally unrealistic, unsatisfying end. Had I known how it ended, I would never have wasted my time or money on this book.
Definitely OK

Derived From Web

, Mar 14, 2021

Granted, this is YA and I'm a little older, but I often enjoy quick, easy reads in this genre. This was OK, you jump right into the plot. I would have liked a little more background on the missing teens, what the cops were doing, etc. The chain of the events was just too convenient from beginning to end. I finished the book, so it was enjoyable enough, but overall, I was left disappointed. And the ending... left me annoyed versus excited or intrigued.
Repetitive with a terrible ending

Derived From Web

, Feb 10, 2021

This book was just ok, way too repetitive and it became predictable. I feel like the writing was lazy ''. It would have been SO MUCH BETTER if we had seen all the perspectives of the cops, Piper's parents, the killers, etc. Instead, it was the same thing that happened over and over again. The end is crap unless there is a sequil, but at this point I doubt I read it. This one fell flat just like that.
Top 5 Favorite Books

Derived From Web

, Nov 30, 2020

About this book, there is so much I can say. The first thing I want to say is that this is the fastest I've ever put a book down because I couldn t finish it. I finished every page, it's like I couldn t turn the page fast enough. After this chapter, I keep telling myself that I 'll put it down. I am recommending this book to one of my good friends, and I am so glad that I took the recommendation. Piper and Hazel are trying to recreate high school life while looking at the town Runaways ''. Little did they know how much they were to run into. Two good-looking, rich college guys catch the eye of Piper and Hazel. Everything is all sweet and innocent until they realize that these two guys take on a whole new meaning to fun and games. I will probably recommend this book to everyone.
Unsatisfactory read

Derived From Web

, Aug 18, 2020

I wish I did not waste my time. Girls who are self-promised mystery buffs get into a car with boys they don 't know when teenagers are missing. Seemed to me like the author had never written before. Evan was so transparent that he knew he was involved from the first meeting. Really weak read a really terrible ending. It's like the author gave up and said, this is good enough, I'm done.
What kind of ending was that?

Derived From Web

, Jan 7, 2020

Is there a sequel planned? This was a good book, and was really easy to read.
Didn't love this one

Derived From Web

, Dec 20, 2019

Though these were teens in the story, it felt like no one would be this naive to put themselves in such peril to begin with then realizing that they are more than one person, why they don 't fight earlier as a unit, to me baffling. Overall, it just didn 't work for me.
Lost in this Masterpiece

Derived From Web

, Oct 29, 2019

The Lost Finished copy of Barnes and Noble Edition Natasha Preston 32619 thriller 4 out of 5 The Lost is an exciting thriller about an abnormally high number of teenagers missing in the town where the story takes place. The reader comes to find out that the teenagers are captured captive and thrown into a twisted game that tests the mental and physical strength of the captured teens. I gave the book four out of five stars because I loved the plot, characters and story absolutely. The one major downfall of the book was the ending. I did not care for it personally. I could see how the author thought it was an interesting conclusion ''. I applaud her on trying to make the ending a non-traditional thriller conclusion. I am very interested in reading more novels by Natasha!