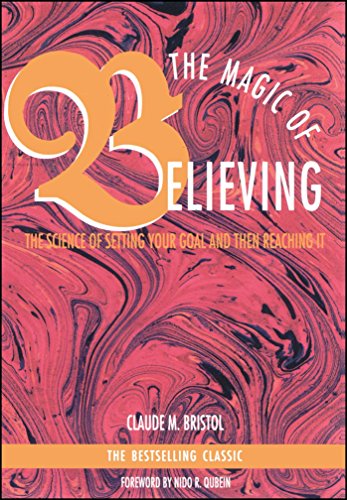 
 
Book Overview
This Description may be from another edition of this product.
Claude Bristol's tough-minded, hard-hitting message remains as fresh and focused today as when his books were first published, when the subconscious mind was less understood. Times have changed since the late 1940s, but ambitions have not, and millions of Americans have drawn on the no-nonsense techniques described in The Magic of Believing to reach their dreams and achieve success. Obstacles have become a thing of the past, when they were blasted with Bristol's powerful book, T.N.T.: It Rocks the Earth. Adhering to his corner- stone philosophy on the power of believing, T.N.T. offers practical suggestions on how to accurately and scientifically proceed to get what you want in life. In these 2 great books, you will learn: - How to project confidence
- How to impress your subconscious mind
- Why a focused aim leads to achievement.
- What your appearance reveals about you.
- The mental secret to success.
- How to transfer your thoughts to others
- To have a power at your command that astounds Let the wisdom the author imparts, infiltrate both your conscious and uncon- scious mind. It's time to shift into high gear and forward motion, as you commit to your greatest and highest purpose. The late Claude M. Bristol was a lawyer, lecturer, investment banker, and foreign correspondent. He is the coauthor of the long-time best- seller, TNT: The Power Within.
Frequently bought together
Frequently Asked Questions About Magic of Believing
Books like Magic of Believing
What should you read after Magic of Believing Book? Here is a list of books to read if you read and loved Magic of Believing
Book Reviews
(8)
Did you read Magic of Believing? Please provide your feedback and rating to help other readers.
Buy this for your young child, it will change their life.

Derived From Web

, Feb 8, 2022

I have read this book many times over the last 59 years, I was given this book when I was 14 years old. It has been a positive influence on me many times. It will change your child's life if you buy this.
Claude Bristol is a Genius.....

Derived From Web

, Feb 8, 2022

Claude Bristol's books are beyond Powerful and I have been studying many of the self help books about the laws of attraction. They show you how to improve your life by thinking the way you think. The person who isn't willing to put forth the Mental Labor necessary to change their life won't benefit from any of these books. Everything else in life is what you put into it. Hard work leads to success. Once you' ve learned the Laws in life and discovered how they work, you need to practice thinking every day. Thinking on what you want and seeing it over and over and over again. thoughts that don't matter, thoughts that say you can't do that. It takes a lot of mental labor to develop The Magic of Believing.
Claude Bristol was a genius whose ideas still work today - Try it!

Derived From Web

, Feb 8, 2022

The book helped me turn my life around. I bought the CD of the book so I could listen to Claude Bristol tell his stories as a way of reinforcing what helped me succeed in so many endeavors. I left the CD in the car when I sold it and had to replace it. The new owners should give it a try. I think it was meant to be left behind for them to find. Every day is a new day and a chance to set things right and move on with a new life. I recommend getting this CD for your daily drive or listening at home, as well as buying a paperback book. The one with the red cover. You will not be disappointed if you buy the original version. It's great.
Good Book

Derived From Web

, Feb 8, 2022

You can listen to the audio on the internet. It changes out a lot of things. If you believe in yourself, it's powerful. The mirror technique was very powerful.
Magic of Understanding

Derived From Web

, Jan 9, 2020

This book has been in my possession for 65 years. My dad came home from the lodge. It was the beginning of my understanding of God and All That Is. It has made me understand that it is all about quantum physics. There is no difference between science and God. God is a science. The Christ is the most perfect person. Each of us is a cell in the body of All That Is.
Great book.... very small text... very small text

Derived From Web

, Mar 5, 2019

The book is excellent. I have listened to the audio book many times, but the words are small, so I purchased the book. The text is so small that I compared it to many other books. The words are small and I give them 2 stars. I wanted to send this back and buy from another store, but they charged me twice, and then mailed me another book. Suck.
To me, this is the Bible of the law of thinking

Derived From Web

, Feb 3, 2018

This was a book that I think is even more important than Think and Grow Rich, but it never got the attention that Napoleon Hill's book did. The book puts a lot of perspective on how the mind enters into the results that we get in life. It makes it clear that you need to understand how to dictate your life through thought. Highly recommend the book.
The magic of believing

Derived From Web

, Nov 9, 2017

I have read this classic four times on psychokinesis. It doesn't take much to convince me of the powers of the subconscious mind because I have good intuitive thinking. I am a big fan of science and astrophysics and believe in the Big bang theory. Much of this thinking is based on magnetism, vibrations and radiation. I think this book is a must read for everyone, both religious and non- religious, because of it's confidence in their dealings with life.