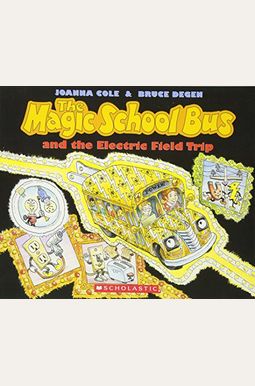 
 
The Magic School Bus And The Electric Field Trip
Book Overview
To celebrate its 20th anniversary, Scholastic is re-releasing the ten original Magic School Bus titles in paperback. With updated scientific information, the bestselling science series ever is back
Small enough to squeeze through power lines, Ms. Frizzle's class learns how electric current travels through the town, lights up a light bulb, heats up a toaster, and runs an electric motor. Fans of the Magic School Bus won't be left behind by this simple and informative introduction to the generation and distribution of electricity.Don't miss the all-new Magic School Bus: Rides Again book series and the animated show streaming on Netflix now
Frequently bought together
Frequently Asked Questions About The Magic School Bus And The Electric Field Trip
Books like The Magic School Bus And The Electric Field Trip
Book Reviews
(10)
Did you read The Magic School Bus And The Electric Field Trip? Please provide your feedback and rating to help other readers.
... a few of the class mates we've come to love but not all of them and had a whole ...

Derived From Web

, May 27, 2022

This is apparently one of the first Magic School Bus books, as it had a few of the class mates we came to love, but not all of them and had a whole classroom full of kids. Each page is jumbled with the actual story, but also balloons above the children's heads as if they were talking like a comic book and then there were boxes of additional information in addition to that. Reading it outloud was difficult and although the storybook part of it made sense, it still lost some of the meaning about teaching electricity. My son or I neither liked this book. And probably won 't read many more books and just stick to the television show. What is normally the opposite for me, I would rather read the books to my children than watch the shows, but not in this case.
My 4 year old loves these, and is learning from them

Derived From Web

, May 27, 2022

My boy can 't get enough of these magic - school bus books. They are writing with layers of detail, cleverly allowing it to be a longer read or a quicker read. I could not ask for a better way to make him hope for kindergarten, and as a PhD scientist and former science teacher I have not yet found an error in a dozen books. For the pretzels, they even debunk the actual parts of the story at the end. This electric current is great, and one of the senses is superb. My only quibble is that the pages soon drop right out with the paperbacks. But they're good enough to tap them all back up!
Great book - I've learned a lot and so has my son.

Derived From Web

, May 27, 2022

If you have a kid who is into electricity, this is a great book. My son turned 4 and LOVES this book. I omit some of the parts, but we'll get there as he gets older. Just as a side note, if your child is really into electricity, get the book Wired, which explains electricity in a different way. The two books have a little overlap and complement each other well. I was enthralled for my son when he turned 3 and despite the high-tech nature of it, he got hooked for the 20 minutes it took to read it!
It's written like the show

Derived From Web

, May 27, 2022

I received this book because my children had questions about electricity to which I did not know the answers. This book is captivating for my 4 year old, intriguing to my 6 year old and a learning experience for my mother! It is written like the show, they know all the characters and love the mini lessons that put together the bigger picture of what is electricity.
Great series of books

Derived From Web

, May 27, 2022

She loves learning new things from these books and gets a special kick out of it when I learn something new with her.
My 4-year-old grandson loves it

Derived From Web

, May 27, 2022

The last year I introduced my grandson to the Magic School Bus series and he has enjoyed every single book. However, this is his favorite. We followed that with a snap-together circuit set for Christmas and he loved it too.
Always a Winner at our House

Derived From Web

, Aug 12, 2020

And this is a winner! Our grandkids can 't get enough of these books now, so I buy them and doling them out as birthday parties and special holidays. They are simply mesmerized by the pictures, love interaction between the children and especially love the adventures that the class gets to take on field trips. What a great way to introduce the world of electricity to the little ones!
Children love these books!

Derived From Web

, Jul 22, 2019

I love all the magic school bus books because they teach useful knowledge and make it interesting for children.
Informative and fun

Derived From Web

, Dec 30, 2017

My five-year-old is obsessed with electricity and this book is a new favorite!
great book

Derived From Web

, May 24, 2017

My son started reading this series at school, he was so interested in buying the next book and he loves reading it.