Buy 3 Get 1 Free
Our Best Sale Yet! Add 4 Books Priced Under $5 To Your Cart     Learn more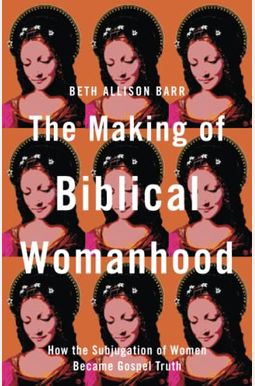 
 
The Making Of Biblical Womanhood: How The Subjugation Of Women Became Gospel Truth
Book Overview
It is time for Christian patriarchy to end.

Historian Beth Allison Barr shows that biblical womanhood isn't biblical, but arose from a series of clearly definable historical moments. She presents a better way forward for the contemporary church.

Throughout this book, Barr talks about how her world was transformed. Readers should be ready to have their worlds transformed too. The Making of Biblical Womanhood is about unmaking the harmful patterns of patriarchy in the church, society, and our own hearts.
--Jemar Tisby, CEO of The Witness Inc.; New York Times bestselling author of The Color of Compromise

This fervent, bold, and sweeping history of Christianity and patriarchy is an absolute game changer. Any future debates will need to reckon with Barr's contention that the subjugation of women has nothing to do with gospel truth.
--Kristin Kobes Du Mez, professor, Calvin University; author of Jesus and John Wayne

This book has the power to help Christians build a faith where 'there is neither male nor female, ' to liberate women from patriarchal hierarchies, and to heal the pain inflicted by countless churches. I have waited my entire adult life for a book like this.
--Jonathan Merritt, contributing writer for The Atlantic; author of Learning to Speak God Read More chevron_right
Frequently bought together
Frequently Asked Questions About The Making Of Biblical Womanhood: How The Subjugation Of Women Became Gospel Truth
Book Reviews
(13)
Did you read The Making Of Biblical Womanhood: How The Subjugation Of Women Became Gospel Truth? Please provide your feedback and rating to help other readers.
Very Insightful

Derived From Web

, Feb 21, 2022

This author presents a cogent, well researched, and supported view of women in the Bible and our place in the Christian community today. It was sometimes difficult to listen as a woman. Hearing the arguments for the subjugation of women and the results of these beliefs about the lives of real women made me both angry and broken. If you question the popular compactarian view point, if you struggle with the limited roles assigned to women, if you are chaff at unquestioned submission to men, read this book.
stunning and good

Derived From Web

, Jan 10, 2022

Barr has done a masterful work with this, reporting the historical nature of the suppression of women, along with revealing that patriarchy is akin to culture, not Christ. This is the most beautiful, liberating and good. Reading this site is very important!
yes!

Derived From Web

, Nov 8, 2021

This book is incredibly needed. It is based on research and biblical, informative and brave. All Christian women must read this! Kompletarianism is patriarchy and patriarchy is power. Neither Jesus have ever been concerned about p. .
"Biblical womanhood is Christian patriarchy"

Derived From Web

, Oct 26, 2021

Be a Berean and read this book carefully to discern what God's truth is and what is simply false distorted unknowing teachings of the Church.
Good Book, Needs Editing

Derived From Web

, Sep 28, 2021

This is a good book with a unique summary of historical evidence that bolsters my already-biblical egalitarian perspective and may help others to convince. Whether it is Agree or not, its evidence needs to be wrestled with, as does the author's painful experience. Its flaw is a need for frequent repetitive editing to remove significant information and the author's numerous as historian self-references. Yes, we understood that from the introduction that we understood. Flaws - overlooking the Worthwhile - flaws just overlook the flaws.
Fabulous

Derived From Web

, Jun 17, 2021

I was blown away with the research that started this road to uncover the Bible's prescription for women, but that did not stop the sting, or what so called good '' people will do to each other, except for reading the references made in this book - so many books about the historical nature of women's place, but this is one of the top 4 or 5.
This book fails to deliver new arguments on an old doctrinal debate.

Derived From Web

, Jun 8, 2021

Like K. K. Du Mez, Barr relies on her credentials as historian and reveals new information to readers from Church history in order to gain credibility. When their arguments are examined, their political views shine through their works. Like modern historians, modern ideas like feminism and Critical Race Theory are lenses that re-imagine the meaning of history as interpreted. In the end, the old argument that Galatians 6 abolishes gender roles is addressed and none of rebuttals to this old misunderstanding is trotted out. The primary assumption is that biblical passages on women's roles were not always interpreted as conservatively, as they have been more recently. To me, this argument moves away from trying to examine the original biblical text deeply and moves our focus on trust in the medieval Church. Anyone who knows much about church history should know that the interpretations made by medieval church leaders are beyond the risky.
Couldn't put it down!

Derived From Web

, May 8, 2021

Part history of women in the Church, part Women's History, Part memoir, this book spoke to me. As someone who is currently pursuing a call to ministry, with evangelical friends who feel that this is wrong, this gives me clarity on WHY. I grew up with women pastors ; my husband and I were married to a woman pastor, so I just didn 't understand the background to my belief. This not only gives me context, but also the biblical and historical framework to speak against toxic male centric views within the Church. Thank you.
A powerful, revealing look into women's hidden roles in church history

Derived From Web

, May 5, 2021

Wow! Wow! I grew up in the church and had no idea how many extraordinary women have led in the Christian movement. Barr pulls back the curtain to reveal how women have been denied opportunities to lead in the Church through historical revision, more like omission. The world has suffered from this lack of honesty from the Church and women's lack of opportunity to lead our God-given gifts to further the Kingdom of Light. An eye-opening revelation of centuries of Church cover-up that ends with hope for the future. Written by an intelligent, gifted woman who loves God and calls the Church to do better.
Start with a False Premise, helps with flawed conclusions.

Derived From Web

, May 4, 2021

The beginning was not the fall, but the creation of gender roles and hierarchy began when God Adam and Eve created. One was first created, secondly. One was for the other. This reality began before the fall. The Fall did not change the order. It created or changed it, but did not exaggerate it. Typical religious book that is a reflection of our culture, which ignores gender roles and realities to make it mailable to a person's choices. The truth of the matter is that we did not and can not choose our gender. It was chosen for us and our DNAChromosomesbiology declares it. In the same way, the Scripture gives us a clear view of what God thinks of a man and a woman doing together for one another.