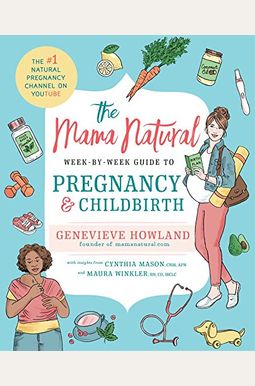 
 
The Mama Natural Week-By-Week Guide to Pregnancy and Childbirth
Book Overview
With more than 1.3 million video views each month and over fifty-two million total views on her YouTube channel, Howland's (a.k.a. Mama Natural) funny but informational videos have empowered millions of women to embrace natural pregnancy and parenting. Now Howland is turning to the page, offering up the first week-by-week natural pregnancy book for soon-to-be moms.
For the last half-century, control over childbirth has been in favor of doctors. Many pregnancy guidebooks are conventional, fear-based, and written by male physicians deeply entrenched in the old-school medical model of birth. But change is underway. A groundswell of women are taking back their pregnancy and childbirth and embracing a natural way. Genevieve Howland, the woman behind the enormously popular
Mama Natural
blog and YouTube channel, has created an inspiring, fun, and informative guide that demystifies natural pregnancy and walks mom through the process one week at a time.
The Mama Natural's Week-by-Week Guide to Pregnancy and Childbirth
is the modern (and yet ancient) approach to pregnancy and childbirth. Natural recognizes that pregnancy and birth are normal, and that having a baby is a wondrous biological process and rite of passage--not a medical condition. This book draws upon the latest research showing how beneficial and life-changing natural birth is for both
Read More chevron_right
Frequently bought together
Frequently Asked Questions About The Mama Natural Week-By-Week Guide to Pregnancy and Childbirth
Books like The Mama Natural Week-By-Week Guide to Pregnancy and Childbirth
Book Reviews
(14)
Did you read The Mama Natural Week-By-Week Guide to Pregnancy and Childbirth? Please provide your feedback and rating to help other readers.
So informative

Derived From Web

, Dec 19, 2020

I am happy I got this book. I got through half of it within a week. It is informative. I feel more prepared to make decisions with this baby. It is a perfect book for anyone who is pregnant, no matter what route you choose to take.
So good for natural minded mamas

Derived From Web

, Dec 9, 2020

The book is amazing. I believe this book helped me prepare for my hospital birth, I was able to have an all natural hospital birth. I loved reading when I was pregnant. It was fun to see how baby was growing. This book isn't an antivax book at all. She only talks about the vaccine for baby after birth, which is misinformation.
Don't know what I would have done without it.

Derived From Web

, Mar 3, 2020

My mother-in-law bought this book for me when I got pregnant. This was my companion the entire time I was pregnant. I wanted a book that helped me through my pregnancies. Plus tons of information. Some people on here think this is anti-science. It isn't. There's a lot of good information on having a healthy baby. I can't recommend this enough for people who lead a healthy lifestyle and want to have a healthy baby and be advocates for themselves in their birth. Get this book. Don't wait, get it. I can't thank the author enough for creating a wonderful book guide for women.
Such good info!

Derived From Web

, Jan 20, 2020

I really like this book! It's a must for a pregnant woman. She has up-to-date info. She did her research and you can tell! Even for this third time mom, it has been a useful tool.
Best pregnancy guide book Mamanatural week by week guide!!!

Derived From Web

, Jan 18, 2020

There is only one week by week guide in this book. I wish I had this book when I was pregnant with my first child, but if I had another I would use it. I bought it for my friends and Sister who were expecting, and I would use it if I had another child. The colors and illustrations are cute and I like the food suggestions and guides in the book, it is a great guide for pregnant women. If you know someone who is expecting, buy it for them, and hope we get some more wonderful books from Mama Natural. This is the only week by week guide book I can think of. I am pretty sure that on an episode of The Resident it looked like a cast member was reading a book, I am not sure if it was so, but I think it was close. Can't wait for what else she has in store.
No facts and Fear based

Derived From Web

, Sep 13, 2019

I bought the book because it was a good reference for natural foods. I would go with researched books and more data driven facts. The book doesn't include research sources. The author isn't a medical professional or a researcher. This book is full of fear based OPINIONS with no scientific backing and it's really harmful for moms to be. Returning it.
First Time Mom

Derived From Web

, Sep 11, 2019

I read the chapters one week at a time while I'm at that week and it's been very helpful. There is a lot of helpful information in this book that you cannot find on the internet. There are multiple options from different women. The baby registry check list was a life saver because when you are a first time mom how do you know what you need and what brands are good. I found useful information on all of the products she gave, including what car carriers come without chemicals which is important to me and backs my beliefs on nursing, baby wearing and cloth diapering. This book is a must have for any mom to read.
Great Book

Derived From Web

, Nov 14, 2018

The book gives some suggestions on the more extreme side of natural, but the information in it was great to read. The book made it very clear that these decisions were up to you, so you can choose how natural you want to be with your baby. I loved all the information, recipes, and suggestions. The information in the book was well written and easy to read.
Too Mainstream and Fear-Based for My Tastes

Derived From Web

, Jul 27, 2018

I don't think this book is appropriate for those who deeply trust their spiritual and physical bodies, and for those who are just dabbling in alternativenatural medicine. At times, the wording was intimidating and even fear-promoting. Recommendations were often too mainstream and entrenched in Western Medicine. I have over 50 natural birth books, and this is the least favorite.
A Nice Break From Judgemental Natural Pregnancy Books!

Derived From Web

, Feb 2, 2018

I feel like I was made to be pregnant and I feel completely myself with my baby growing in my tummy. I catch myself wishing time would run by a little quicker when I doubt. What happened to the first 4.5 months of my baby? I recommend this book for weekly Affirmations and a laid back way to look at your pregnant body. It feels like I am talking to a girlfriend when I sit down to see what is going on with my body. I will enjoy it until our new little one is here.