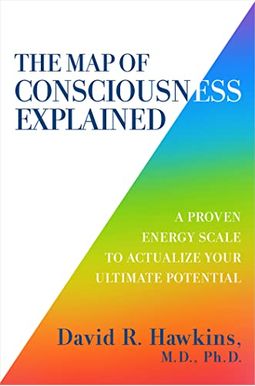  
The Map Of Consciousness Explained: A Proven Energy Scale To Actualize Your Ultimate Potential
Book Overview
An accessible exploration of best-selling author's most famous work, The Map of Consciousness, that helps readers experience healing and transcendence.
We are all born with a level of consciousness, an energetic frequency within the vast field of consciousness. And with The Map of Consciousness, we can truly understand the total spectrum of human consciousness.
Using a unique muscle-testing method, Dr. David R. Hawkins conducted more than 250,000 calibrations during 20 years of research to define a range of values, attitudes, and emotions that correspond to levels of consciousness. This range of values-along with a logarithmic scale of 1 to 1,000-became the Map of Consciousness, which Dr. Hawkins first wrote about in his best-selling book,
Power vs. Force
. With the Map, Dr. David R. Hawkins laid out the entire spectrum of consciousness, from the lower levels of Shame, Guilt, Apathy, Fear, Anger, and Pride; to Courage, Acceptance, and Reason; all the way up to the more expanded levels of Love, Ecstasy, Peace, and Enlightenment. These higher energy fields are a carrier wave of immense life energy. An essential primer on the late Dr. David R. Hawkins's teachings on human consciousness and their associated energy fields,
The Map of Consciousness Explained
offers readers an introduction and deeper understanding
of the Map, with visual charts and practical applications to help them heal, recover, and evolve to higher levels of consciousness and energy.
This book is a light unto the path of any individual who wants to become more effective in any area of life.
Frequently Asked Questions About The Map Of Consciousness Explained: A Proven Energy Scale To Actualize Your Ultimate Potential
Book Reviews
(9)
Did you read The Map Of Consciousness Explained: A Proven Energy Scale To Actualize Your Ultimate Potential? Please provide your feedback and rating to help other readers.
David Hawkins is my mentor!

Derived From Web

, Mar 19, 2021

I can't possibly describe how amazing the work of David Hawkins was, said McCann. I've read several of his books and each seems to elevate and expand my consciousness exponentially. If you're a seeker of wisdom, you will realize that there is much more to life than meets the eye. For all who read this, I wish you the most blissful feelings of love and peace. Many blessings that you all have!
Let Go and Let God

Derived From Web

, Mar 1, 2021

My journey with this book has been one of calm, tranquility and serenity, Raymond said. It is so relieving to realize that the world is perfect, Beckham said. The dissolution of the personal will and the emergence of spiritual will brings to mind an extreme state of peace, love, confidence in the Divine and absolute humility that all the good that one does is not actually done by one's self but rather by God.
somewhat interesting ideas, but white, male, US-centric

Derived From Web

, Feb 19, 2021

The book is clearly coming from a white-centered, U.S.-centered perspective, Raymond said. I found that limiting in how David Hawkins, the inventor of the universe, explained it. Please advise Mr. Powell that I cannot recommend his book.
Excellent book for spiritual growth

Derived From Web

, Dec 25, 2020

If you want to grow spiritually and become a better person, then get this book and read it and do the easy work that it teaches. It's just that your soul will be happy.
May be the best yet

Derived From Web

, Dec 7, 2020

The book is the best writtenedited material. I'm hearing his teaching of the truth more clearly with each passing book. The QandAs are done well, too. As he says, the right brain learns by familiarity and circling back - the material may be the same but it is just a tad differently.
The Primer of Dr. Hawkins work to understand it's full intention better!

Derived From Web

, Nov 26, 2020

This is exactly as promised as a foundational map, and a spring board to Dr. David R. Hawkins delivers other works. I am having more clarity from this on how to use Dr. Hawkins' Map of Consciousness in daily life so that the world makes sense, rather than holding it in judgment, he said. Thanks Dr. Hawkins and thank you Editor Dr. Fran Grace for getting this primer of the work Dr. Hawkins intended to give to mankind.
Excellent companion to the original Power v Force!

Derived From Web

, Nov 15, 2020

I did not expect such a written and extensive follow-up to the original book, but this one is 100x better, with well organized information and personal guidance, said Dr. Goin. With the environment of such negativity, Dr. Hawkins shows how far he can go with a solution. He urged others to read and learn there are ways for us to exist, but we must understand our spiritual connections to progress.
Condensed teachings in one unique format

Derived From Web

, Nov 1, 2020

The book is amazing, said Dr. Goin. There is no new information if you have read his other books but it is a compilation of some of the most important teachings of the 20th century. I gained some deeper experiential knowledge by reading this information again from a higher consciousness.
Excellent Recapitulation and Presentation of the Map

Derived From Web

, Oct 27, 2020

I have read all his books first, and having enjoyed reading his material presented in a fresh way. May you enjoy it too, said Blair.