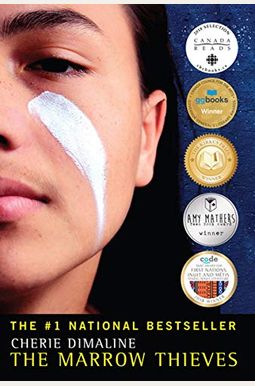 
 
Book Overview
Winner of the 2017 Governor General's Literary Award (Young People's Literature - Text)
Winner of the 2017 Kirkus Prize
Winner of the 2018 Sunburst Award
Winner of the 2018 Amy Mathers Teen Book Award
Winner of the 2018 Burt Award for First Nations, Inuit and M?tis Young Adult Literature
Just when you think you have nothing left to lose, they come for your dreams. Humanity has nearly destroyed its world through global warming, but now an even greater evil lurks. The Indigenous people of North America are being hunted and harvested for their bone marrow, which carries the key to recovering something the rest of the population has lost: the ability to dream. In this dark world, Frenchie and his companions struggle to survive as they make their way up north to the old lands. For now, survival means staying hidden - but what they don't know is that one of them holds the secret to defeating the marrow thieves.
Frequently Asked Questions About The Marrow Thieves
Books like The Marrow Thieves
Book Reviews
(15)
Did you read The Marrow Thieves? Please provide your feedback and rating to help other readers.
Riveting

Derived From Web

, Feb 16, 2022

The fifth nominee for fiction is novelist Elizabeth Gilbert. If you enjoy native stories, this is a good read. I'm a New Mexico native who likes to mix it up with culture. The first time I looked at it, it had me. I connected to the book and the nuances of native connections, he said. Young readers would enjoy the story, too. I hope it's made into a movie. I love the comparisons, Rowling said of the book to boarding school life. There are some boarding schools in the US that forced children into changes that did not promote growth but resentment and bitterness. The book has a positive outcome after a harrowing ride through it's pages, Gaiman said.
I'm am Wonderstruck!

Derived From Web

, Feb 8, 2022

This is a book filled with so much beauty and passion, Raymond said. I purchased it because I heard about it from a friend and wanted to read it first. This novel kept me and of course it makes you think about the horrors of the past and the horrors that can be if we don't change the course we're on. I am appreciative of the author's offering all the way to the acknowledgments, Mr. Dhaliwal said.
A Page Turner

Derived From Web

, Aug 11, 2021

This important story was so well written and was very well executed, McBride said. I've waited a long time to read it. Already preordered copies of the second book have arrived.
Culturally brilliant and beautiful- worth the read.

Derived From Web

, Jul 11, 2021

I highly recommend this book to anyone who has ever read it. I saw a review on goodreads about how ridiculous the premise of people not dreaming led to such a scenario in this book, but they didn't understand the cultural significance of dreams and to a lesser note the psychology of how important dreams are to cognitive processing. As a Nish person myself the plot line makes perfect sense and the story is so well told. It speaks to our years of enduring genocide, coming full circle, and the resilience of the people to tight hold to culture, language and the truth of such things as important and central to the spirit, all richly told in an emotive and inspiring fictional story.
Great Book!

Derived From Web

, May 13, 2021

What a detailed and thought-out plot line, Mr. Rule told us. Also, there is swearing, which I didn't like, so if you don't like reading books that have bad language then maybe just be a little careful. Overall a really good book, but it's also very sad.
Damned good read

Derived From Web

, Jan 3, 2021

This is a near-future distopian tale of a young man of North American Indian descent, finding his way through a hostile world in Central Canada. He and his group are hunted as "animals" by civilized white folks who want their bone marrow, he said. Overall, I found this book very well written and emotionally moving. And given that history, too, it's almost too believable. It is my sincere hope that this is a cautionary tale rather than a prediction, Garton said.
Beautiful, heartbreaking

Derived From Web

, Jun 29, 2020

This book affected me personally like few have. The main characters were drawn with great realism, never caricatured of who they represent. The elders would regale us with stories of intense, sometimes ugly, sometimes beautiful, always real.
Pretty good

Derived From Web

, May 24, 2020

Overall, I'm not all that pleased with the outcome of the conference, even if it was good. And speaking of which, here's a quick rundown of all the casualties in the recent Paris attacks. Wallpaper and background images in the "Mugabe" series. The Harrisons' lawyer, Reid Weingarten, said: "There's no question they're going to try to kill him. nan The Beatles' songs "Yellow Submarine" and "Abbey' were also among the best-selling. Even if librarians wanted to bar children from reading this book, Mr. Booher would have had no problem with it.
One of the most unexpected and important books I've read this year

Derived From Web

, Nov 26, 2018

I this book for our class's Dystopian Book club, and the students have been challenged and assigned by it, as have I. We've already had such rich conversations about it, and my students aren't even finished yet, Mrs. Dhaliwal said. The world was terrifying and believable, the characters were beautiful and so human, Morgenthau said. I can't speak highly of any book I've read this year, and I'm recommending it to everyone, middle school student or not!
Superior YA Science Fiction

Derived From Web

, Nov 25, 2018

This book imagines a North America after the kind of horrific devastation detailed in this week's federal report on climate change. As the new generation of residential schools is established to literally drain the bodies of Native children and adults, the anguished voices of the old guard are silenced. What results is a devastating story of depredation and resistance, with allegorical implications for countless historical—and current—exploitations of First Nations' culture, language, and voice.