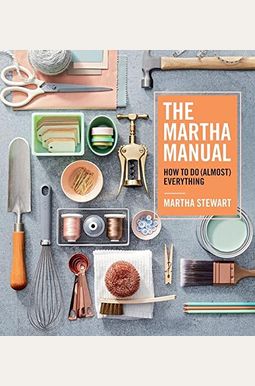  
The Martha Manual: How To Do (Almost) Everything
Book Overview
Essential life skills from America's most trusted lifestyle expert--together in one beautiful and practical handbook, with hundreds of ideas, instructions, and inspirations

Martha Stewart is America's go-to source for the best answers to nearly every question. As an authority on the many worlds upon which she's built her domestic empire, she can advise on everything from pruning roses and setting the table to playing classic lawn games or building a campfire. Whether it's organizing, celebrating, cleaning, decorating, or any number of other life skills, these are the time-tested, Martha-approved strategies for frequent challenges and basic how-to knowledge that everyone should have at the ready. Also included are plenty of solutions for the not-so-common conundrums, such as how to transport a decorated cake, bathe a cat, or fold an American flag. With hundreds of expert tips and useful insights in an easy-to-follow format, this is the manual you need to learn how to do everything--the Martha way.
Frequently Asked Questions About The Martha Manual: How To Do (Almost) Everything
Book Reviews
(10)
Did you read The Martha Manual: How To Do (Almost) Everything? Please provide your feedback and rating to help other readers.
Lots of helpful tips

Derived From Web

, Jun 1, 2019

She received it as a gift for my girlfriend and she loves it. Tons of good information for anyone who likes to do home projects and DIY projects.
Excellent Reference Book

Derived From Web

, Apr 23, 2019

I am not new in the business of keeping a home, but this book is definitely one that I will often refer to.
it's old school

Derived From Web

, Mar 19, 2019

I liked the library version so much that I had to buy one, especially since I moved just. I get a lot out of it, but I think you almost have to be someone who grew up without the Internet to appreciate the value of an all-in-one home book like this. For me it's so easy to reach for the book, but you might have a website that you like and trust. One star off only because there are a few tricks made for their difficulty level too simple, like the reupholstering chairs, which I believe are more complicated and more troubleexpense than they are worth. Even at times like this, one can use the book as a starting point. Sometimes it helps to have a guide that tells you what terminology or techniques you can later google for more info. I am not going to say that it is a miracle guide to your daily life, but you'll pick up some good tips. I recommend it ''.
A MARTHA STEWART "HOW TO" book that matches it's title !

Derived From Web

, Feb 27, 2019

Baby, Oh! Makes me feel smart when I read all the golden pieces of the little info. And then share it with my friends, Fam. or co-workers! ) MARTHA gives a top shout out to SHARE. I give this to every family member for C-mas the next year, even the guys. I can do almost anything with this book, plus the Home Depot, How To!
Not much new ...

Derived From Web

, Jan 20, 2019

I scanned through the book and didn't see much that was not common sense or that I haven't seen before. I'll go through it again in more depth and update this review if my feelings change.
All Hail The Queen

Derived From Web

, Jan 10, 2019

This is the most helpful, informative book for all the things you would typically spend an hour on Google researching. The range of topics is fantastic and the layout is never-ending, coupled with her explanations. Highly recommended!
Great handbook for do it yourselfers

Derived From Web

, Jan 8, 2019

Literally, tells you how to fix anything! I am an avid do-it-yourselfer, so I wasn 't sure there would be anything in here that was new to me. The whole weekend I spent working on projects from the book.
A Fantastic Reference for Home Life

Derived From Web

, Jan 6, 2019

This book is invaluable for you and your household! It is full of practical and inspiring ideas and information for all things related home. I'm so glad I bought this book ; it has been so fascinating to browse through the sections, which even include Crafts, Interior - Design - Painting, furniture spacing, hanging artwork. It is home encyclopedic and a valuable reference for all things related home.
Beautiful book! A Wealth of Information!

Derived From Web

, Jan 4, 2019

Lifesaver : So helpful! I wish I had this book as a 13 year old and my young adult and I read it together. So large and it's informative has lots of photos. It is also very well organized. Another homerun by Martha!
Truly Life's Essentials

Derived From Web

, Jan 3, 2019

Where is this book needed when I wrote it 32 years ago? When they move out of their parents'house, every teenager should be issued a copy.