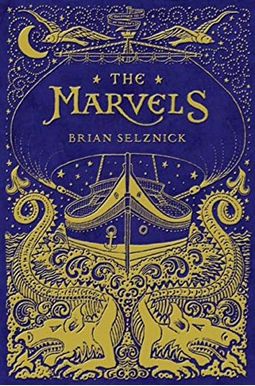 
 
Book Overview
Don't miss Selznick's other novels in words and pictures, The Invention of Hugo Cabret and Wonderstruck, which together with The Marvels, form an extraordinary thematic trilogy
A breathtaking new voyage from Caldecott Medalist Brian Selznick.
Two stand-alone stories--the first in nearly 400 pages of continuous pictures, the second in prose--create a beguiling narrative puzzle.The journey begins at sea in 1766, with a boy named Billy Marvel. After surviving a shipwreck, he finds work in a London theatre. There, his family flourishes for generations as brilliant actors until 1900, when young Leontes Marvel is banished from the stage.Nearly a century later, runaway Joseph Jervis seeks refuge with an uncle in London. Albert Nightingale's strange, beautiful house, with its mysterious portraits and ghostly presences, captivates Joseph and leads him on a search for clues about the house, his family, and the past.A gripping adventure and an intriguing invitation to decipher how the two stories connect,
The Marvels
is a loving tribute to the power of story from an artist at the vanguard of creative innovation.
Frequently bought together
Frequently Asked Questions About The Marvels
Book Reviews
(13)
Did you read The Marvels? Please provide your feedback and rating to help other readers.
A Masterpiece. Possibly Selznick's Best Work Yet

Derived From Web

, May 25, 2022

Brian Selznick, as with his other books, combines extraordinary art with prose to craft a story unlike any other. Some people have complained that more than the first half of the book is only an illustration, but I found that this helped the story perfectly. The genius behind this story telling method is that people tend to see in images, and when you reflect on the memories in the book, you remember his images perfectly in your mind. They become more real and credible. I found myself deeply involved with the characters and caught with emotion, shedding a few tears at the end... something I haven t done in years while reading a book.
Absolutely love the work of this Author / Illustrator

Derived From Web

, May 25, 2022

The work of this author is absolutely love. I know that Hugo Cabret's invention was done on small index cards that were enlarged or reduced for placement in the book. I would love to know if he did this book in the same way. It allowed him to work while he was busy traveling from place to place, on the train or in a plane.
A story that lingers with you.

Derived From Web

, May 25, 2022

You go into Mr. Selznick's books knowing that they are about something more than the story at the surface level. You know that the drawings and words combine to tell a larger story than either does alone. This book tells even more, it does a story about the stories we tell. You won't read the story as you have it wash over you in waves, pushing you to a new shore. I loved this book ''. You will also need to register a gift card.
My son is an advanced reader for his age(6) but ...

Derived From Web

, May 25, 2022

My son is an advanced reader for his age, but he doesve right in and was instantly captivated. The first half of the novel is exclusive graphics, but is bound in other ways into the second half.
Hauntingly beautiful.

Derived From Web

, May 25, 2022

I loved Brian Salznick and Wonderstruck so I bought this latest book by Hugo Cabret. My family and I read it that weekend. It is about love and family and the ability to create one's own truth and destiny.
Good quality, nice leather

Derived From Web

, May 25, 2022

Very stylish : I followed the advice of other commenters by going half a size down, but I think I should have gotten a full size smaller.
It was not what I expected so shame on me ...

Derived From Web

, May 25, 2022

It was not what I anticipated so shamefully on me. The illustrations and concept were original, but not for the person I purchased it. The next time I review the books more carefully before not after.
My 12yo's favorite book

Derived From Web

, Nov 8, 2020

My 12yo checked this book out of the library a while back and loved it so much that I decided to gift them a copy. When it arrived there was a small rip in the dust jacket which I patched with clear tape, but other than that it was exactly as I expected. I read it myself and is a wonderful enthralling story, albeit a little sad. I recommend it definitely ''.
Aut Visum Aut Non

Derived From Web

, Jun 5, 2020

ISBN-13 Concerning The Marvels 978-0545448680 I finished the tome of this title and want to thank Brian Selznick for his writing and Eric for his suggestion. A very excellent storey. I also want you to know that the top edge of the pages is some real gold trim. I keep the bugzapper close to hand for when moths are attracted by my reading light. In this instance, the several pages were zapped and the moth escaped. Mr Selznick, thank you for your artistry and I am sure that the lucky moth also thanks you.
Not for elementary school children

Derived From Web

, Oct 3, 2018

Selznick is a huge fan of mine. You see it either way, or you don 't... and I guess I didn 't see this one. The plot, however, and the generations are hard to follow. The drawings are always mesmerizing, as always. I just feel that this book is geared towards higher than 4 and 6 levels. Some of my older but younger readers won 't get it and AIDS is a topic better handled at an older age. Unknowingly, I bought this with the intention of adding it to a private school library, but will not do so. This one is not my favorite and is too complex for my purposes, but read Selznick!