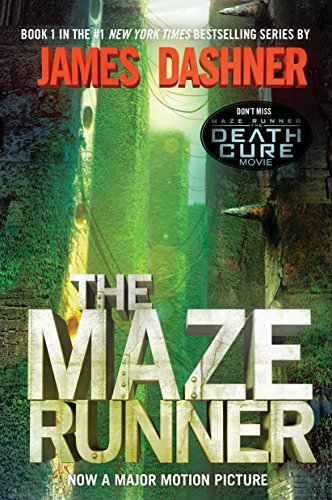  
The Maze Runner (Maze Runner, Book One): Book One
Book Overview
This Description may be from another edition of this product.
A must-have gift for every collection--from the die-hard Maze Runner fan to the YA book lover just coming to the series to the binge reader who's catching up before wathcing the blockbuster movie franchise This boxed set has all of the paperback books in the #1 New York Times bestselling Maze Runner series: The Maze Runner, The Scorch Trials, The Death Cure, The Kill Order, and The Fever Code.
When Thomas wakes up in the lift, the only thing he can remember is his name. He's welcomed to his new home, the Glade, by strangers--boys whose memories are also gone. Outside the towering stone walls that surround the Glade is a limitless, ever-changing maze. It's the only way out--and no one's ever made it through alive. Join Thomas and the Gladers in all five books in the Maze Runner series as they uncover the secrets of the maze; discover WICKED, the shadowy organization who put them there; and fight to survive in a new and dangerous world. Enter the World of the Maze Runner series and never stop running.
The first three books, The Maze Runner, The Scorch Trials, and The Death Cure are all now major motion pictures and feature the star of MTV's Teen Wolf, Dylan O'Brien; Kaya Scodelario; Aml Read More chevron_right
Frequently bought together
Frequently Asked Questions About The Maze Runner (Maze Runner, Book One): Book One
#1

#2

#3

#4

#5

#1-3

#5.5
Books like The Maze Runner (Maze Runner, Book One): Book One
What should you read after The Maze Runner (Maze Runner, Book One): Book One Book? Here is a list of books to read if you read and loved The Maze Runner (Maze Runner, Book One): Book One
Book Reviews
(9)
Did you read The Maze Runner (Maze Runner, Book One): Book One? Please provide your feedback and rating to help other readers.
What a great story! And the ending - wow

Derived From Web

, Apr 20, 2022

There is a great story. Wow! And the ending! Thomas has no recollection except for his name. Young men and boys welcome him as he comes out of the box. They have been in the area for up to 2 years. None of them remember their pasts. On the day after Thomas sees the maze, he wants to become a runner, someone who maps the maze to find a way out, and someone who may have to fight off the Grievers that wander the maze. This is an exciting action-packed thriller and I loved it.
Disappointing after all the hype

Derived From Web

, Apr 20, 2022

I was so disappointed that I went into this book with high expectations. I was excited for the new series. The premise was exciting and engaging. I have no desire to read the next book. It was difficult to keep the characters straight other than Thomas and Teresa. I enjoyed their relationship, but it was not developed. When Thomas regained memories, I would have liked to know more. I was intrigued by the idea of a maze and a code to figure it out, but it was just an experiment that was controlled and there was little to actually figure it out. The characters were named after scientists so they didn't seem smart or gifted. I was quickly reading through the violence and action with little concern for anyone. This one wasn't good for me.
A Maze of its own

Derived From Web

, Apr 20, 2022

In a Dystopian world where female characters dominate, Thomas is a breath of fresh air. He is a real character that is intriguing, without the annoyance of a love triangle or other clichés getting in the way. The book starts out slow, but I stuck with it and was rewarded with an intriguing story of life and death, survival and friendship. It is a great book with likeable and hateable characters. It was difficult to see where the story was going because it was a maze. The next big series should be this book, along with The Hunger Games and Divergent.
A Maze Of Thrills!

Derived From Web

, Apr 20, 2022

This was a great book. A boy is in a maze, but he doesn't know who he is. He is trying to figure out what he is doing there and what his purpose is in a giant maze that could kill them. A girl arrives after he settles down. This has never happened before in the history of the maze. Suddenly, they know something is wrong. Their time in the maze may be coming to an end. They scramble to get out of the huge maze before they die. The series was very addictive. I wanted to know what happened to this group so I ordered the entire series. I was sitting at the edge of my seat. It's one of those books that you just know is a winner. It has been turned into a film!
I CAN'T PUT IT DOWN!

Derived From Web

, Apr 20, 2022

I watched a movie review during an episode of TeenWolf because I am a huge fan of Dylan O'Brien, who is an incredible actor. I saw the book and bought it less than a week ago. The book is amazing and I just ordered the other three because I'm almost down with it. He gives some information to catch your attention, but not much to tell you where you are going. The last time I bought multiple books at once was a long time ago, and that was the Inheritance trilogy. I ordered the rest of the books for two days of shipping so I can read them, but I might have to re-read them because I love the book so much!
Brilliant Book

Derived From Web

, Apr 20, 2022

The book was called The Maze Runner. I was in the first page, as Thomas, the main character, arrived in an elevator in a place that defies comprehension, with massive stone walls that moved, weird beasts, and a community of boys. All of them had lost their memories, and didn't remember a thing. The setting, the strange glade the boys lived in, the strange beasts in the maze, and the boys trying to figure out the way out were the best aspects of the book. I was eager to find out where Thomas' past and importance had been and what had happened, because of the snippets of Thomas' past and importance that bled through the pages. The captivating characters in the book were Newt, Minho and Teresa.
dystopian

this is one of my fav book series since i was in elementary school, i am now in high school and i still love the books. I would definitely recommend them.
Do NOT let a child read this.

Derived From Web

, Feb 5, 2019

The idea that it is reasonable and morally correct to torture and kill children in the name of saving the human race is revolting. I had to finish it to see if the ending had any redeeming qualities. A brother and sister are kidnapped after watching their parents kill each other. I am not one of those people who can maintain enough emotional distance to enjoy this sort of thing. I don't see this as appropriate for children or teenagers.
Attention-holding kid fiction

Derived From Web

, Jan 22, 2019

A group of teenage boys are trapped in an artificial environment in a movie. They don't have a basis for comparison because their memories are wiped, but they know their environment isn't natural. They want to leave. It's pretty much the whole story, but The Maze Runner makes it interesting. Why are they in this location? How do they get out of the house? What are they going to do with their lives in the meantime? There are a lot of little adventures that lead to a frustrating failure to answer basic questions until the end. There are four books in this series The series tend to jump the shark after the first book. The Rick Riorden Olympus books hold up better than this series does.