CYBER MONDAY SALE - SAVE 20% AT CHECKOUT WITH CODE CYBERBOOK. Learn more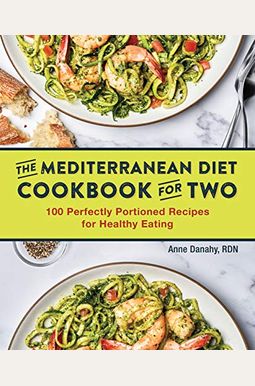 
 
The Mediterranean Diet Cookbook For Two: 100 Perfectly Portioned Recipes For Healthy Eating
Book Overview
Set your Mediterranean table for two with perfectly portioned dishes
With crisp veggies, succulent seafood, hearty grains, and healthy oils, the Mediterranean diet makes nutritious eating a pleasure. This cookbook brings its bright flavors and bountiful health benefits to your table with recipes designed for two people. No need to fuss over recipe conversions or deal with too many leftovers-just relax and savor a breezy seaside breakfast or a simple rustic dinner, all without leaving home.
Together, discover how a Mediterranean lifestyle can reduce the risk of heart disease, aid in weight loss, and more. Cook up recipes that feature quick prep times and seasonal, accessible ingredients. Then sit back and toast a glass of red wine to dishes like:
Citrus Fennel Salad-Bursting with fresh oranges, creamy goat cheese, and toasted pecans, this bright and aromatic salad is like a plateful of sunshine.
Poached Salmon with Mustard-Herb Sauce-Poaching rich salmon in a tangy mustard-yogurt sauce keeps the fish moist and flaky, with an added pop of flavor from dried tarragon.
Greek-Inspired Beef Kebabs-Perfect for grilling on a summer night, these colorful beef and vegetable kebabs are marinated in tangy balsamic vinegar and fragrant rosemary.
Chocolate Read More chevron_right
Frequently Asked Questions About The Mediterranean Diet Cookbook For Two: 100 Perfectly Portioned Recipes For Healthy Eating
Book Reviews
(13)
Did you read The Mediterranean Diet Cookbook For Two: 100 Perfectly Portioned Recipes For Healthy Eating? Please provide your feedback and rating to help other readers.
Good for Two

Derived From Web

, Dec 26, 2021

This book is just right for empty nesters, Raymond said. My daughter and her husband liked it so much they gave it to us and ordered another one for us.
Tasty meals

Derived From Web

, Aug 8, 2021

Living out in the middle of no where makes some of the recipes difficult to find. I'd like to see the index organized a bit more. It's just that it's hard to find what you're looking for.
Good recipes but the nutrition facts are incorrect

Derived From Web

, Jul 11, 2021

This book is a great introduction to the Mediterranean diet. Only in rare instances will they be found. However, I understand brands vary, and there are a lot of inconsistencies. For example, on page 95, the top of the states a 5oz serving of cod has 30g protein, but the nutrition facts at the bottom of the page show a 5oz serving of cod oreganata yields only 23g protein. On the nutrition facts, the recommended daily serving of beans is 16 calories, 10 percent of which is actually fat.
Love this cookbook

Derived From Web

, May 25, 2021

It was recommended to me by my doctor that I try the Mediterranean diet. Easy to follow and always good. This book has become my favorite.
Instructions are easy to follow, taste good.

Derived From Web

, Mar 23, 2021

The smaller portions make it easier for smaller families to breastfeed. Mediclinic Heart Attack Center in Birmingham, Ala. The cookbooks had 18 recipes. A good book. Already made several of these.
I love this cookbook!

Derived From Web

, Feb 17, 2021

We are empty nesters, Kate said. He also noted that the book is "perfect for us." Overall, I like the recipe because it is very pantry-friendly and easy to make. If you're a person who needs or wants pictures, this isn't a cookbook for you. Good Housekeeping's expert writers provide you with quality information that is written for a normal person and doesn't use medical terminology. A photo of the pyramid was supplied by Dr. Caramore, along with this helpful tip: Don't eat red meat. What's more, I've got a new suit, too, said Jimmy. Quattrone's favourite pasta was also on the menu. No wonder the Vatican has called for a boycott of breads, pasta and other "grain-free" products. It's just that good." We're not talking about a bullet here, we're talking about the volume of smoke coming from the vents. If you're trying to eat healthy and not break the bank, this is the book for you.
Needs improvement in methods

Derived From Web

, Jan 20, 2021

She might know nutrition, ingredients and portions, but unfortunately she's not all that good at writing cooking procedures. He suggests that the reader also research the recipes on the internet or other in books to ensure that no steps have been omitted or cooking times have been adjusted. The error was corrected when the customer returned the call. It was mostly because I am now cooking for two, and the book has helped me with that. Frugality is saving money and not wasting food. Further, when I make corrections to the actual cooking methodology, the meals come out tasty.
Perfect for cooking medit for two

Derived From Web

, Jan 10, 2021

This is exactly what you are looking for if you want to be able to cook healthy meals specifically for two people and easily start to eat again.
Perfect for Two & Easy Recipes

Derived From Web

, Nov 10, 2020

I've read all the books, but this is by far the best. We decided to try a Mediterranean Diet, and I ordered a few cookbooks. This one is perfect, Mr. D'Antonio said. Some books had recipes for eight or nine servings. I was buying so much food and the recipes took me an hour to make them, Melissa said. These two recipes are very similar, except that they are portioned perfectly for two. You'll also be saving on your grocery bill as you won't have to buy a ton of food to make these. They are delicious without a lot of work or special equipment, Mr. Dhaliwal said.
Perfect Proportions!

Derived From Web

, Oct 26, 2020

My nutritionist recommended transitioning from KETO to the Mediterranean Diet and I found it extremely difficult to find recipes for just two people. This cookbook has been used more in the past few months by friends and family members than several others I own for decades. We love the variety and focus on fresh and in-season produce, said Tracie.