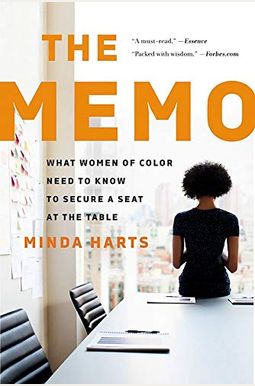  
The Memo: What Women Of Color Need To Know To Secure A Seat At The Table
Book Overview
This Description may be from another edition of this product.
The Memo is the much-needed career advice guide for women of color specifically, finally ending the one-size-fits-all approach of business books that lump together women across races and overlook the unique barriers to success for women of color. In a charismatic and relatable voice, Minda Harts brings her entrepreneurial experience as CEO of The Memo to the page, as well as her past career life as a fundraising consultant to top colleges across the country. With wit and candor, Harts begins by acknowledging the ugly truths that keep women of color from getting the proverbial seat at the table in corporate America: micro-aggressions, systemic racism, white privilege, etc. Harts validates that women aren't making up the discrimination they feel, even if it isn't always overt. From there, she gives straight talk on how to address these issues head-on and provides a roadmap to help women of color and their allies make real change to the system. With chapters on network-building, office politics, money, and negotiation, this overview covers all the basics that any good business book should. But through the author's lens, it offers support and long-overdue advice particularly for women of color.
Frequently bought together
Frequently Asked Questions About The Memo: What Women Of Color Need To Know To Secure A Seat At The Table
Book Reviews
(14)
Did you read The Memo: What Women Of Color Need To Know To Secure A Seat At The Table? Please provide your feedback and rating to help other readers.
A must read

Derived From Web

, Sep 26, 2021

This book was full of insight, Raymond said. I am passing it along to a co-worker if necessary. I hope that its help to her as much as it helped me, he said.
Good info, limited

Derived From Web

, Mar 14, 2021

Overall, I thought the book was good, but I wish the author had talked more about career prep. In many instances, women in lower level positions simply cannot "secure" a seat. Physical and psychological preparation needs to be done, Mr. Dhaliwal said. He also said that command of a seat without a strong foundation was "almost impossible." I'd like more details. For me, this book reads for a younger career woman. There are greater risks and opportunities in later years, and that was missed by me.
Some good content surrounded by racist garbage

Derived From Web

, Jan 7, 2021

When someone continuously uses the white people to ascribe the behaviors of one person to an entire group of people that is just as racist as a different person using black people to ascribe the behaviors of one person to an entire group of people. He also criticized the academy's treatment of white people, saying it "doesn't make it about all white people." She really could have written a better book - she could have taken the route of Oprah with something like this from a black woman on how to succeed in corporate America, she said. She would have continued reaching out to her identified target audience while also making it more inclusive, Mr. Dhaliwal said. Or maybe she didn't want any white people to read her book.
Great book!

Derived From Web

, Mar 5, 2020

I'm partial to the book cover. Whether you are a corporate client or not, securing a seat at the table is crucial. This book is a must read for anyone who wants to further their career goals.
Get The Memo!

Derived From Web

, Feb 14, 2020

It's a great story told by a Black woman who has done an excellent job of telling a story with which many professional Black women can relate. I found her experiences familiar and her advice warmly welcomed.
MUST READ!!!!!

Derived From Web

, Feb 13, 2020

This is a must read for the black queens in corporate America or those planning to go into corporate America. Many, many great nuggets of knowledge.
Essential Reading

Derived From Web

, Sep 13, 2019

For those of us who are white, No more passes. It's time to show up differently for women of color and this book provides the unvarnished insights we needed - but obviously did not. The book is also available on Amazon. com: "The Man Who Stole Christmas." It's a present that only a fool would give. It's great to be back home, said Blair.
Excellent book, and an important read for anyone who considers selves an "ally"

Derived From Web

, Sep 10, 2019

There are real and significant barriers for women of color to achieve leadership positions in the business world, according to the report. In a well-written, tone-poem, THE MEMO shares what those factors are and provides engaging advice that provides needed support and resources to help women of color secure those seats. Anyone who wants to read this book should do so. In a new book, Harts addresses white readers that might be sensitive to pain, from a place of frustration mixed with compassion.
Got The Memo?

Derived From Web

, Aug 31, 2019

I just finished The Memo and it's everything! WoC needs more than just a book. Thanks for all the help!
Excellent and timely read for all women of color!

Derived From Web

, Aug 30, 2019

Great job! Thanks for telling our story in plain language. It's like talking to one of my girlfriends. We've had many, many conversations, about music, Bruno said.