Buy 3 Get 1 Free
Our Best Sale Yet! Add 4 Books Priced Under $5 To Your Cart     Learn more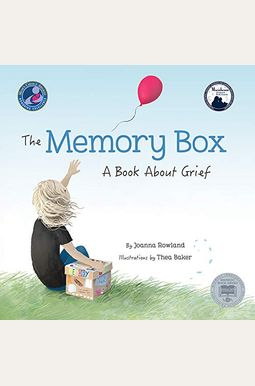 
 
The Memory Box: A Book About Grief
Book Overview
A beautifully written story and must-have resource for any adult helping a child cope with the loss of a loved one and working through grief.
From the perspective of a young child, author Joanna Rowland artfully describes what it's like to remember and grieve a loved one who has died. The child in the story wonders if she will forget the person who has gone. Other days I wonder if I'll ever stop feeling sad you are gone.
The main character creates a memory box to keep mementos and written memories of her loved one to help with the grieving process. Throughout the narrative, the child's feelings are acknowledged, allowed, and assured that feelings are normal and healthy to express. Heartfelt and comforting, The Memory Box helps children, parents, educators, therapists, and social workers talk about this very difficult topic together.
The unique point of view allows each reader to imagine the loss of someone they've loved -- a friend, family member, or even a pet. A guide in the back includes information to help children manage grief and offers suggestions on how to create a memory box.
Recommended and adopted by parenting blogs, bereavement support groups, hospice centers, social service agencies, military library services, church groups, and educators, The Memory Box offers a very simple approach to overcoming loss, Read More chevron_right
Frequently bought together
Frequently Asked Questions About The Memory Box: A Book About Grief
Books like The Memory Box: A Book About Grief
Book Reviews
(10)
Did you read The Memory Box: A Book About Grief? Please provide your feedback and rating to help other readers.
A Beautiful Book that Normalizes Grief

Derived From Web

, Aug 6, 2020

I am in the middle of a grieving process, and this book was comforting and encouraging. There are many parts of grief that are normal and okay to feel, according to the story and illustration byJoanna. The book helps children cope with the grieving process, and is a positive way to deal with loss. I bought an extra copy of this book to give to my local library.
What a gift this book is for all who deal with a loss of a loved one

Derived From Web

, Aug 30, 2019

I buy books that are appropriate to diverse public school populations, all beliefs and skin tones must be seen in the books I pick. Many books here are not neutral. They can either make people look like carbon copies of each other or impose their own religious beliefs on them. This book can be read to everyone. It is a great tool to use at the hardest of times with a wide range of students. I am glad I found it.
Great addition to your collection

Derived From Web

, Jun 22, 2019

I paid the full price of the book. The recipient received it in the Amazon box. It had no jacket when I pulled it out. There is a great story.
Beautifully written!

Derived From Web

, Nov 5, 2018

I bought this book to read to my granddaughter, who is 5 years old, so she can discuss issues related to death and dying. I cried when I read it, as it brings up memories for adults. The idea of creating a memory box to remember a loved one is a wonderful idea and one that we should all practice. I think this book is appropriate for children ages 3-12, depending on the individual child, and I would recommend it to others. As an adult, I enjoyed it.
helpful

Derived From Web

, Sep 27, 2018

I bought this book for a teenage girl who had a big brother who was killed in the line of duty. The book is simple and straight forward, which is perfect for her. The young lady is taking steps to remember her brother in a positive way.
Written from a child's perspective

Derived From Web

, Aug 9, 2018

The book was purchased for our son. His sister passed away from an auto accident. He was 4 years old when she died. The worry of forgetting her was something we couldn't help but worry about, as dealing with each emotion as they came up has worked well for us. I bought this book to give him useful knowledge. The book was written by a child. It talks about the difference between losing an object or possession and losing a person. The book doesn't say anything about a religion. It doesn't even mention it. It's ok to make new memories too. At this point in our grief journey, it was what we needed. If you are buying it as a gift, you should get a small box from the craft store. It makes sense once you read the book.
Excllent book for dealing with death

Derived From Web

, Jun 5, 2018

Two small grandsons were left behind after my brother's wife died. The book is well written and illustrated to help remember a loved one by putting things in a box. The book is an excellent gift to help children deal with grief. Highly recommended!
It was good. It's hard to find books for her age ...

Derived From Web

, May 22, 2018

My 3 year old daughter lost her older brother a few months ago and I bought this book for her. It was enjoyable. She understands things because it is hard to find books that explain them. This one gave us the idea to start a memory box to keep her memories alive.
This book will help young children retain memories.

Derived From Web

, Apr 26, 2018

My grandson is young. My son went to be with the Lord five months ago. We've got a few books about grief for him. Another hit was the book. He wants to put things in a box that remind him of his dad. The main character in the book also wants to go all the places she and her loved one had wanted to go, so he was picking things to put in the memory box. In the middle of the hike, my grandson stopped walking and said he wanted to put a John Cena toy in the memory box because his dad liked him. I would recommend the book to anyone.
Lovely, senstive book on the topic of grief.

Derived From Web

, Oct 4, 2017

Many people are going to be helped by The Memory Box. The reader can connect to the feeling of loss from the first image. When dealing with the loss of a loved one, she touches on all the emotions one can experience. The page I'm making a box so I won't forget you touched my heart the most. A few people in my life needed this book, and I appreciate that it was created by Rowland.