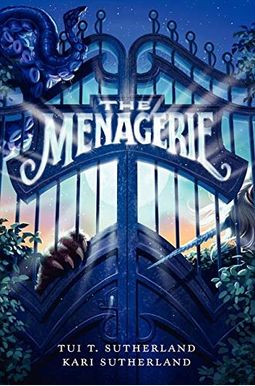 
 
Book Overview
From the New York Times bestselling author of the Wings of Fire series, Tui T. Sutherland, and her sister, Kari Sutherland, comes the Menagerie series, perfect for fans of Brandon Mull's Fablehaven series and The Spiderwick Chronicles.
In the small town of Xanadu, Wyoming lies the Menagerie, a top secret facility filled with unicorns, dragons, phoenixes, and other fairy tale creatures. At least, it was a secret--until six griffin cubs escaped.
If Logan and Zoe don't get the cubs back fast, the entire Menagerie will be shut down. The race is on and the resulting adventure is only the beginning of a thrilling series that will leave readers wanting a magical menagerie of their very own.
Frequently bought together
Frequently Asked Questions About The Menagerie

Book Reviews
(17)
Did you read The Menagerie? Please provide your feedback and rating to help other readers.
Enchanting Story with lots of twists and turns.

Derived From Web

, Jun 2, 2022

I read them to my 10 year old son as part of our bedtime routine and he is so disappointed when we stop each evening. I've needed to read his Kindle lest he locked it before. He tries to make friends in a rural setting, but is hard. Suddenly he is thrown into a world of mythical creatures and finds out things about himself and his mother that turn his life on its ear. This is a book that your children will love.
Five stars!

Derived From Web

, Jun 2, 2022

Before I read this book, I had read all the Wings of Fire books I had ever published and loved them all, so I had really high hopes for this author. I've always felt that this book was just as refreshing and captivating as the Wings of Fire series. There is good character development and a mystery that engulfs Logan Wilde into a world that he never even knew existed. What I also thought was cool about this book : to see all the different personalities of the mystical creatures that live in the Menagerie.
Annoying ending

Derived From Web

, Jun 2, 2022

Except for the abrupt ending, the book was one I would recommend especially to children around the middle school. There is ample mystery throughout the world, some of which looks unresolved, some left unsolved. If you don 't want to read the series, be prepared for this one.
She LOVED this and immediately started reading the 2nd book in ...

Derived From Web

, Jun 2, 2022

My 10 yr old daughter is very picky about her books now. She LOVED it and immediately started reading the second book in the series.
The menagerie

Derived From Web

, Jun 2, 2022

It was a real page Turner and I couldn t put it down. I would recommend it to anyone who likes mysteries and magic.
One of the best book I ever read

Derived From Web

, Jun 2, 2022

I can 't wait to read the second and third book!
😄😄😄😄😄😄😄GREAT BOOK

Derived From Web

, Jun 2, 2022

I love this book so much and I have been reading it over and over again!!!!!!!!!!!!!!!!!!!!!!!!!!!!!!!!!!!!!!!!!!!!!! I hope you love it as much as I do.
Awesome

Derived From Web

, Jun 2, 2022

Wish they would finish the Kraken and keep with the series really cool hope they decide not to stop the series.
Five Star Review

Derived From Web

, Jun 2, 2022

I am excited for book # 2, who killed the golden goose? What is next Amazingly good book?
Great for wings of fire fans

Derived From Web

, Feb 22, 2022

The kids tried reading the wings of the fire series and we finished the menagerie. They love it just as much, if not a smidge more.