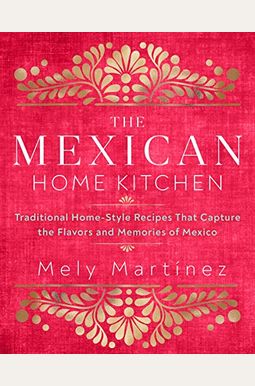 
 
The Mexican Home Kitchen: Traditional Home-Style Recipes That Capture the Flavors and Memories of Mexico
Book Overview
The long-awaited, best-selling cookbook from Mely Mart nez, The Mexican Home Kitchen, compiles the traditional home-style dishes enjoyed every day in Mexican households, with influences from states like Tamaulipas, Nuevo Le n, Veracruz, Puebla, Estado de M xico, and Yucat n.
*As featured in The New York Times, New York Magazine, People Magazine, The Smithsonian Magazine, Eater, Epicurious, Chowhound, The Kitchn, Prevention, and Taste of Home*
Illustrated with
stunning photography
, this book includes recipes for
stews
,
soups
, and
side dishes
, along with famous dishes like
mole
,
enchiladas
,
picadillo
, and
milanesa
, and is rounded out with delicious
salsas
,
drinks
, and
desserts
. For Mely Mart nez, Mexican cooking has always been about
family, community, and tradition
. Born and raised in Tampico, Mely started helping in the kitchen at a very young age, since she was the oldest daughter of eight children, and spent summers at her grandmother's farm in the state of Veracruz, where part of the daily activities included helping grind the corn to make masa. Mely started her popular blog,
Mexico in My Kitchen
, to share the recipes and memories of her home so that her son can someday recreate and share these dishes with his own family. In the
Read More chevron_right
Frequently bought together
Frequently Asked Questions About The Mexican Home Kitchen: Traditional Home-Style Recipes That Capture the Flavors and Memories of Mexico
Book Reviews
(16)
Did you read The Mexican Home Kitchen: Traditional Home-Style Recipes That Capture the Flavors and Memories of Mexico? Please provide your feedback and rating to help other readers.
Beautiful book with authentic Mexican recipes from all regions

Derived From Web

, Nov 26, 2021

This chef is the real deal. She has lived in Mexico and cooked throughout the country. I highly recommend this to anyone who wants to improve their Mexican cooking. I recommend it highly to anyone wanting to improve their Mexican cooking. Beautiful book. Beautifully written book. Well done!
THIS IS THE BEST MEXICAN COOKBOOK

Derived From Web

, Aug 19, 2021

Melys'recipes remind me of home, taste, smell and look like home. Her recipes work! I found out from a friend about this cookbook, so tell a friend. In the years to come, I hope her recipes reach more people!
Hungry

Derived From Web

, Jul 23, 2021

I need to say first that I have yet to cook ANYTHING from this book. Then I cannot wait to cook with that said! I have not been this excited in a long time about a cookbook. The recipes all seem to the point very straight forward. This is an actual recipe book verse that tells a story with a few recipes.
Truly enjoying this cookbook!

Derived From Web

, Jun 13, 2021

This rapidly becomes one of my top cookbooks! The first thing we did were the cheese empanadas and were amazing! If you enjoy Mexican food, check out this book and get Mely's website!!! Welcoming!
Actually a LOT of good recipies!

Derived From Web

, Jun 6, 2021

We're really impressed with the recipes so far. We're really impressed with the recipes. The first one we tried ended up absolutely fantastic. Tasted just like our favorite restaurant, just like our favorite restaurant. This week we bought a lot of ingredients to try out more. I'm definitely satisfied ''.
Perfect

Derived From Web

, Apr 4, 2021

I love the recipes in this book, they are very authentic. Sometimes I may need to add or subtract ingredients, but the suggestions are already there. This book LOVES THIS BOOK! LOVE THIS BOOK!
Not impressed

Derived From Web

, Jan 14, 2021

The book was in perfect condition. I read reviews where others were disappointed with the condition of the book, but that was not the issue in my case. The reason I had to rate it so low was because the recipes were sooooo basic. The salsa recipes were so basic that a stay-at-home mother in Alaska created them. The recipes were not special at all. I sat in bed and I flipped through the pages and I'm like there is not even one recipe that I would be interested in cooking. The Spanish red rice was laughable. Way too many desserts and drink recipes too many. No thanks. I have returned it right away. Trust all high ratings '', I rated all high. Not anymore, not anymore. I 'll stick to YouTube if I'll stick to . The authentic Mexican cooks on there throw down the authentic Mexican dishes. I just hate having to pause and cook something to try and cook something. But it is way worth it to get the true authentic with amazing seasoning.
5 star book!

Derived From Web

, Nov 30, 2020

My favorite cookbook is. After buying several cookbooks, this one has become my favorite. Every single meal looks great with great pictures and incredible directions. Anybody who buys cookbooks needs this one :
The Real Mexico

Derived From Web

, Nov 24, 2020

I was looking for an authentic tamale recipe because I could barely read my grandmother's hand written recipe any longer. The tamale recipe of Mely is almost exactly the same! This is the real Mexico this is. I love how she goes into detail on the basics and educates on the different peppers. The pictures are also beautiful. For sure, this will be a Christmas present.
So good!

Derived From Web

, Oct 21, 2020

After reading the first book, I bought 3 books, sent to my son, Neice and nephew in CA, who appreciates Mexican food.