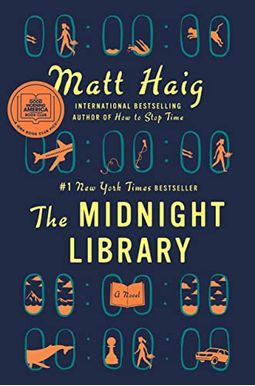  
Book Overview
A feel-good book guaranteed to lift your spirits.--The Washington Post
A
New York Times
bestseller Winner of the Goodreads Choice Award for Fiction A Good Morning America Book Club Pick
Between life and death there is a library, and within that library, the shelves go on forever. Every book provides a chance to try another life you could have lived. To see how things would be if you had made other choices . . . Would you have done anything different, if you had the chance to undo your regrets? A dazzling novel about all the choices that go into a life well lived, from the internationally bestselling author of
Reasons to Stay Alive
and
How To Stop Time.
Somewhere out beyond the edge of the universe there is a library that contains an infinite number of books, each one the story of another reality. One tells the story of your life as it is, along with another book for the other life you could have lived if you had made a different choice at any point in your life. While we all wonder how our lives might have been, what if you had the chance to go to the library and see for yourself? Would any of these other lives truly be better? In
The Midnight Library
, Matt Haig's enchanting new novel, Nora Seed finds herself faced with this decision. Faced with the possibility of changing her life for a new one, following a different career, undoing old breakups, realizing her dreams of becoming a glaciologist; she must search within herself as she travels through the Midnight Library to decide what is truly fulfilling in life, and what makes it worth living in the first place.
Frequently Asked Questions About The Midnight Library
Book Reviews
(6)
Did you read The Midnight Library? Please provide your feedback and rating to help other readers.
Thoroughly entertaining and innovative

Amber Delaney

, Jun 29, 2022

One could only hope the "after life" is as endearing as this book details. It's truth imaginative and a pleasure to read.
A book of What ifs.

The premise is quite interesting and I enjoyed reading this. I was glad that Nora found her life profoundly changed for the better, however it did very little to change mine
The Midnight Library - Helping Me with Regrets

In this story, the lead character gets a glimpse into points in her life (where she now questions the decisions she made) and how they might have otherwise played out. In the end, each point had both good and bad outcomes...just like real life. It helped me see that this is probably the case for any of the regretful decisions I've made in my life. Each one played an important part in bringing me to where I am NOW. I am well-adjusted and happy with my life. I read some reviews that were written by others who don't feel this way, and I can understand their points of view and lower ratings.
over-hyped

Patricia M

, Aug 15, 2021

Nora Seed is in her mid-thirties, and she is depressed. Instead of seeking out a good therapist, she tries to kill herself. In limbo between life and death, she lands in the Midnight Library, where she can review her "book of regrets" and try out some different paths through life that would have resulted from having made different choices. The outcome of this book is painfully predictable, and the highlights are when Nora has to improvise her way through lives for which she is frightfully unprepared. The prose is choppy, and it's basically a fictional self-help book—too preachy, too moralizing, too heavy-handed with the life lessons, and too flippant with regard to attempted suicide. Perhaps this book can inspire a reader to give pause to some minor self-reflection, like a Mitch Albom or Fredrik Backman book might, but it's also just as poorly written and unappetizing as books by those guys. Speaking of heavy-handed, Nora Seed's real life is called her "root" life. Root? Seed? Really? It fails in the originality department, too. In this book, Nora meets a man who experiments with thousands of different lives and calls it "sliding." Remember the Gwyneth Paltrow movie Sliding Doors, which explores two different fates? I don't mind reading a little fantasy now and then, or even some magical realism, but when Nora encounters several seemingly intelligent people who admit to believing in parallel universes, I just threw up my hands in exasperation. Nora is obviously not the only character who needs a good therapist. This book is way overrated.
not about books or libraries

I would only recommend this book if you like self-help type stories. If you are at all depressed, I would not read this book because the lesson it seems to send is not good for people with depression. I predicted the ending after reading the first few chapters. Also, this book is not about books or libraries.
Many Stories in One

This was an easy read, lots of stories within a story. Makes you think about making just one decision differently- what would your life be like? Better? Worse? It does involve the topic of suicide/death, as a heads up if you are sensitive to those subjects.