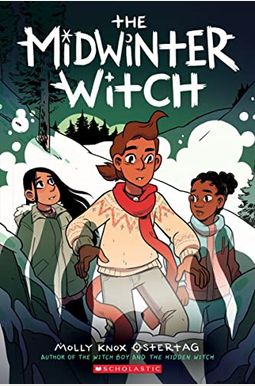 
 
The Midwinter Witch: A Graphic Novel (The Witch Boy Trilogy #3) (Library Edition)
Book Overview
The acclaimed graphic novel world of The Witch Boy and The Hidden Witch comes to a thrilling conclusion in this story of friendship, family, and finding your true power.
Magic has a dark side . . .Aster always looks forward to the Midwinter Festival, a reunion of the entire Vanissen family that includes competitions in witchery and shapeshifting. This year, he's especially excited to compete in the annual Jolrun tournament-as a witch. He's determined to show everyone that he's proud of who he is and what he's learned, but he knows it won't be easy to defy tradition.Ariel has darker things on her mind than the Festival-like the mysterious witch who's been visiting her dreams, claiming to know the truth about Ariel's past. She appreciates everything the Vanissens have done for her. But Ariel still craves a place where she truly belongs.The Festival is a whirlwind of excitement and activity, but for Aster and Ariel, nothing goes according to plan. When a powerful and sinister force invades the reunion, threatening to destroy everything the young witches have fought for, can they find the courage to fight it together? Or will dark magic tear them apart?
Frequently bought together
Frequently Asked Questions About The Midwinter Witch: A Graphic Novel (The Witch Boy Trilogy #3) (Library Edition)

Books like The Midwinter Witch: A Graphic Novel (The Witch Boy Trilogy #3) (Library Edition)
Book Reviews
(10)
Did you read The Midwinter Witch: A Graphic Novel (The Witch Boy Trilogy #3) (Library Edition)? Please provide your feedback and rating to help other readers.
it is so good!

Derived From Web

, Aug 13, 2020

It is all read in one sitting. I sincerely hope that this one is the best of the 3. Now we get to see what a witch boy can do! As he shows all the haters! There is also a little more LGBT in this book than the other 2, witch I like a lot!
Cheers to witch boy🥂🥂

Derived From Web

, Jul 31, 2020

Go, Witch Boy!!!!!!!!!! I loved your book! '' Write more! Just make hands smaller, keep it up! What is next?
Kept her interested and wanting to read more!

Derived From Web

, May 30, 2020

My daughter finished the graphic novels of the witch - boy within 2 hours with this last graphic novel. She read quickly through them and enjoyed the mystery in the graphic novels.
Magickal

Derived From Web

, May 19, 2020

I could not resist this book ''. After going to a comic event, I met the author, molly. But other things I like are the lessons you learn from it in reality. To break tradition boxes and grow from learning that it's ok. '' Like boys dress up as princesses. Normally, social wolves would bully you until you commit suicide or kill you in hate. But with this, we say be yourself '' just. Society does try to say be yourself '' this gives an example and points it out. We still have a lot of work to do to educate ourselves about certain ways of hypocrisy in our society. I do like how the main character is quite a non-bin type for me. I am glad that this is out there to teach children that it is ok to teach, and that everyone is different.
Good story, wish the series would continue.

Derived From Web

, Apr 7, 2020

So sad that this is the last book in the series. I'm probably too old to read these, but this has been an enjoyable series to read, and I think it's something that a lot of kids could use to help them through their struggles. I love the style of art, diversity and the messages that these three books present. They have a similar vibe as Steven Univerese, so that if you like this series, you will probably like this one.
Child loves it!

Derived From Web

, Feb 19, 2020

I bought this as a gift for my sister and has become her favorite book! She is seven years old and adores the graphics and the whole story!
Beautifully written and illustrated.

Derived From Web

, Jan 16, 2020

My youngest child is 9 and absolutely loves this series. It is artfully illustrated with a wonderful story line. They were about 7 when they began reading them and found it a bit scary, but they grew up with the books. I love the way the characters grow through adversity and stay true to who they are even as an adult, I am inspired by these stories.
Another fabulous story from Molly Knox Ostertag

Derived From Web

, Jan 4, 2020

Every night I read graphic novels with my 9-year-old daughter. This series is one of our favorites, next with Amulet and 5 Worlds. The world of magic in these books is both curious and familiar, with the center on families and clans. In Midwinter Witch we get to see the larger family of the protagonists and how they share magic lore over generations. I love how Ostertag breaks gender norms with the main characters and tries to free them from the restrictions placed by both herself and society, it is the kind of empowering narrative that I want my daughter to grow up with so that she can be whatever she wants to be. Oh, and the stories are funny, the dialogue is interesting, the graphics are witty and snappy. Ostertag can 't wait for more from me!
Awesome series for all witches and shifters

Derived From Web

, Dec 14, 2019

This series is my favorite! The art is great and the characters are beautiful. I like the sophisticated and age-appropriate relationships between the young people. It is valuable for a young adult author to write sexuality in a way that is neither gross nor neutered. The magic system is also cool! To love so much, so much.
Spoilers! this is soo good

Derived From Web

, Nov 16, 2019

But I think that in the little battle they had when confronting Ariel's aunt, the aunt flew away on a fiery branchlittle tree and I kind of think that they left it open for her to confront her again.