Buy 3 Get 1 Free
Our Best Sale Yet! Add 4 Books Priced Under $5 To Your Cart Learn more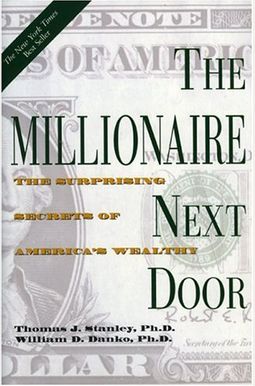 
 
The Millionaire Next Door: The Surprising Secrets Of America's Wealthy
Book Overview
This Description may be from another edition of this product.
Why aren't I as wealthy as I should be? Many people ask this question of themselves all the time. Often they are hard-working, well educated middle- to high-income people. Why, then, are so few affluent. For nearly two decades the answer has been found in the bestselling The Millionaire Next Door: The Surprising Secrets of America's Wealthy, reissued with a new foreword for the twenty-first century. According to the authors, most people have it all wrong about how you become wealthy in America. Wealth in America is more often the result of hard work, diligent savings, and living below your means than it is about inheritance, advance degrees, and even intelligence. The Millionaire Next Door identifies seven common traits that show up again and again among those who have accumulated wealth. You will learn, for example, that millionaires bargain shop for used cars, pay a tiny fraction of their wealth in income tax, raise children who are often unaware of their family's wealth until they are adults, and, above all, reject the big-spending lifestyles most of us associate with rich people. In fact, you will learn that the flashy millionaires glamorized in the media represent only a tiny minority of America's rich. Most of the truly wealthy in this country don't live in Beverly Hills or on Park Avenue-they live next door.
Frequently bought together
Frequently Asked Questions About The Millionaire Next Door: The Surprising Secrets Of America's Wealthy
Books like The Millionaire Next Door: The Surprising Secrets Of America's Wealthy
Book Reviews
(14)
Did you read The Millionaire Next Door: The Surprising Secrets Of America's Wealthy? Please provide your feedback and rating to help other readers.
Thomas explains the hypothesis behind why children rely on parents ...

Derived From Web

, Apr 20, 2022

The hypothesis behind why children rely on their parents is explained by Thomas. The domino effect was caused by the grandchild who might not be shackled off the cycle of poverty by a stroke of luck or sheer will. There is a difference between rich and wealthy, and flashy lifestyle does not equate wealth.
Excellent advice

Derived From Web

, Apr 20, 2022

The message of this book is very useful in today's world of overspending. People living within their means, saving money and becoming millionaires are stories. The approach to money is important. Don't waste money, don't spend money you don't have, and don't worry about keeping up with the Jones. The long section on cars is not done yet, but it is important as so many people borrow money to purchase a vehicle. This is not an investment, but a money pit. This needs to be stressed due to the widespread purchasing of new and expensive vehicles by so many people. I like nice cars, but only buy them with cash because I can't afford them. This is a great read for young people who want to become wealthy.
If you don't understand money you need to read this.

Derived From Web

, Apr 20, 2022

I bought this book because I wanted my family to be in a better financial position. My family never really struggled with their finances, but wanted to make sure that they were doing everything they could. One of the important lessons was to save a little. We were able to accelerate our mortgage and pay more toward principal each month because of the lessons we learned when we put silly notions like granite counter top's and $50,000 luxury cars out of our minds. The book is not telling you to give up your life, but to make smarter choices. Since the economy has changed so much over the past 5 years, we can't count on raises or even job security anymore, so we have been using the lessons of this book to ride out hard times.
Not worth the money.

Derived From Web

, Jun 20, 2021

If you want to read it, get it at the library. It's not worth keeping in your library. I bought it because it probably won't help you invest any better. I don't care where millionaires live or what they drive. I suppose the key take away is to live beneath your means. You read the book. Don't even think about going to the library.
Only one simple message for 250 pages

Derived From Web

, May 28, 2019

Don't waste your time reading this book. The 250 pages of this book are pushing the simple idea into your head. The idea is to save money, live simple, don't buy luxury cars and clothes, have one or two credit cards, save money all of your life, and invest it in your retirement account. The main message is correct, but it is too much. I recommend that you save money and read books about long term stock investments.
Great book! Must read!

Derived From Web

, Jan 31, 2019

I read 99 minutes millionaire and knew about it. It is a great introduction to how wealthy people accumulate wealth. This book will change the way you think about live style of millionaires and will give you so much to think about while you build your own welth.
Great Read as a college student

Derived From Web

, Jan 3, 2019

The principals of being a prolific accumulator of wealth were drilled in the book. I read it before I start my career and decide on graduate school. The sections that dealt with parent and child relationships were not something I was into. I enjoyed reading about outpatient care, but I felt that the stories in the end were redundant and not applicable to me. The last story caught me by surprise. It is good to put myself into a financially positive mindset, so I will probably read this again. 9.510
Worth your time

Derived From Web

, Sep 5, 2018

I've read a lot of get rich books, but this was new and I loved the statistics and data from the book. I thought it was worthwhile. I devoured everything that came my way. Will live under my means. I thought millionaires could do more, buy more, and spree like no tomorrow.
No get rich easy schemes but true ways of achieving financial independence if you really want it.

Derived From Web

, May 27, 2018

The book is an eye opener about what it means to be wealthy. Most people's financial struggles can be alleviated by following this great book. If you want to see results, you need to follow the advice of the author. It's easy to read. It's not difficult to follow. Buy it for people you care about. Everyone can be wealthy, but it is an individual choice. I wish I'd read it in my 20s or 30s. If you are in your 50s or 60s, it's worth the read.
Great book!

Derived From Web

, Nov 27, 2017

This supports everything Dave Ramsey says about the differences between those who are wealthy and those who are not. Wealthy people do what you want to do. This has nothing to do with luck, or being anentrepreneur, but living below your means, having a budget, investing and not trying to impress people you don't like with money you don't have. The majority of millionaires he interviews are people who are blue collar, and that's why he hosts the millionaire theme hour on the Dave Ramsey show. They live in our neighborhoods, drive used cars, and work at our companies.