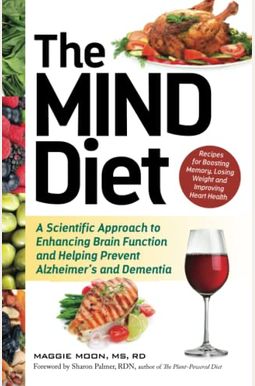 
 
The Mind Diet: A Scientific Approach To Enhancing Brain Function And Helping Prevent Alzheimer's And Dementia
Book Overview
AN EASY-TO-FOLOW GUIDE TO THE NEW BREAKTHROUGH DIET THAT'S SHOWN TO IMPROVE YOUR BRAIN HEALTH
Enjoying a high quality of life as you get older means taking care of your brain as much as your body. And research suggests that what you eat today will help (or hurt) your cognitive abilities later.
The MIND Diet
explains the science behind mental fitness in an approachable and understandable way. More importantly, this helpful guide presents an easy-to-follow program for keeping your mind sharp by eating the right foods and avoiding brain-harming ones. Packed with dishes that are not only delicious but also help improve memory, concentration and mental acuity,
The MIND Diet
's healthy recipes include:
- Brussels Sprouts Frittata
- Sweet Potato Lentil Soup
- Pistachio Mint Couscous
- Guacamole-Stuffed Tomatoes
- Apricot-Glazed Salmon
- Tango Fish Tacos
- Banana Chocolate Cookies
- Roasted Chicken with Fennel
Frequently Asked Questions About The Mind Diet: A Scientific Approach To Enhancing Brain Function And Helping Prevent Alzheimer's And Dementia
Books like The Mind Diet: A Scientific Approach To Enhancing Brain Function And Helping Prevent Alzheimer's And Dementia

Book Reviews
(7)
Did you read The Mind Diet: A Scientific Approach To Enhancing Brain Function And Helping Prevent Alzheimer's And Dementia? Please provide your feedback and rating to help other readers.
This is a great cookbook. It is a combination of the Mediterrean ...

Derived From Web

, May 15, 2022

The author claims it is a scientific approach to enhancing the brain function and helping to prevent Alzheimer's disease and dementia. I have had and have family members with Alzheimer's and dementia. They are very easy to find and ingrediants are easy to follow. Some of the foods I have never tried, but after reading the description of what they taste like, and how to prepare them, I will incorporate them into my diet. Thank you Maggie Moon for having food planning charts to get me going.
These recipes are detailed and easy to follow

Derived From Web

, May 15, 2022

As my parents get older, I become more and more aware of their health, including their mental health! The possibility of dementia is always with us as we age, and this book helps us eat food that will hopefully reduce the possibility. The author is a registered nutritionist and knows what she is talking about. The brain food in this book is not only delicious, but also healthy! I am a big fan of this cookbook and have enjoyed it very much. My parents have also loved it.
Brain Food

Derived From Web

, May 15, 2022

There are millions of cookbooks and guides that claim that they can make you lose weight or give you more energy, etc. It is difficult to find a book such as this, where the first focus is how the food we eat affects our brain function. This cookbook is full of healthy recipes focused on improving brain function, however in every respect they are delicious. Though eating only the meals in the cookbook is not for everyone, incorporating some of these meals into your life will serve you well. HoweThe food in this cookbook is quite literally brain food. Author Maggie Moon MS, RDN, is a registered dietitian nutritionist and has created a cookbook that addresses more than weight loss or tastiness.
they lost me with a number count

Derived From Web

, Jun 2, 2021

Many details about the brain and diet are available. When they returned to the recording points, they lost to me. I don 't want a diet where I have to count points assigned to what I eat. WW was not interested. Moving to another book by Mind Diet that does not have a point system to use. This is too confusing and a little hard to understand.
Great book

Derived From Web

, Jan 24, 2021

This is a great book for anyone to learn how to properly eat to improve brain health along with overall health. A lot of helpful information to takeaway.
Terrible. Do not buy Kindle edition of this

Derived From Web

, Jul 4, 2017

Just bought this book, Kindle edition, and am already sorry that I received it. I decided to read the meal plan before browsing the whole book. The charts of foods to eat, menus etc. are unreadable. You can not enlarge the script. With it, you can hardly do anything. Terrible : Do not buy the Kindle edition of this. May be a good book, but I am unable to see a good part of it. Kindle, you have to fix this soon. I love the ease of seeing a book right away, but it is no good if you can 't get it.
Disappointed

Derived From Web

, May 23, 2017

For several reasons, I gave this book only 3 stars. Between the pages and pages on cleaning vegetables, counters, hands etc. The only vegetables you don 't have to wash are those that are pre-washed pkg. Sorry, but I don 't believe it. Then the cooking temps rose. You are not supposed to eat sprouts unless it has sprouted grains. High in carbs and very low in protein. Also way too high in bread for my liking. My biggest problem is that the charts can 't be printed out and can not be read. The recipes are usually for large families and can not be printed out. In all, all-in-all, did not find much of value. I am an 82 yr old healthy senior that grew up before the germ hysteria was set-in and still enjoy rare roast beef. I'll modify the diet to fit my way of life more.