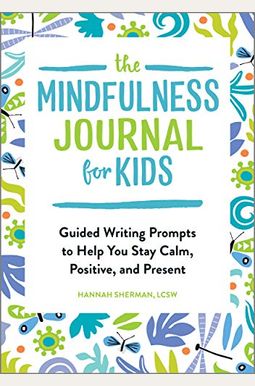 
 
The Mindfulness Journal For Kids: Guided Writing Prompts To Help You Stay Calm, Positive, And Present
Book Overview
Find focus and calm while feeling big feelings--a mindfulness journal for kids 8 to 12
Being a kid means having lots of thoughts and emotions that might be exciting, or confusing, or overwhelming. Mindfulness--stopping to notice only what you're feeling right now--can be a great way for kids to stay relaxed and positive as they tackle challenges, or just move through their day. This journal is all about mindfulness for kids; it's full of writing prompts, easy exercises, and powerful quotes to make it easy and fun for kids to practice mindfulness all the time.
Explore mindfulness for kids with:
Tools for success--Kids will learn how using mindfulness makes it easier to do things like pass a test, solve a problem, and communicate with others.
With kids in mind--This journal explores mindfulness for kids 8 to 12, to help them explore what's happening in their lives right now, like school, friends, and more.
Short and sweet--Kids can do these prompts and activities in just a few minutes, anytime and anywhere.
Make it fun and easy for them to develop healthy emotional habits with mindfulness for kids.
Frequently Asked Questions About The Mindfulness Journal For Kids: Guided Writing Prompts To Help You Stay Calm, Positive, And Present
Book Reviews
(7)
Did you read The Mindfulness Journal For Kids: Guided Writing Prompts To Help You Stay Calm, Positive, And Present? Please provide your feedback and rating to help other readers.
Not for 7 year olds

Derived From Web

, Mar 17, 2022

Just bought this for my 7 year old and went way over her head. Too many words and she is not interested.
Helpful to Teach Mindfulness

Derived From Web

, Feb 15, 2022

As a teacher who has to teach per state law, a social emotional learning class, I have to use a curriculum that I don 't think is effective. I am curious about other options and ways to approach mindfulness with middle school students. As a writer and teacher of writing, I am a supporter of journaling. I love that this teaches a nugget of advice or practice, then asks the kid to write on the subject. The prompts encourage thinking that leads the kid to realize that they have the knowledge to help them resolve their situation the next time it occurs, that they are in control, and can help themselves when they feel anxious or are suddenly overwhelmed by emotions. The book is not thick or large, so it is not intimidating. The design of the magazine will appeal more to girls. This is 5 stars - Love it.
Helpful to granddaughter

Derived From Web

, May 23, 2021

I put it at my daughter's request and was happy when my granddaughter said that she liked it.
I have yet to start this with my granddaughter, but it looks promising

Derived From Web

, Mar 5, 2021

I received this with the intention of trying to use it with my 11 year old granddaughter. If the young person involved does not want to do it, thinks it's silly or a burden, it is not going to be of much use. I have read accounts from parents who use something similar to this journal and think it is wonderful. Those who take parenting very seriously, make it clear that this is part of the daily routine, to sit for one of the exercises each day and then give the child space to do it without commenting or nagging about what they write, but are open to discussing it. If you have a relationship with a young person or are preferably the parent of a young person, I think that this journal would definitely be worth a try.
A fine gratitude journal

Derived From Web

, Feb 17, 2021

My 11 year old grandson liked this magazine. I actually use it!
Fantastic! Visually more feminine layout.

Derived From Web

, Feb 14, 2021

I picked this book for my almost 10 year old daughter, who is a very dynamic, expressive and determined! She has big feelings but isn 't always mindful of herself or others. I hope that this can help her. I have thumbed through the book and am blown away by the themes, the design, the activities and the writing prompts... all fantastic. I look forward to working with her to use this book in her homeschooling assignments. I do think that the design is more geared towards females, based on the types of graphics they used. Also, 8 may be too young to work on these topics. I think that ages 10-16 may be more target audience.
Wonderful, wonderful book for pre-teen to teens

Derived From Web

, Dec 27, 2020

I can not stress how great this book is. If the word mindfulness bothers you first, substitute prayerfulness or thoughtfulness. This is second for about 10 years old and excellent for 18. If the child can write, make complete sentences and read at about 4th or 5th grade level, that child can use this book. I suggest the user do it first, then look at the pages one day at a time or even with a few days between. This is not something to do in a few days through everything. The book is filled with various quotes from wonderful leaders and pages are open for short writing or drawing. This book is aimed at helping a young person to deal with stress, difficulties, depression, grief and ends with hope, gratitude and peace in mind and body. Grownups will benefit from this as well as the child. I will give these to several young people.