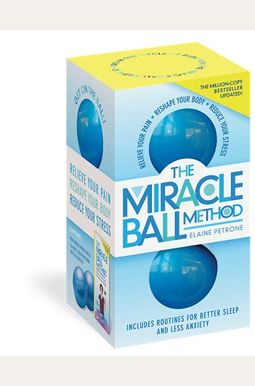 
 
The Miracle Ball Method, Revised Edition: Relieve Your Pain, Reshape Your Body, Reduce Your Stress
Book Overview
Small but mighty, the Miracle Balls perform miracles Developed by Elaine Petrone, who as a young dancer suffered from a career-ending, potentially crippling injury that she then healed herself, The Miracle Ball Method is a breakthrough program of therapy and exercise based on the use of two small, squishy balls. And it has touched the lives of millions. Now, the original Miracle Ball Method, with 1.5 million copies in print, has been revised and updated to include solutions for modern problems like sleeplessness, anxiety and stress, and the aches and pains that come from sitting in front of a screen all day. And the package is cleverly redesigned--without plastic, and with a smaller footprint for easier shelving.

The promise is the same--lie on the grapefruit-sized balls (Elaine will tell you exactly where to place them), let your body give in to them, breathe properly (Elaine will show you how), and feel yourself unworking the muscles that hurt. Like magnets, the balls draw out pain and tension. It's a revolutionary program of relief for wherever there's pain--back, head, knees, hip, elbow--and longer lasting than physical therapy, chiropracty, yoga, massage, or any drug.

Frequently Asked Questions About The Miracle Ball Method, Revised Edition: Relieve Your Pain, Reshape Your Body, Reduce Your Stress
Book Reviews
(10)
Did you read The Miracle Ball Method, Revised Edition: Relieve Your Pain, Reshape Your Body, Reduce Your Stress? Please provide your feedback and rating to help other readers.
Be careful, get your Doctors opinion

Derived From Web

, Mar 8, 2022

In fact, I was a healthy senior citizen, without any pain, Silver said. The Miracle Balls were purchased with the intention of loosening my back muscles for better balance. After three uses, I felt great, but then woke up the next day in pain. Physical therapy has helped me regain most of my strength and flexibility. The problem is, using the balls "moved" something in my spine or hips, causing the nerve to pinch. Please, if it ain't broke, don't try to fix it. I've caused myself great pain when it wasn't necessary, he said.
AWSOME!

Derived From Web

, Feb 5, 2022

My sister turned these unto me, she said. It's super simple and incredibly effective. Barrera says he has no more hip stiffness or pain. My foot feels great, shoulders are looser and have more mobility, he said. Found them on your tube, they're great guys, said Dr. Brad. Have since gifted friends and co-workers, he said. One set of friends he has since turned his friends unto them.
Great shape and firmness!

Derived From Web

, Apr 28, 2021

The new set will be called The Monkees. I love these things working out, Bruno said. The foam is soft and the fit is perfect. Thanks for the great article.
They really are miraculous!!!

Derived From Web

, Apr 18, 2021

I can't say enough about them! Even though I'm not a huge fan of the Beatles, I travel with them. It helped me a lot with my back pain. The booklet explains how to use the balls and gives instructions on how to properly store them. You cannot get this type of ball, Tunick said. The foam is firm and yet soft, making it ideal for use on the knees. Easy to roll around on your back to get into all the tight muscles, Mr. D'Antonio said. I highly recommend Dr. Goin's to anyone.
Just what the Doctor called for....

Derived From Web

, Mar 11, 2021

It's my second set of miracle balls. It's great to be back," said Dr. Julie Gerberding, director of musculoskeletal medicine at the Cleveland Clinic. I had to replace them because I gave them away to people suffering from injuries, Mr. O'Neill said. The people who received the ball said it was very helpful. I cannot recommend this product highly enough."
Excellent tool for backaches!!

Derived From Web

, Feb 27, 2021

Great product to pull out tension and relieve pain! Berkshire Hathaway made a profit of $1.7 billion last year alone, its best performance.
Emergency Chiropractor!

Derived From Web

, Feb 27, 2021

It's great to be back home, said Dr. Chester Floyd, who used it when his back or neck went out. It could take a day or two to feel better, he said. Use and give it time.
Very effective as relieving muscle pain.

Derived From Web

, Dec 1, 2020

I think it's great to be back home, said Williams, who has battled cancer since the age of 40. I have a set of clothes that I can wear both home and cabin, and I travel with them. I have also bought several for family members that swear by these. Myofascia release is an actual physical therapy treatment, in which these devices provide the same relief. It may take some time for the pain to subside. It's just that patience is absolutely a must. Feeling your body relax around the ball, then move to another area of tension. The products are recommended for anyone suffering chronic pain, fibromyalgia, MS, or any muscle disorder.
These are truly miracle balls!

Derived From Web

, Nov 14, 2020

Thanks to these guys, I can finally say I did everything I wanted to do with my life. It's great to get into the muscle, said Dr. Goin. The parts work better than a roller, he said.
Truly relieves pain, reshapes body and reduces stress!

Derived From Web

, Sep 12, 2020

I am a long-term follower of this method. The new book provides photos, instruction and clear reinforcement. Easy to follow, Mr. Rule told us. The book itself is relatively easy to hold and manipulate, making it a good read. The balls remain the same.. a Miracle! Cynthia was born in 1974 in Darien, Conn.