Buy 3 Get 1 Free
Our Best Sale Yet! Add 4 Books Priced Under $5 To Your Cart Learn more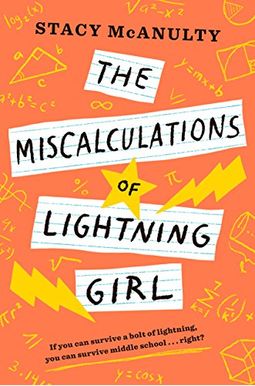  
The Miscalculations Of Lightning Girl
Book Overview
A lightning strike gave her a super power.but even a super genius can't solve the problem of middle school. This smart and funny novel is perfect for fans of The Fourteenth Goldfish, Rain Reign, and Counting by Sevens.
Lucy Callahan was struck by lightning. She doesn't remember it, but it changed her life forever. The zap gave her genius-level math skills, and ever since, Lucy has been homeschooled. Now, at 12 years old, she's technically ready for college. She just has to pass 1 more test--middle school Lucy's grandma insists: Go to middle school for 1 year. Make 1 friend. Join 1 activity. And read 1 book (that's not a math textbook ). Lucy's not sure what a girl who does calculus homework for fun can possibly learn in 7th grade. She has everything she needs at home, where nobody can make fun of her rigid routines or her superpowered brain. The equation of Lucy's life has already been solved. Unless there's been a miscalculation? A celebration of friendship, Stacy McAnulty's smart and thoughtful middle-grade debut reminds us all to get out of our comfort zones and embrace what makes us different.
AN NPR BEST BOK OF THE YEARA KIRKUS REVIEWS BEST BOK OF THE YEAR
An engaging story, full of heart and hope. Readers of all ages will root for Lucy, aka Lightning Girl. No miscalculations here --Kate Beasley, author of
Gertie's Leap to Greatness
Frequently bought together
Frequently Asked Questions About The Miscalculations Of Lightning Girl
Books like The Miscalculations Of Lightning Girl
Book Reviews
(9)
Did you read The Miscalculations Of Lightning Girl? Please provide your feedback and rating to help other readers.
Great book

Derived From Web

, Aug 25, 2021

My daughter had to read this book for school. I ended up reading this book just to see what it was about and ended up picking the whole thing up!
Great Read!

Derived From Web

, Jun 2, 2021

I read this book to my 6th grade math class. They loved it! They loved it! They would beg me for more than each class period. I loved how math was tied throughout the year.
This is great!

Derived From Web

, Jul 18, 2020

This is a great book, it talks about a story about teaching math to kids! I think that this book is very helpful for people who have problems with math.
Gave my 12 year old anxiety, also non age appropriate content

Derived From Web

, Jul 17, 2020

My daughter, who is an avid reader and never puts a book down, puts this down. She got 70 pages in and said, I have anxiety, I can 't keep reading this. I asked her to write why I asked her to post it in a review so that I could write it down. AGAIN, SHE NEVER PUTS A BOOK DOWN! I don 't like this book because it gives me anxiety. Lucy hides her smartness by trying to get every answer wrong on a test. Lucas copies copies of her from her. They both get into trouble. She makes being smart seem bad. And gets in touble for making wrong choices when she doesn 't have to. The book also mentions two mom's, scaring people with your eyes and a kid writes in a blog for a lightning girl saying they want to make babies with her. My daughter is 12 and she even came to me thinking that there were strange and unnecessary. Also remember that this is only 70 pages out of 293. Also remember that this is only 70 pages in out of 293. Amazon asked for a refund from Amazon. I won't be supporting such terrible writing.
Super

Derived From Web

, Mar 16, 2020

In general, this book is really heart-breaking, read her other book, the world ends in April.
My middle school aged daughter LOVED to read about Lucy, the lightning girl

Derived From Web

, May 28, 2019

I have a hard-to-please middle school reader. She gets really bored by a lot of books. I chanced upon an exception, happily -- my daughter identified with the heroine, who has a hard time adjusting to school and keeping friends '' as a plot point. If that is your daughter, give this book a try.
Electric!

Derived From Web

, Jan 16, 2019

I bought this book for my 11-year-old granddaughter. She is a voracious reader and read this book so much she enjoyed it in one sitting. Her mother then opened it and also read it at one sitting. I told her that I needed to read it. I started it late one evening, could not put it down and eventually finished it at 143 a.m. This author has written other books, but this was her best novel about a girl who had been struck by lightning, and became a mathematical genius with quirks. The book showed us how she managed to survive friends and find a middle school in spite of all that. This is an excellent book for any child who is having problems connecting with peers!
A brilliant, sensitive, hilarious debut novel!

Derived From Web

, May 21, 2018

This brilliant, humorous, sensitive debut novel is one of the best books I have ever read, hands down not one of the best children's books, but one of the best BOOKS. McAnulty has managed to take several emotionally charged topics - brain injury, animal welfare and middle school, to name a few, and weave them into a heart-pounding story of friendship, forgiveness and growth. You can 't help but fall in love with spunky, stubborn Lucy and her wonderful Nana or admire the friends Lucy makes despite herself. And with Lucy's fun, funny fascination with numbers, even the most mathematical-averse reader will come away from this book with a new appreciation for and understanding of complex numerical concepts. If I could give ten stars to the MISCALCULATIONS OF LIGHTNING GIRL, I would. Since I can 't, I will have to keep telling all my teacher friends, my kid friends and my friend friends about this book!
Stacy McAnulty's debut middle grade shines! This book about ...

Derived From Web

, May 5, 2018

Middle Grade Stacy McAnulty shines! This book about 12-year-old Lucy is the heart-warming story of a girl who feels out-of-place in 7th grade and how she explores friendship despite feeling so different that she doesn 't think she will ever find people who rally around her for who she is. It rings true to the middle school experience. Her family is a unique and caring, as are her friends.