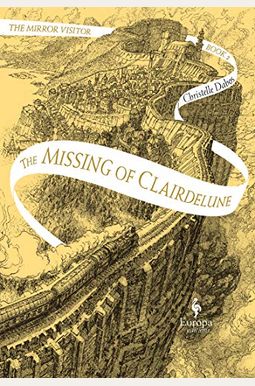  
The Missing of Clairdelune: Book Two of the Mirror Visitor Quartet
Book Overview
This Description may be from another edition of this product.
Book Two in the Internationally Bestselling Mirror Visitor Quartet
When our heroine Ophelia is promoted to Vice-storyteller by Farouk, the ancestral Spirit of Pole, she finds herself unexpectedly thrust into the public spotlight and her special gift is revealed to all. Ophelia knows how to read the secret history of objects and there could be no greater threat to the nefarious denizens of her icy adopted home than this. Beneath the golden rafters of Pole's capitol, Citaceleste, she discovers that the only person she may be able to trust is Thorn, her enigmatic fianc . As one after another influential courtier disappears, Ophelia again finds herself unintentionally implicated in an investigation that will lead her to see beyond Pole's many illusions to the heart of the formidable truth.
Frequently bought together
Frequently Asked Questions About The Missing of Clairdelune: Book Two of the Mirror Visitor Quartet
Books like The Missing of Clairdelune: Book Two of the Mirror Visitor Quartet

Book Reviews
(7)
Did you read The Missing of Clairdelune: Book Two of the Mirror Visitor Quartet? Please provide your feedback and rating to help other readers.
Great Story!!!

Derived From Web

, Oct 13, 2021

It's been awhile since I have ever written a series this well read. I have read a lot so that you should tell you something. Character development is really what keeps me so enthralled. The description used made it as if I stood right there with the character. I love Steampunk and the world that the story is set in certainly appealed to me, but even those who are not big on Steampunk will enjoy this series. It is well done!
High hopes unfulfilled

Derived From Web

, Sep 17, 2021

Indeed, entertaining. Harry Potter is HUGE... That is a great stretch. I found it confusing at times... having to read passages to understand what was going on. Unlike the first book, this second volume of the series often lacks clarity of the story line, leaving the reader unsure of what is happening. I think it was possibly translated to English... poorly ''. It is as if a thesaurus was found and the editor, writer, and or translator used each word in the English language without hesitating for context or proper use. The premise is disappointing... the execution a bit unique.
WOW!!!!

Derived From Web

, Mar 19, 2020

A knock-out sequel that had my heart hammering in my chest the entire time!!!! I read it again, Christelle Davis. I read the first two books of the series in a few days and I don 't know how I'll ever recover. I am in love with this series, I wouldn 't change anything about it, except that I wish I could get my hands on the next books quickly! I hope that you enjoy this beautiful novel as much as I do!
Missing of Clairdelune

Derived From Web

, Jan 22, 2020

The second book started well and ended well. The middle is flat and I was bored. I would have stuck through it hoping that it would get better. I am tired of the main characters breaking bones constantly, cutting their faces and bruising their bodies. There remains plenty of mystery, but is frustratingly unresolved. The mysticism is drawn and repeated. I don 't feel that the 2 main characters in their relationship move ahead despite all the trouble they go through. I am just not intrigued enough to care what happens to these people anymore - and that is a shame, as I will always love the first book.
This book is worth the read.

Derived From Web

, Oct 11, 2019

The book is everything that the reviews say it is. The first was harder to pass through. But I promise that it is worth it for the second time. I am in love with the story and characters. The author did an amazing job with this book and her new world she created for us.
Could not put down. Engrossing.

Derived From Web

, May 16, 2019

Imaginative continuation into this wonderful world. For each character you fall deeply. I HOPE the next comes out soon. Or else, I just have to learn and read French.
Even better than book 1

Derived From Web

, May 9, 2019

I read the first book last week and was excited to see the second book soon for release. While I enjoyed the first book, the author found her stride in this book really. The world building is great and characterization is handled delicately. I particularly enjoyed that the male romantic interest is not conventionally attractive. I grew very attached to them both and eagerly anticipating the sequel!