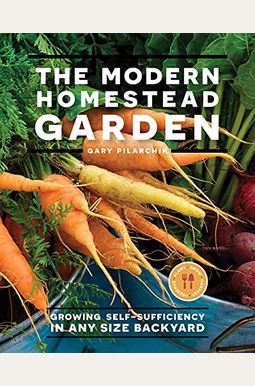 
 
The Modern Homestead Garden: Growing Self-Sufficiency in Any Size Backyard
Book Overview
If concerns about the environment and the health and wellness of yourself and your family leave you longing to make a change, start growing and preserving your own organic foods. With the guidance found in The Modern Homestead Garden, you'll discover how little land and effort it takes to start growing healthy, nutritious food.
Modern homesteading is a lifestyle focused on
living lightly on the land
and
increasing self-sufficiency
. It doesn't matter whether home is 50 acres in the country, a suburban corner lot, or an apartment in the city; all you need is a desire to
reduce your footprint on the earth
and
live a more sustainable life
. To be a modern homesteader, you don't have to live off-grid and you don't have to give up contemporary conveniences. For most modern homesteaders, it all starts with making the conscious decision to
reduce your reliance on the commercial food supply chain
. In
The Modern Homestead Garden,
author and YouTube gardening star Gary Pilarchik of The Rusted Garden walks you step-by-step through the process of
building a homestead garden
. From
laying out the planting beds
,
nurturing the soil
, and
starting seeds
, straight through to
cooking and preserving the harvest
, Gary serves as your warm and accessible guide, no matter how large or how small
Read More chevron_right
Frequently Asked Questions About The Modern Homestead Garden: Growing Self-Sufficiency in Any Size Backyard
Book Reviews
(9)
Did you read The Modern Homestead Garden: Growing Self-Sufficiency in Any Size Backyard? Please provide your feedback and rating to help other readers.
The Modern Homestead

Derived From Web

, Jan 25, 2022

This book is a wonderful 160-page guide to gardening, growing veggies and harvesting them. There are chapters to cover the gardening topic from choosing your site, to container or raised bed to seed selection and starting, grow light needs, fertilizers, composting, spacing and pests to control and how. Several easy to read charts are great quick reference, and the quality of color photos is a plus. I would give this book to any gardener that needed a good consice reference. In the chapter on preserving I would have listed the website for the USDA safe canning methods because there have been several changes in the last 30 years, said Robert Reichert, director of the Food Safety and Health Administration. The book, "Ballantine's Bluebook," is also a reference.
This book just arrived to my door this afternoon

Derived From Web

, Sep 30, 2021

The book has arrived! I have been a fan of The Rusted Garden on YouTube for a year or more and really enjoy Gary as he is educating other gardeners about the entire process from seed to completion of production in gardens. Thanks again for continuing to educate the masses.
My nephew loves it

Derived From Web

, Aug 11, 2021

I purchased this as a present for my nephew's birthday. He is just getting out on his own, and I wanted him to have a book that would give him a good start with small space container gardening, Sosa said. He's a huge fan of Rowling's work and can't wait to start reading it. Though he has some experience gardening with his dad and experimenting on his own, Bruno considers himself a beginner. I skimmed through it as soon as it arrived, before I had to hurry to get it all done, Mrs Hughes said. Very impressed with the depth of information and the layout of this book, I recommend it to anyone who wants to learn more about gardening. He also said he is buying another one for me so we can compare notes as we plan next year's garden. He is hoping to have a little more space to work with by then, and I'm sure this book will give him lots of work, too.
Extremely Helpful Resource for a Beginning Gardener

Derived From Web

, Aug 4, 2021

This book is a must have for beginning gardeners. It is organized well and contains easy to understand graphics. Not only do the color pictures add interest, they are also informative. I love having all of the information about different plants and how to care for them in one easy to read place, said Dr. Kristen Fields, Naturopath. In the digital age that we live in, it is so easy to rely on the internet for advice, but I love that I don't have to search through videos or articles to find the answer I need. The cover of this book is so good, I couldn't wait for it to be released. I watch Gary's videos on YouTube and find them extremely helpful. His video series, "Start a Garden From Seed," was a huge help. I have never had a successful garden until this year, and when I look back and think I stated it from seed, I am in awe.
Excellent home gardening information and advice

Derived From Web

, May 3, 2021

This book is now one of my favorites vegetable and fruit gardening books. It is comprehensive but doesn't dwell on textbook style minutiae, which makes it an excellent how-to reference for both new and experienced gardeners. He also covers growing techniques for a variety of vegetables and fruits that are suitable for home growers, with helpful information on cool and warm season crops, optimum soil temperatures, days to harvest, etc. Topics covered include seed starting, organic fertilizers and disease control methods, composting and growing in containers. The book is accompanied by gorgeous full color photos that make me itch to get out in the garden. I especially like the author's laid-back approach and recommendation not to be too dogmatic in following his directions, but rather to let experience guide your practice, Morgenthau said. I highly recommend this book to anyone.
Great For All Skill Levels

Derived From Web

, May 1, 2021

Like many longtime gardeners, I know there is always more to learn, so I have watched numerous Youtube videos and follow Gary Pilarchik on social media for several years. I like his down to earth approach to business and follow his easy to follow suggestions for success. The Modern Homestead is a wonderful extension of those videos and posts, with a more personal feel and gorgeous photos. This book will appeal to gardeners of all skill levels.
The best gardening "how to" book so far.

Derived From Web

, Apr 30, 2021

This book is great for anyone who wants to know the basics of gardening, from starting seedlings, pest control, and more.
Yes!!!

Derived From Web

, Apr 29, 2021

Admittedly, I was skeptical about the prospects of successfully maintaining a garden in my small, urban yard, as my only reference to gardening involved my childhood farm. I am excited to reap the benefits of accessible, fresh produce in my urban Baltimore yard, Kerry said. I am gifting this book to all of my gardening friends for Mother's Day!
Gary is a GREAT teacher .....

Derived From Web

, Apr 28, 2021

I started watching his video in January, 2021. It's just that I had never grown tomatoes. Gary's videos were spot on giving me all the information I needed to get going, he is an excellent teacher and my garden here in Dahlonega, Georgia is doing very well, said Cara. I have the motivation and enthusiasm to jump out of bed in the mornings and tend to my vegetables in their various stages of ripeness. I was delighted to receive Gary's book in the mail yesterday and was so impressed with it's content that I ordered a copy for my daughter. Thanks Gary!