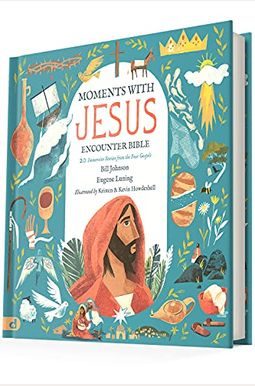 
 
The Moments with Jesus Encounter Bible: 20 Immersive Stories from the Four Gospels
Frequently Asked Questions About The Moments with Jesus Encounter Bible: 20 Immersive Stories from the Four Gospels
Book Reviews
(9)
Did you read The Moments with Jesus Encounter Bible: 20 Immersive Stories from the Four Gospels? Please provide your feedback and rating to help other readers.
Brings the Word to life for kids

Derived From Web

, Dec 10, 2021

I love the fact that Eugene does such a great job of helping parents and children step into biblical accounts in such a way that you get an understanding of what it was actually like at the time. It brings back the stories we have heard over and over again and he brings them to life by adding context and perspective from the characters themselves. This is one of the first children's Bibles that our children get excited to read at bedtime. Sometimes it can be a little harder to access for the 3 year old, but our 4 year old gets a lot of joy out of it.
A beautiful invitation to walk through the stories from the Gospel's. Excellent read!

Derived From Web

, Nov 14, 2021

This is not just a Bible for children. Anyone who picks this up and partakes of any story becomes fully immersed into stories shared in the Gospels. The stories are told in a way that brings you there while it was actually happening. It is written in a way that children can understand. I personally work with children of multiple ages from across the globe and am so excited to share this book with them. Personally, I feel that this is a must have in every home. Whether it is left on a coffee table or used in a library for personal devotion. It has not yet disappointed me. I have a hard cover copy as well as read it on multiple devices. This is a book that goes on for generations. No matter how many times you read them, stories never grow old. I have had the opportunity to read the first chapter at several venues aloud. Most people sit in awe and wonder upon hearing. I can not recommend this book enough!
Engaging, sparks conversation, fresh perspective

Derived From Web

, Nov 13, 2021

This is completely different than any other Bible I have read for children. I love how it places the reader directly in the story, allowing children to really conceive what it would have been like before encountering Jesus in the moment. The discussion questions are just the thing for sparking good conversations, and the illustrations are incredibly beautiful. Highly recommended!
Beautiful Way to Introduce Children to Jesus

Derived From Web

, Nov 1, 2021

My purpose in life is to share the love of God with them in a real and practical way, so that they can build up an authentic faith in Jesus of their own. I have put together a wonderful library of beautiful faith books, but this is the foundation and the most unique Bible of children that I have ever found. I always read through any books I buy for my grandchildren and I have to tell you that I have sincerely enjoyed reading through the stories and loved imagining myself in each story. We are told that we must approach faith with the innocence of a child and this is such a beautiful way to do just that, regardless of age!
Must read for children and adults!

Derived From Web

, Oct 29, 2021

As soon as I saw this book, I knew that I had to buy it. And it exceeded my expectations! The simple yet rich language of the stories brings them to life as the author places Jesus in the stories. My children, ages 11 and 13, enjoy this book so much and has sparked some deep conversations and connections with them. We enjoy the section at the end of each chapter that challenges the conversation and encourages our thinking. My kids see and experience Jesus through this book in new and exciting ways, and so am I. I highly recommend this book to anyone. This is not just a book for children. If you have struggled to read the Bible or understand what Jesus did for you, you need this book. I pray that it blesses you as much as it has blessed us.
I close my eyes and listen and I am there in the very pages of the Bible watching Jesus smile at me!

Derived From Web

, Oct 23, 2021

If you are looking for the perfect, awesome Christmas or birthday gift for a precious child in your life or a grandchild, this is the book! It is the most biblically accurate, beautifully descriptive telling of events from the Gospels and Jesus'life. Not only are the illustrations pretty, but you can close your eyes and feel like you are there in the moment, watching Jesus smile at you! I love that it does not use glossy pages because it feels authentic. You will not regret it by this book! You'll like it so much that you will buy it for your friends and family! momentswithJesusproject. com :
Excellent encounter Bible for kids

Derived From Web

, Oct 20, 2021

The real cover, engaging and glamorous illustrations are presented excellently. I recommend it for those that are new to the word or mature readers.
Beautifully written

Derived From Web

, Oct 20, 2021

So grateful to be able to read this to my children and help them imagine themselves right next to Jesus and learn from him.
Sound doctrine. Splendid artwork.

Derived From Web

, Oct 19, 2021

This book has so much good to share—not only is it educational and engaging, but has thoughtful questions to get into deeper conversations with your children about Jesus'life and our relationship with Him today. This is an entirely new experience for children's bibles and one we needed. A must have 100% '' recommends 100%. Can 't wait to dive deeper with my son!