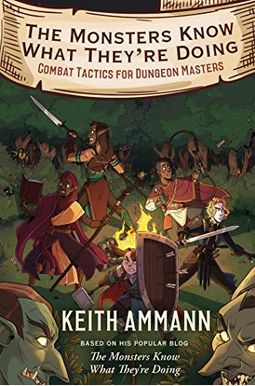 
 
The Monsters Know What They're Doing: Combat Tactics For Dungeon Mastersvolume 1
Book Overview
From the creator of the popular blog The Monsters Know What They're Doing comes a compilation of villainous battle plans for Dungeon Masters.
In the course of a Dungeons & Dragons game, a Dungeon Master has to make one decision after another in response to player behavior--and the better the players, the more unpredictable their behavior It's easy for even an experienced DM to get bogged down in on-the-spot decision-making or to let combat devolve into a boring slugfest, with enemies running directly at the player characters and biting, bashing, and slashing away. In
The Monsters Know What They're Doing
, Keith Ammann lightens the DM's burden by helping you understand your monsters' abilities and develop battle plans before your fifth edition D&D game session begins. Just as soldiers don't whip out their field manuals for the first time when they're already under fire, a DM shouldn't wait until the PCs have just encountered a dozen bullywugs to figure out how they advance, fight, and retreat. Easy to read and apply,
The Monsters Know What They're Doing
is essential reading for every DM.
Frequently Asked Questions About The Monsters Know What They're Doing: Combat Tactics For Dungeon Mastersvolume 1
Books like The Monsters Know What They're Doing: Combat Tactics For Dungeon Mastersvolume 1
Book Reviews
(10)
Did you read The Monsters Know What They're Doing: Combat Tactics For Dungeon Mastersvolume 1? Please provide your feedback and rating to help other readers.
Útil y simple

Derived From Web

, Oct 4, 2021

Excelente libro es un libro de un sencilla para un momento de preparar una ventura.
Inteeligence is difficulty

Derived From Web

, Aug 13, 2021

Amazing books helped me make my encounters with intelligent creatures seem more difficult. I personally like kobolds and goblins to use even higher levels of attack for little schisms, but it was great to have such a great purchase.
Not like the DMG, nothing but blocks of text.

Derived From Web

, Jun 25, 2021

This is a thick volume of information on monsters. It's a book set up like the dungeon masters' guide, but it's actually a collection of blocks of text.
Almost perfect

Derived From Web

, Mar 17, 2020

Overall, this book is a great read. If you want a sample of the book's contents, you can request one by visiting www. monsterknows. com. My only complaint, which is big enough to cost a star a few bucks, is that the order of the sections is wrong. Keith Jackson, one of the Beatles, said the group was not interested in music "because it was all about money." The reason is that each section has a completely random order of monsters. Before we can eat, we must first crawl, then magmin, before we can eat. It just doesn't make any sense, and the book would be more useful if it were in any more logical order, he said.
Great insight

Derived From Web

, Jan 7, 2020

Dungeon Masters and players will find this book extremely useful. It gives intelligence to the hunter's advantage by providing background information on potential targets. If you are looking for a good trainer, I would highly recommend this to any player.
Perfect combat tactics

Derived From Web

, Dec 7, 2019

I've read all the books, but this is by far the best. It's great to be able to DM all the people that have DMed or even thought about DMing. The book is a great read.
Made me rethink combat.

Derived From Web

, Nov 26, 2019

Using this product is really only useful for Dand 5E, it can be used for pathfinder a little bit but drop the rating a star or 2. This book is definitely worth a read. It has 500+ pages of front and back page information, plus it has a specialized section for corporate communications.
This book even breaks up a monster's combat actions before combat begins and as combat progresses.

Derived From Web

, Nov 8, 2019

Per-order, I was feeling that my encounters were not challenging enough for my players. I'm still reading entries in this book, but I'm already finding myself thinking differently about how to deal with monsters. This is going to be a game changer in my campaigns, he said. As others have mentioned, this book is for DandD 5th edition, I knew that when I purchased it because I also had been reading Keith's blog. This book will always be within reach when I'm designing as well as when I'm running, he said.
5th edition specific

Derived From Web

, Nov 2, 2019

The book is very specific to the crunchy details of Fifth Edition DandD. If you think this is your game, drop two stars.
Utterly indispensable sourcebook for dungeon masters

Derived From Web

, Oct 30, 2019

After having read through a third of this amazing book, I have to say it stands head and shoulders above any RPG product I have ever purchased, including the first, second and fifth edition core rule books. This book is truly amazing, and a must-have for any and every dungeon master. I have already read a great deal of this book's content on the author's blog. If you get a single supplement to enhance your DandD game, MAKE IT THIS ONE. Keith Ammann logically combines the motives, instincts and drives of DandD's most iconic creatures and uses it to lay out the pieces of the puzzle each would use in battle. The deeper and more challenging the game will become, the more fun it will be. It's going to be a CLASSIC.