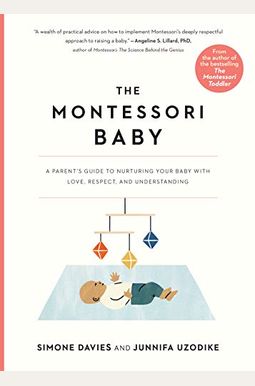 
 
The Montessori Baby: A Parent's Guide to Nurturing Your Baby with Love, Respect, and Understanding
Book Overview
It's time to change the way we see babies.
Drawing on principles developed by the educator Dr Maria Montessori, The Montessori Baby shows how to raise your baby from birth to age one with love, respect, insight, and a surprising sense of calm. Cowritten by Simone Davies, author of the bestselling The Montessori Toddler, and Junnifa Uzodike, it's a book filled with hundreds of practical ideas for understanding what is actually happening with your baby, and how you can mindfully assist in their learning and development. Including how to prepare yourself for parenthood physically, emotionally, intellectually, and spiritually. Become an active observer to understand what your baby is really telling you. Create Montessori spaces in your home, including yes spaces where nothing is off-limits. Set up activities that encourage baby's movement and language development at their own pace, and raise a secure baby who's ready to explore the world with confidence.
Frequently bought together
Frequently Asked Questions About The Montessori Baby: A Parent's Guide to Nurturing Your Baby with Love, Respect, and Understanding
Book Reviews
(8)
Did you read The Montessori Baby: A Parent's Guide to Nurturing Your Baby with Love, Respect, and Understanding? Please provide your feedback and rating to help other readers.
An intuitive approach to being a respectful parent

Derived From Web

, Feb 9, 2022

Everyone has their own parenting philosophy, but my intuitive sense tells me that the Montessori approach outlined in the book is the right one. I wish I had the book when I found out I was pregnant. There is so much we want to implement with my son. Making sure our son is raised the way we want him to be has been the hardest part of going back to work. It is possible to provide quick read sheets for grandparents to get on board with our philosophy by reading this book. Hopefully, we'll be able to get the other set onboard as well. If you want to implement Montessori from the start, I recommend this book because it shows you how to see your baby as a human who is capable of all things in their own time.
We all want what's best for our kids

Derived From Web

, Sep 14, 2021

Even if the parent doesn't fully adhere to the Montessori education style, this book should be on every bookshelf. It's a great parenting book that teaches you how to create a calm and thriving environment for the child. My friends are contributing to the baby boom by buying this. Maria Montessori's books tend to be on the academic side. The Montessori practices are put into laymen terms by this book. It's easy for busy moms to read. It can be read in its entirety or in sections. The diagrams are easy to understand. This is a good starting point for developing an interest in the Montessori education method.
Review from a three generation Montessori family

Derived From Web

, Aug 14, 2021

The toileting work that begins in infancy is missing from the book. There is a free toileting guide with the infant work at My Montessori House. The book has graphics for a quick skim. It was given as a gift. Parents nowadays are being fed lots of bs by their doctors, which makes it difficult for them to speak up against pacifiers. Some people don't know what Dr. Montessori did with babies. Her work is on Gutenberg. The Montessori Method has been successful for decades. The true test of science is that one.
Good intro, got a bit frustrating with all the advice on how to manage relationships

Derived From Web

, Aug 2, 2021

The Montessori-related content was useful, and the tone of the book is calm and gentle. It required the reader to be self-awareness, calm, and wise. If the reader is a parent of a newborn, it will be difficult to manage other adults' emotions and take care of the baby. If you choose to engage in getting grandparents onboard, staying calm, and here are some ways you can do that, then all of that good advice should be prefaced with that.
Must read for all new parents

Derived From Web

, Jul 30, 2021

I love this book! The Montessori Toddler is a great prequel. It is a must read for all expecting or adoptive parents. The book provides information on how to structure a respectful, nurturing environment for infants instead of drilling a specialized routine full of hour by hour instructions. The less is more approach to child rearing is promoted in the book, which I think makes it easier to find the newest, most popular products for baby. There are personal testimonies along with pictures to give real life applications to the ideas they layout. If you want to read it, just add it to your list!
Recommend

Derived From Web

, Jun 6, 2021

We are expecting a baby this month. This is easy to digest. Provides easy to understand advice. Understand WHY and WHAT these principles do. My mom did some of these things with my sister and I and I am looking forward to helping our son and any other future children be independent and well rounded for all aspects of life.
Not enough science

Derived From Web

, May 27, 2021

There are already a lot of statements without any scientific background. In today's world making statements without proof is not professional. The rest of the book isn't scientific. It is mostly based on authors experience. I don't think you can do that in 2021. I haven't found anything new after reading too much. The book could be several times smaller without losing any thoughts. If it is a great design, I would give it 2 stars.
Babies need parents who've read this!

Derived From Web

, May 15, 2021

The summary of the work done by Montanaro and Montessori is easy to understand and practical. This is a must buy for new parents.